Subramanian Honored by Interfaith Council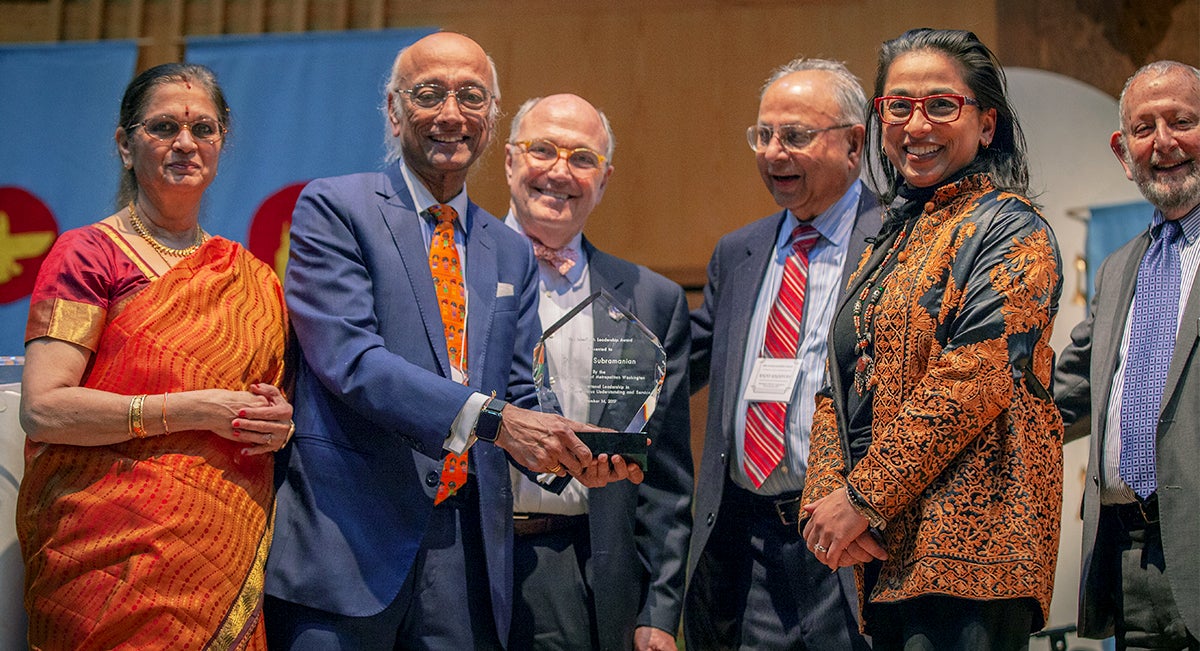 Posted in GUMC Stories | Tagged cura personalis, School of Medicine
(November 22, 2019) — The Interfaith Council of Metropolitan Washington honored Georgetown's Siva Subramanian, MD, with its 2019 Interfaith Leadership Award at its 40th Anniversary Interfaith Concert on November 14 at Washington Hebrew Congregation. Subramanian is a professor of pediatrics at Georgetown University's School of Medicine and chief of neonatology at MedStar Georgetown University Hospital.
The Interfaith Council (IFC)'s mission is to create an inclusive community of diverse faiths in our nation's capital that is focused on the values that unite us and the distinctions that make each faith unique. Subramanian served as the First Vice President of the IFC and is currently part of its Faith Leaders Group. He is a previous recipient of the IFC's Interfaith Bridge Builder Award that "celebrates the achievements of leaders in the DC region who have committed themselves tirelessly to building a more pluralistic society."
"Our scriptures clearly say God is one, but that there are different paths to reach [God]," Subramanian says. Access to God "is not exclusive to one path, so we all have to relate to each other; respect each other."
Cura Personalis Embodied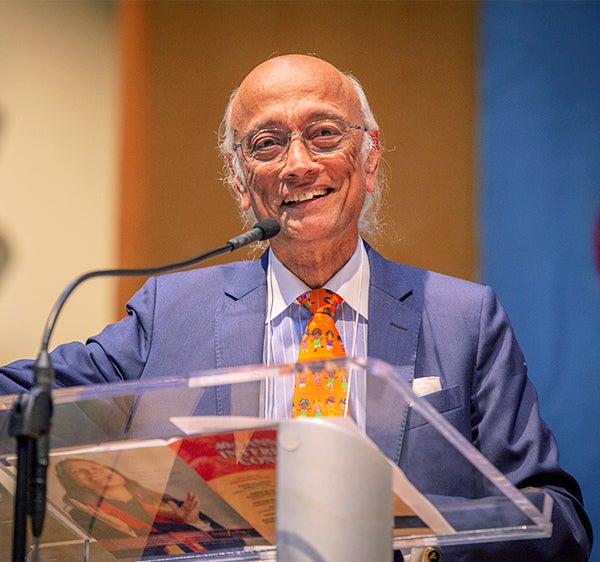 Receiving the IFC Leadership Award was "both humbling and fulfilling," says Subramanian. "It was also meaningful because it is said in Bhagavad Gita that it is one's duty to do service to humanity without expecting any reward. It is important that we help in every way possible by serving others before you is the correct dharma as said by Swami Vivekananda, and this award is an outward recognition of one's service, but one should not have that as an expectation."
"Siva is a wonderful example of the embodiment of cura personalis," says Edward B. Healton, MD, MPH, executive vice president of health sciences at Georgetown University and executive dean of its School of Medicine, who attended the concert. "His work and faith are clearly intertwined, fulfilling the ancient definition of Ayurveda — knowledge of life — to the benefit of his patients, his colleagues and his community."
Subramanian is the co-founder and former chairman of the Sri Siva Vishnu Temple in Lanham, Md., which has held several interfaith dialogues and conducted tours for school, college and U.S. Department of State staff members every year. He is the co-founder of the Council on Hindu Temples of USA, the Association of United Hindu Jain Temples of Metropolitan Washington, DC, and the Hindu American Community Services Inc.