Studying Strategies to Achieve Men's Health Equity
Posted in GUMC Stories | Tagged Center for Men's Health Equity, health disparities, health equity, men's health, racial disparities, research
(July 30, 2022) — As founder and director of the Center for Men's Health Equity, Derek Griffith, PhD, strives to solve a mystery: Why do men, on average, live shorter lives than women, and what can be done to reduce that disparity?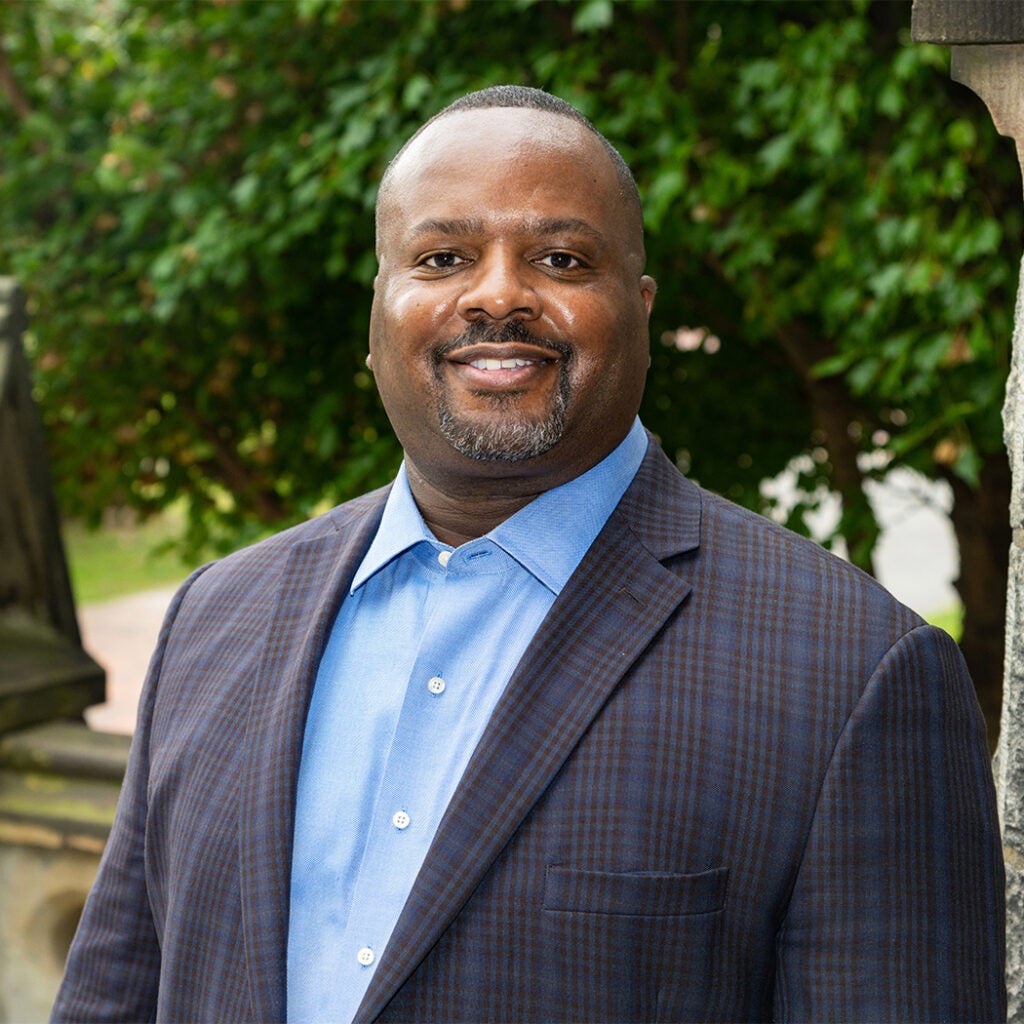 "When you look at sex differences and gender differences in the incidence and prevalence of premature mortality and life expectancy, those who identify as men tend to do worse," said Griffith, founding co-director of the Racial Justice Institute where the Center is based.
"I think the interesting thing is, we've just accepted that," he added. "It's a problem that's hidden in plain sight."
To address the problem, researchers must challenge existing stereotypes and recognize that men are not a homogenous population. "We have to complicate the narrative and look beyond the simplest explanation," Griffith said.
Contextualizing Behavioral Differences
The disparity in life expectancy between men and women is a relatively new phenomenon, emerging in the 20th century due to an increase in deaths linked to chronic disease. It persists throughout the lifespan from infancy through older age, and exists in all but a handful of countries around the world.
"No matter what data set you're looking at, men have higher rates of premature mortality," Griffith said. "It's a weird conundrum that the group that is more socially advantaged is disadvantaged in terms of health."
Some of the disparity can be attributed to behavioral causes. Compared to women, men are more physically active, but they also have higher rates of substance use, including tobacco and alcohol, consume more meat, high fat foods and sugar-sweetened beverages, and are more likely to engage in risky sexual behavior.
"Pretty much anything that negatively affects health, men are doing at higher rates than women," Griffith said.
Yet behavioral differences between men and women don't completely explain the disparity in life expectancy. Moreover, it's critical to understand the reasons behind that behavior, such as why men are less likely to go to the doctor than women.
"When we talk to Black men and we ask them why they didn't go to the doctor, they felt like they were being spoken to in a disrespectful manner and it was a very frustrating, negative experience," Griffith said. "They had those experiences so they thought, there's no point in going."
"We usually explain the reasons for shorter life expectancy among men as being something to the effect of, men don't do what they're supposed to do," he added. "We have to look at the context of their behavior."
Designing Interventions
Men are not a homogenous population and their priorities shift over time. Griffith, a professor of health management & policy at the School of Health and member of Georgetown Lombardi Comprehensive Cancer Center, said the Center for Men's Health Equity has been at the forefront of educating the public and policymakers about ways to improve men's health. For example, this summer, they partnered with Global Action on Men's Health and the Pan American Health Organization (PAHO)/World Health Organization (WHO) to cosponsor a webinar, Addressing Men's Health and Masculinities in the Americas: A Public Health Imperative.
In July, Griffith was part of The Lancet Commission on Gender & Global Health conversation on masculinities and health, a webinar that helped address how discussions of gender and masculinities are included in policies and systems-change interventions that impact women, men and nonbinary people.
"The narratives that guide these policies tend to look at men's health through the lens of gender, but many of the determinants of men's health globally have more to do with racism, colonialism and other factors that intersect with gender and masculinities," Griffith said.
Policymakers developing interventions to increase life expectancy among men should consider how men see themselves or why they feel they are seen as important to their communities and families, he added.
"When we ask, 'What are important values to you as a man,' they usually don't talk about being strong and tough," Griffith said. "They talk about wanting to be a good father, contributing financially to the household, supporting family, being active and present with their kids."
Mighty Men and the other ongoing research projects at the Center for Men's Health Equity encourage healthy behaviors for men throughout their lifespan, including new fathers and middle-aged men in faith communities.
Aimed at young men, the Movember Rooted & Rising Collective was made up of 10 Black male digital content producers with a total of 1.5 million followers on social media who created videos promoting self-care as a strategy to maintain their energy, productivity and creativity. Those who watched the videos were 2.5 times more likely to say they were going to engage in more self-care. Griffith spoke about his role in shaping this intervention and lessons learned during Men in Mind: Addressing Men's Mental Health and Wellbeing webinar hosted by Global Action on Men's Health and supported by the Center for Men's Health Equity and other organizations.
Redefining Health
Understanding what health means to men is also important to help them thrive. Rather than focusing on metrics like blood sugar or cholesterol, men are more interested in what their bodies can do.
Through the Center for Men's Health Equity, Griffith wants men to think about "how you can more live out the values and ideals that you're trying to live in your life."
"You might not care about being healthy, but you may care if you can make more money, if you can be intimate with your partner, if you can do active things with your kids after the workday," he added. "If that's important to you, let's do things that can help you."
Kat Zambon
GUMC Communications