Student Wins Health Policy Essay Contest
Posted in GUMC Stories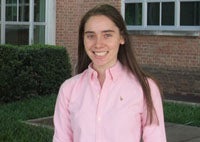 A School of Nursing & Health Studies undergraduate earned first prize in a national essay contest held by KaiserEDU.org – a Web site of the Kaiser Family Foundation.
Colleen Tapen (NHS'13) won in the undergraduate category for her essay, "Small Business Tax Credit's Importance, and Difficulties in its Implementation."
KaiserEDU.org, a Web site for students and faculty interested in health policy, has hosted the essay contest since 2007. The group announced the awards May 1.
A Stand Out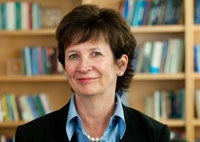 Tapen, who is pursuing an independent study within the Department of Health Systems Administration, competed among 150 undergraduate students for first place.
"Colleen's essay stood out as exceptionally insightful, thorough, and well-researched," said Alina Salganicoff, Ph.D., vice president and director of women's health policy and KaiserEDU.org. "It is inspiring to know that there are students with such strong interest and skills in health policy."
The organization, according to Salganicoff, invited participants to submit an essay on an element of the Affordable Care Act that will have a major impact and to discuss the challenges in implementation.
Small Business
Tapen's essay examined a provision in the Affordable Care Act that offers a tax credit to qualifying small businesses that provide health care to their employees.
She noted that many small businesses have not taken advantage of the credit because they are unsure if they are eligible.
"These business don't have a lot of extra cash to hire an accountant to see if they qualify," she said. "If they felt this tax credit wasn't going to help them out, they didn't want to begin the process."
Tapen made recommendations to remedy the situation.
First, she said that the White House, the U.S. Small Business Administration, and the Internal Revenue Service should make the rules clearer for small businesses. Second, she recommended that the government and the insurance sector work together to show small businesses their coverage options.
A Winning Tradition
As this year's undergraduate winner, Tapen earned $1,500 and an iPad 2.
Since the essay contest began, Georgetown has produced more first- and second- place winners than any other university – including one student from Georgetown Law and three from the Department of Health Systems Administration.
"We're just thrilled with Colleen's victory and our unparalleled success in this national contest," said Patricia Cloonan, Ph.D., the department's chair. "Our program provides students with a foundation in health policy that gives them a strong voice on national health care issues."
By Bill Cessato, NHS Communications
(Published June 20, 2012)