Students Teach Anatomy
Posted in GUMC Stories
Last spring, Carlos Suarez-Quian, Ph.D., professor in the Department of Biochemistry and Molecular & Cellular Biology, received an e-mail from Deepak Kumar, Ph.D., associate professor and chair of the Department of Biology at the University of the District of Columbia (UDC), asking whether or not he knew of anyone interested in teaching a gross anatomy course to students over there.
"Offhand, I couldn't think of anybody," recalls Suarez-Quian, who then points out that there is a national shortage of anatomy teachers, and that, when you go to a professional meeting of anatomists, you'll see a lot of gray hair. "We're all dying off," he says.
According to the American Association of Anatomists, the emphasis on the importance of gross anatomy in the medical school curriculum has lessened nationwide as measured by level of detail and numbers of hours taught.
Sharing an Educational Asset
At Georgetown University School of Medicine, it's a different story. Unlike most other medical schools, Georgetown's anatomy instruction is available over the entire four years. Students are exposed to 160 hours of anatomy, of which approximately 100 hours are spent in the laboratory. And many students return for more study in the summer or during clinical rotations and clerkships where knowledge of the human body may attain abrupt, poignant significance.
When the UDC request came in, Suarez-Quian knew how hard it would be to find someone to teach the course. "But then it dawned on me," he says, "this is an undergraduate course. Maybe there's a way we can help out."
We have graduate students, he explains, who take gross anatomy in Georgetown's Special Master's Program (SMP), then some get admitted to medical school here. Of those, some decide to take gross anatomy during the summer, where they fulfill the criteria for the School of Medicine's first year in gross anatomy. "So I said to myself, let me ask these students if they are interested in teaching the laboratory component of this course during their student service hours, because every student here has to do 20 hours of community service."
Suarez-Quian reckoned that, for these students, this is their strength—with 2 years of gross anatomy experience, it would be right up their alley.
Stephen Ray Mitchell, M.D., dean for medical education, liked the idea, as did Eileen Moore, M.D., assistant dean for community education and advocacy. She noted that it was a valuable new way to provide service to the community and authorized community service credit for teaching gross anatomy.
Preparing the Way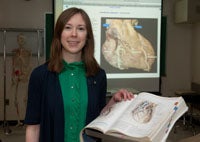 In June of 2011, Suarez-Quian approached the graduate students, taking the summer anatomy course, with this plan. He said to them, "Listen…you guys are going to be pioneers in this … [UDC] students … need our help and we're going to teach them anatomy."
Many UDC students work during the day and go to school at night, tend to rely upon public transportation to get to classes, and are somewhat older than the average age for undergraduates. The anatomy class was scheduled for evening hours.
Of the 20 UDC students who enrolled—most in pre-med, pre-dental, or nursing programs—some were single parents, some were non-native English speakers, and one was an Iraqi war veteran. All were grateful for the opportunity to attend a bona fide medical school course.
Anatomy is taught both in the classroom and in the lab. In the classroom, students learn the textbook knowledge of the human body. In the lab, students are able to put that knowledge in context, working with cadavers donated by families or individuals who have conveyed their wishes to support the education of physicians.
Suarez-Quian had the lab classes ready to go, but he still had the problem of finding someone to teach the lecture component. "I had an SMP student, Shannon Larabee, who was on the waiting list for medical school," he explained. "She had also taken the summer course. " So he asked her if she was willing to teach.
With Suarez-Quian's recommendation, UDC agreed to hire Larabee to give the lectures. He loaned her his lecture materials and coached her a bit, but he insists, "she was on her own." As were the nine medical student volunteers who made the commitment to work as technical assistants (TAs) in the lab for 17 weeks on Thursday nights, 5:30 – 8:00 p.m.
And It Worked
Classes began on August 25, 2011. It was a formidable challenge. Anatomy is a difficult subject. And the UDC class had not been immersed in the same type of science background as graduate students at GUMC. However, that proved to be no impediment.
"The UDC students were so excited and eager to learn, especially with the high volume of information that we covered," says med student volunteer Nikhil Murthy. "They were quick to pick up information and concepts, and asked insightful questions at every session."
UDC Professor Kumar wrote to Suarez-Quian, "The anatomy class was phenomenal. I started receiving rave reviews—how amazed the students were at this opportunity—the best lab they ever took."
Suarez-Quian sums it up this way. "We did this with a wing and a prayer, basically. And it worked! It was very successful. Most of the UDC students earned As and Bs. Our students … made a huge difference. They organized everything. They were in charge. They made it work. I'm very proud of them. And it was a heck of a time commitment. They had to put in the hours. They had to prepare, review their anatomy—after all, it was their first time teaching it. So it was a lot of work for them, but they pulled it off, and now there is interest in doing it again next year."
By Frank Reider, GUMC Communications
(Published May 29, 2012)