Georgetown Students Compete in International Global Health Case Competition
Posted in GUMC Stories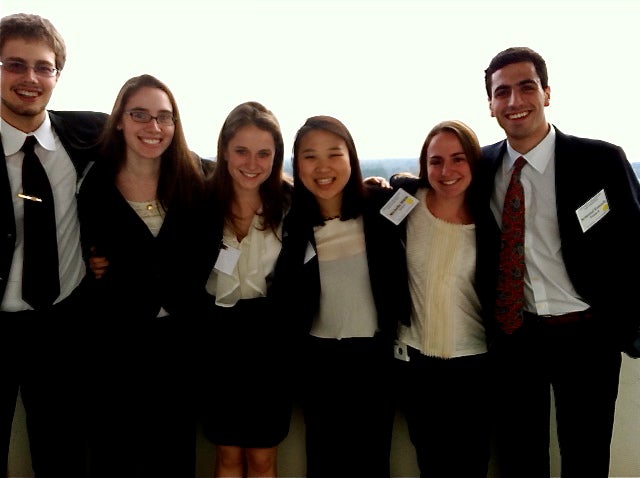 It's 2017, and China is the world's new economic leader. To maintain its position as a world power, China's Ministry of Commerce wishes to invest in efforts to address the number one global health priority – sanitation. It has issued a call for proposals to internationally renowned non-profit agencies with scale-up to begin in only 20 months. Can China's investment in sanitation systems outside its border advance global health and contribute to its prosperity?
That fictitious but extraordinary challenge was issued on March 18 to 140 students who make up 24 teams from universities the United States and three foreign countries invited to compete in the International Global Health Case Competition at Emory University.
Over the next few days, these teams, including one from Georgetown University, would develop innovative solutions for the sanitation challenge and present their proposals to a panel of judges on March 23 in Atlanta.
The Hoyas
Georgetown's team included team captain Armond Esmaili, a second-year medical student; Michelle White and Jozef Schmidt, both first-year medical students; Alisse Hannaford, a senior majoring in biology of global health; Rosa Kang, a senior in the science, technology and international affairs program; and Colleen Tapen, a senior of independent study within the department of health systems administration in the School of Nursing & Health Studies (NHS). The team was supported by a grant from the Georgetown Initiative to Reduce Health Disparities awarded to the team's lead faculty mentors, Ranit Mishori, MD, and Anne Rosenwald, PhD, to create an interdisciplinary course focusing on case studies.
Esmaili says his team knew its proposed solution couldn't just consist of the most evidence-based and cost-effective strategies to improve sanitation. The team also had to carefully consider China's economic investments and foreign relations, in addition to the sociocultural barriers to implementing sanitation solutions in countries where China provides development assistance.
"The true challenge of the competition was to pool our individual viewpoints and craft a single, coherent solution that targeted the case's numerous intricacies," explains Esmaili. 
"Having team members representing different academic programs and with expertise in several disciplines was remarkably advantageous. By viewing the case through multiple lenses, we were able to deepen our level of analysis and broaden the range of solutions that we considered," he says.
Case competition and the real world
Preparing a proposal in a week might not seem to mirror real-world problem-solving, but as Mishori explains, there are many similarities.
"What is reflective of real-world problem-solving is the idea of tackling a problem as an interdisciplinary team, looking at an issue from various angles, and considering multiple solutions to a challenge. This is particularly important for the broad area of health disparities, since there is no one solution or one way of looking at things," she explains. Mishori, associate professor of family medicine, directs the global health initiatives program for the department of family medicine at Georgetown University School of Medicine.
Mishori and Rosenwald, assistant professor and co-director of the Biology in Global Health major, worked with faculty members from various schools and disciplines to assemble Georgetown's team. Other key faculty mentors included John Whitman, PhD, an adjunct professor in the McDonough School of Business, John Kraemer, JD, MPH, assistant professor of health systems administration at NHS and member of the O'Neill Institute for National and Global Health Law and Laura Anderko, PhD, RN, the Robert and Kathleen Scanlon Endowed Chair in Values Based Health Care at NHS.
The take-away
The Georgetown team didn't win the competition, but team captain Esmaili says the competition's format was a tremendous learning opportunity from the perspectives of both global health and teamwork. 
"We each had to step outside the comfort zones of our own academic disciplines and invest in learning all the facets and challenges of implementing solutions to improve global sanitation," Esmaili says. "More important, by working together non-stop as a team for nearly a week, we learned how to critically and efficiently weigh multiple solutions in order to develop a comprehensive strategy to propose at the competition."
"The team worked tremendously hard," says Rosenwald, who accompanied the Georgetown team to Atlanta. "Although they didn't win, the solution they devised contained elements found in the perspectives of winning teams. Perhaps the most important part of the event, though, was the chance to network with the other team members."
Competition's impact 
Mishori says the competition has had residual positive effects on her University colleagues. "We all tend to work in silos at the university and in academia in general," she says. "This exercise has helped bridge disciplines and create current and future collaborations."
For Esmaili and his team, the competition was "a real eye-opener."
"The competition was an opportunity to put into practice what all our team members hope to do in the future in our various fields of interest," Esmaili says. "As a medical student, the competition certainly enhanced my understanding that many of the medical problems I may encounter as a physician are rooted in non-medical causes. Improving health on a population and global scale requires more than just medical solutions, but coordinated efforts involving stakeholders beyond the medical field."
By Karen Mallet, GUMC Communications
(Published April 03, 2013)