Student Fellows Connect Interprofessionally To Advance Global Health Research
Posted in GUMC Stories | Tagged global health, Global Health Institute, research, student research
(April 26, 2023) — The current cohort of Global Health Institute (GHI) student fellows embodies the university's commitment to a cross-disciplinary approach to researching global health. Students and faculty from all three Georgetown University Medical Center schools, as well as the law center and main campus, partner across professions to advance global health projects.
The student fellows program pairs students with a faculty member, typically from a different program than their own course of study. About 100 students have applied for 15 fellowships over the past six years. GHI solicits projects from faculty involved in global health research, and students are able to indicate their particular interest in a project as part of the application process.
Fellows also attend monthly meetings with guest speakers who pursued careers in global health. These meetings also provide the opportunity for student fellows to connect and converse with each other.
"The dialogue between the students and the faculty from different disciplines has been a great experience and is what is needed to advance global health projects," said Kearney Capuano (H'24), one of this year's student fellows.
Finding a Practical Outlet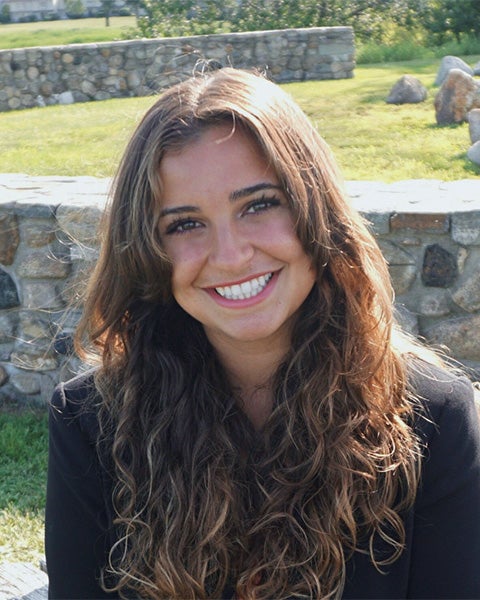 Capuano jumped at the chance to put her knowledge as a global health major to work.
"I really wanted a practical outlet," said Capuano, who is paired with Kelley Anderson, PhD, FNP, CHFN, associate professor in the School of Nursing, on a project creating a pre-departure curriculum for the inaugural Tanzania Healthcare Experiential Learning Initiative for nursing students. "I study global health in a classroom setting, but with GHI, I actually get to work on a real-life project that will have an impact in the world."
As a student fellow, Capuano is researching the Tanzanian health care system with a focus on identifying discrepancies in available care between rural and urban settings. "We are looking at how medicine is practiced in different areas, as well as how to take a holistic view of medicine to meet the community where they are," said Capuano.
In addition to information about the health care system, the pre-departure curriculum contains information about gender and religious norms for Tanzania. "We are working on a curriculum where nursing students will have the cultural competency skills to be successful in country," said Capuano.
"This is the best academic experience I have had so far at Georgetown," she added.
Staying Connected With Global Health While Studying Medicine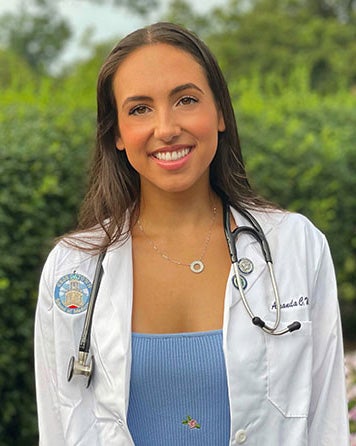 As a student in the School of Medicine, Amanda Wibben (M'26) arrived on campus looking for outlets to pursue her interest in global health.
"Opportunities like the GHI fellowship are why I picked Georgetown for medical school," said Wibben, who lived abroad for a year in India as a Fulbright scholar before completing her master's in theology at Harvard Divinity School.
Her experience in southern India working at a Catholic elementary school run by nuns led to her interest in how faith traditions participate in providing services, including health care, around the world. For her fellowship, she is paired with Bette Jacobs, PhD, professor of health management and policy, on a project researching the history of Catholic health services in emerging economies.
"The project was listed as only open to law students," said Wibben. "But I indicated in my application that I was interested in the project, and I was so fortunate to be paired with Jacobs."
"Historically, the Catholic Church has been a really powerful force in health care," she added. "Catholic health care providers, especially Jesuits, have provided services in areas internationally where there are no other providers."
Wibben's experience as a student fellow has made her more committed to her goal to practice medicine internationally after she completes residency. "This research has given me insight into what health care looks like around the world, and the huge inequities in place," she said.
Crossing Interprofessional Paths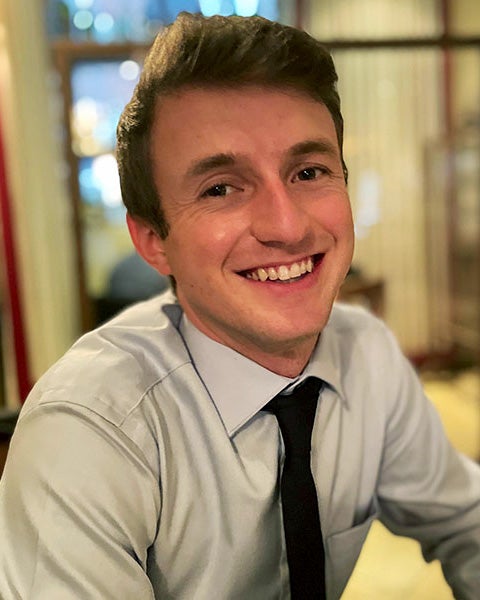 As a family nurse practitioner doctoral student, Christopher Hampton (G'24) admitted that without the help of the GHI, he probably would not have crossed paths with his fellowship mentor, Michael Plankey, PhD, professor of infectious diseases with the School of Medicine and co-investigator for Baltimore-Washington, DC site of the Multicenter AIDS Cohort Study.
"This has been a great opportunity to directly apply the research skills from my doctoral program to Dr. Plankey's ongoing HIV prevention research," said Hampton. For his fellowship, he is conducting a literature review for Plankey's research examining how individual and communal levels of resilience can impact HIV prevention.
"For example, someone from an economically disadvantaged background may have developed more resiliency skills because they had to, versus someone from a more high-income background," Hampton said.
"The fellowship has allowed me to connect with people at Georgetown outside of my doctoral program," said Hampton. "It's been great to speak to not only other students but also interact with the guest speakers."
Heather Wilpone-Welborn
GUMC Communications