St. Baldrick's Event Organizers Motivated by Personal Connections with Pediatric Cancer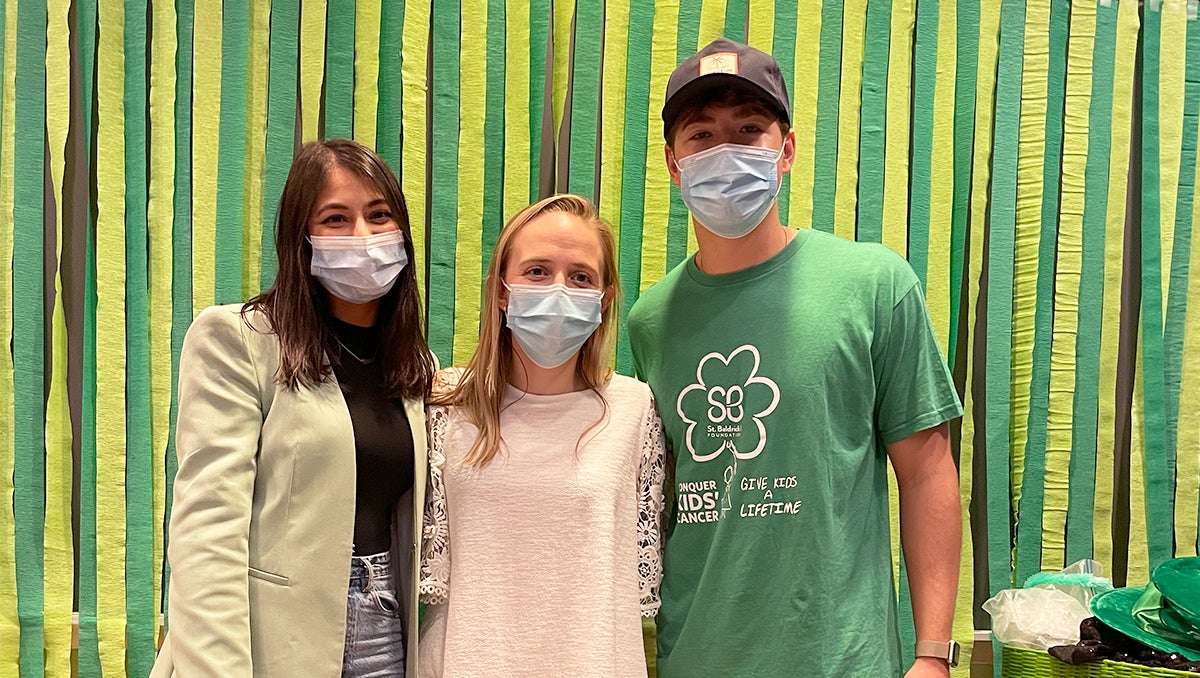 Posted in GUMC Stories | Tagged cancer, School of Medicine, service to others, St. Baldrick's
(October 31, 2021) — Dreary weather didn't dampen the spirits of those attending an October 29 fundraiser at Georgetown for the St. Baldrick's Foundation, the biggest non-government funder of pediatric cancer research grants.
Before the pandemic, Georgetown students had held fundraisers in the spring for St. Baldrick's, with a few participants volunteering to have their heads shaved to show their support for pediatric cancer patients who often lose their hair during their treatment.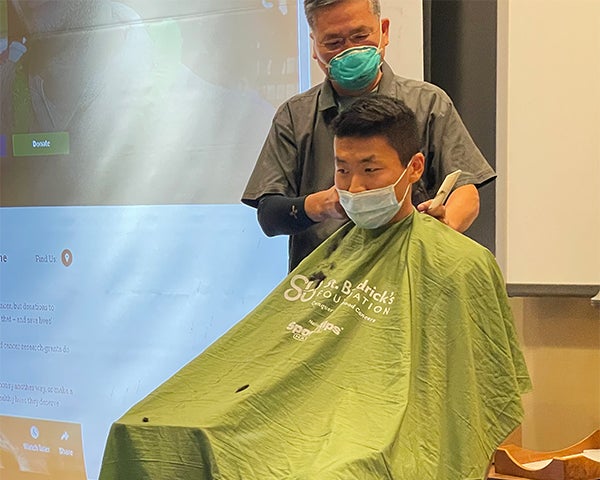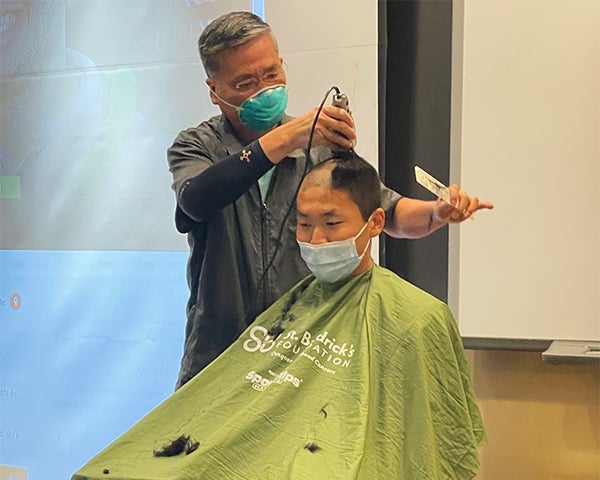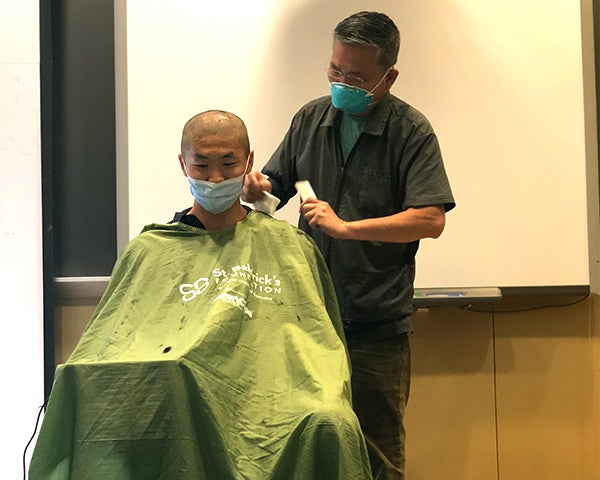 In addition to shifting to the fundraiser to the fall, organizers Gino DiNicola (M'24), Simran Jatar (M'24) and Lily McLaughlin (M'24) had to cope with a venue change when the weather forced them to move the event indoors to GA 2/4 in the Pre-Clinical Science Building.
"We have an incredible team, and I couldn't be more proud of the progress we have made with the event in light of the setbacks presented by the pandemic," DiNicola said.
Passionate Organizers
Each of the St. Baldrick's co-organizers was motivated by their own experiences. As an undergraduate student at Penn State, DiNicola was involved with THON, a student-run philanthropy that benefits children and families impacted by pediatric cancer. McLaughlin became interested in pediatric oncology when her sister's best friend was diagnosed with cancer in elementary school.
"When we would visit her at the hospital, I would see the other patients and couldn't fathom why this was happening to all of these children," McLaughlin said. "But at the same time, I witnessed the doctors, nurses, nurse practitioners and physician's assistants working nonstop to fight for these patients, and I became inspired."
Supporting pediatric cancer research is especially personal for Jatar, who was diagnosed with Ewing sarcoma at age 8. After going through chemotherapy and radiation, she has been in remission for 15 years. "It has just shaped the course of my life, because I was so young," she said. "My passion has always been pediatric oncology."
"I think there's a reason I survived, and I think that was to use that experience to help kids in the future," Jatar added.
Faculty Support
The participation and support of faculty members is one of the things that makes St. Baldrick's a special fundraiser at Georgetown, and this year's event was no exception.
Raffle prizes included a dinner party at the home of Lee Jones, MD, dean for medical education, brunch with Stephen Ray Mitchell, MD, MBA (W'86, MBAE'13), professor and dean emeritus, and a pingpong outing with Sarah Kureshi, MD, MPH, assistant professor of family medicine. Additional raffle items were donated by Caitlin Coker, PhD, assistant professor of biochemistry and molecular and cellular biology; Ann Jay, MD, associate professor of clinical radiology and otolaryngology; and Jeffrey Toretsky, MD, professor of oncology.
At the event, Joseph Timpone, MD, associate professor of medicine in the division of infectious diseases, sang and played hits from the '90s on guitar while four attendees bravely had their heads shaved on stage. Volunteers sold refreshments including homemade granola from Thomas Sherman, PhD, professor of pharmacology & physiology and associate director of the Special Masters Program.
"Despite every curve ball we've had thrown at us, we've got some good raffles and good faculty participation," Jatar said.
Donate to support the St. Baldrick's Foundation at Georgetown.
Kat Zambon
GUMC Communications