Ministry Leaders Discuss the Importance of Contemplation at Values Based Lecture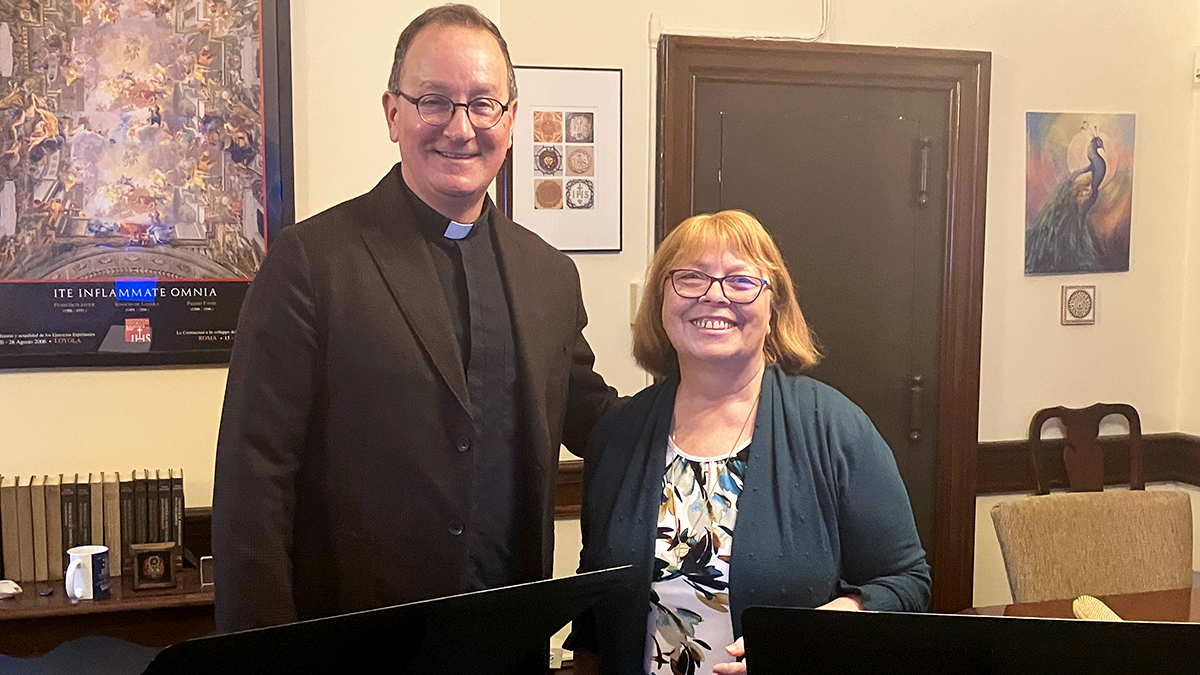 Posted in GUMC Stories | Tagged Jesuit values, School of Health, School of Nursing, Values Based Lecture
(February 10, 2023) — Before coming to Georgetown in August 2022 as chaplain for the School of Health and School of Nursing, Sr. Celeste Mokrzycki served as vocations director for her congregation, visiting schools all over the East Coast and Midwest. Georgetown's values made it stand out, she recalled.
"I think that if we can cultivate these values even more so, because I think it's already being done, into the hearts and minds of our students, and especially nurture a habit of contemplation, then we will be ensuring the vitality of this mission here at Georgetown," Mokrzycki said.
Mokrzycki and Fr. Mark Bosco, Georgetown's vice president for mission & ministry, spoke at the Values Based Lecture, titled "Re-energizing Our Values: Reflecting on the Spirit of Georgetown in Our New Moment," on February 7 via Zoom. Presented by the Committee on Mission and Values, the lecture offered an opportunity for reflection at a critical time, according to Christopher J. King, PhD, MHSc, FACHE, dean of Georgetown's School of Health.
"This is our moment," King said. "It's our moment to ideate, and let our passions, our talents, our gifts, rise to the occasion and reimagine a world where all people, regardless of their differences, can achieve optimal health and well-being."
Roberta Waite, EdD, PMHCNS, RN, MSN, ANEF, FAAN, who also joined Georgetown in 2022 as its dean of the School of Nursing, agreed with Mokrzycki's early impressions of Georgetown's values. "I think of many of the reasons that make Georgetown special," she said. "It is our values and how we state them, how we embody them, and then how we continue to live through and educate our students through application of these values as well."
Practicing Contemplation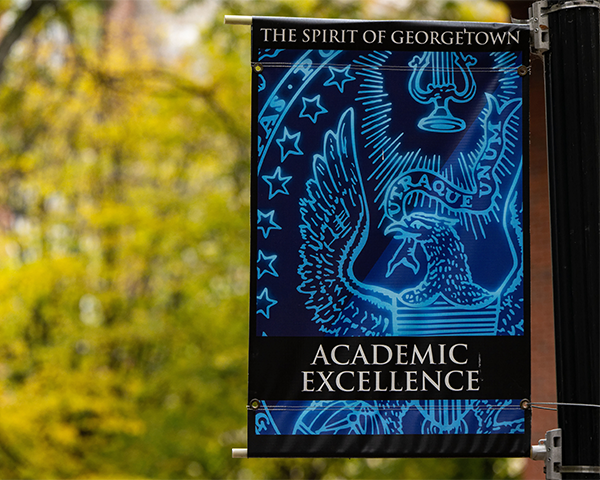 The values behind the spirit of Georgetown are already deeply embedded in our culture, Bosco said. "It's really in your DNA to be animated by the same characteristics, the same values," he said. "These values are a way of proceeding. These values are a way of looking at how I'm going to examine my past, my present and my future."
One of those values, contemplation in action, was inspired by St. Ignatius' belief that contemplation and action should be so intertwined that it strengthens one's relationship with God and others, Mokrzycki said. Faculty members at Georgetown promote contemplation in action by asking students to journal and write reflections on case studies as well as holding meditation at the beginning of class.
"It is crucial, I think, for us, especially in this time, to nurture those seeds of contemplation, our ability to be able to reflect on everything that's going on," she said. We hear these terrible things that happen in our world and we want to jump into action. But if we don't precede that with contemplation, we could be more focused on our own needs."
Transformative Potential
Values can be thought of as a framework or pathway for decision-making, Bosco said, and discussing our values is an important way to ensure that they are a part of our daily lives. "How do we make values explicit?" he asked. "We talk about them, we examine them, we hold them up to each other."
Living our values requires acting with intention, Mokrzycki said, but the impact could be significant. "The wonderful thing about these values is that if we live them, we have the means to accomplish not only the transformation of ourselves, but of the entire world," she said.
Kat Zambon
GUMC Communications