SOM Recognizes Faculty with Golden Apple Awards
Posted in GUMC Stories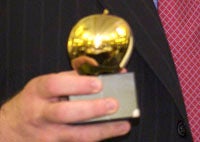 "Welcome to the Village," said Stephen Ray Mitchell, M.D., dean for medical education at the Georgetown University School of Medicine, "and welcome to the 34th Annual Golden Apple Awards, wonderfully hosted by our students who are here to recognize those among our great faculty of teachers who taught them well and treated them like family, which always makes learning better." This year's event was held at la Maison Française at the Embassy of France, on Saturday, April 14, with a dinner, awards, speeches, and a bit of joie de vivre.
The annual Golden Apple Award is presented by each class of the School of Medicine to a member of the faculty "whose outstanding professional and personal qualities have enhanced the medical education of the members of the class." This year's winners are:
Class of 2015: Susan Mulroney, Ph.D., for instruction in physiology
Class of 2014: Joseph Timpone, M.D., for instruction in pharmacology
Class of 2013: Rebecca Evangelista, M.D., for instruction in general surgery
Class of 2012: Michael Donnelly, M.D., for instruction in internal medicine
                       and Joseph Timpone, M.D., for instruction in pharmacology
A number of additional awards traditionally accompany the Golden Apple ceremony.
Individuals who have earned three or more Golden Apple Awards are honored with membership in the Golden Orchard. Inducted into Golden Orchard Class of 2012 are Charles Read, M.D., Ph.D., Pulmonology; Aykut Uren, M.D., Hematology & Oncology; and Sean Whelton, M.D., Medicine.
The Faculty Affiliate Award is given to a physician outside of Georgetown University who has made a significant contribution to the school's medical education and provided mentorship to the medical students during their rotations.
This year's awardee is Robert Holman, M.D., a specialist in internal medicine at Virginia Hospital Center in Arlington, Virginia.
The students in the Special Masters Program in Physiology presented the Physiology Professor of the Year Award to Michael Lumpkin, Ph.D., who has demonstrated exceptional qualities as an educator.
The School of Medicine Cura Personalis Award recognizes exemplary students who embody the spirit of professionalism and cura personalis – the Jesuit principle of care for the whole person – both in and out of the classroom. For the Class of 2015, the winner is Mark Norton. For the Class of 2014, the winner is Jenny Van Kirk.
The Geza M. Illes Award is named in honor of Geza Matthee Illes (C'95) who was a first-year medical student on medical leave of absence when he passed away from cancer in 1998. Illes excelled in anatomy and, during the time he was being treated at Georgetown Lombardi Comprehensive Cancer Center, served as a technical assistant in the anatomy lab. This award recognizes an outstanding first year teacher who serves as an inspirational role model in the field of gross anatomy. The 2012 winner is Martin Dym, Ph.D.
Founding, current, and future Hoya Clinic Coordinators were honored for their dedication to providing care through the Hoya Clinic, the student-driven free clinic that serves homeless and uninsured patients in the District of Columbia. The following students were recognized:
| | | |
| --- | --- | --- |
| Founding Class | 2011-2012 Coordinators | 2012-2013 Coordinators |
| Sean Levy | Maggie Burke | William Chapman |
| Kathryn McKenna | Christine Oh | David Cheever |
| Patricia Notario | Megan Prior | Susie Kwon |
| Karla Polk | Stephen Sarmiento | Mark Russo |
| Patrick Tierney | Jenny VanKirk | Elizabeth Truelove |
| Zachary Wallace | Erwin Wang | Stephanie Van |
The John C. Rose Award, so named in honor of the former dean of the School of Medicine, is presented annually to a member of the faculty or administration who has demonstrated outstanding service to the school and has contributed to the improvement of medical education and student life. This year's winner is Valerie Johnson, director of student affairs at the School of Medicine.
By Frank Reider, GUMC Communications
(Published April 23, 2012)