Sharing Innovation and Motivation at the Ruesch Center Symposium
Posted in GUMC Stories | Tagged cancer, cancer research, gastrointestinal cancer
December 10, 2017 — When Michael Robertson was diagnosed with stage IV rectal cancer almost six years ago, he read online that the survival rate for his disease was 11%. At the 8th Annual Ruesch Center Symposium, he showed attendees a picture of his wife and baby son and encouraged patients, caregivers and medical professionals to keep working towards a cure.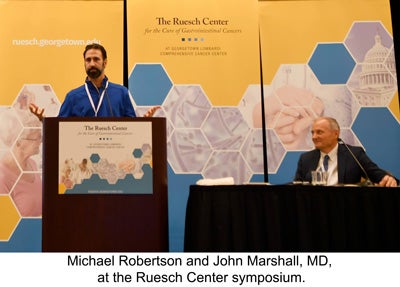 "If we have patients out there, stay strong and be positive," Robertson told attendees. "The caregivers in the audience, stay stronger and be more positive because you guys are the anchor of this in a lot of ways. And for you in the medical community, understand that there's people at the end of this rainbow."
"Every hour that you stay later at the office, every time that you take your lunch at your desk to read a little bit more, that makes a difference," Robertson added. "At the end of the day, that makes a difference for people like me and people like me around the world. So thank you, continue to work hard and keep us in mind even when you're at the back end of an index somewhere and it's feeling very stale. There are people that are benefitting from your hard work."
Robertson's talk concluded the second day of "Fighting a Smarter War Against Cancer: Innovations in GI Cancer" at Georgetown University Hotel and Conference Center. Nearly 300 medical professionals, patients, caregivers and advocates attended the Ruesch symposium on December 1, listening to lectures on topics including precision medicine, immunotherapy, proton therapy, molecular imaging and more.
The last day of the symposium focused on patients, concluding with a social event at a bowling alley. "If you want to go bowling, there will be no lectures there, I promise," said John Marshall, MD, director of the Ruesch center.
Making the Inoperable Operable
Govindarajan Narayanan, MD, chairman of vascular/interventional radiology and director of the vascular/interventional radiology fellowship program at the University of Miami, spoke about irreversible electroporation (IRE), commercially known as Nanoknife.
"Pancreatic cancer carries a very dismal prognosis," Narayanan said. "A very small number of patients qualify for the option that gives them the longest survival, which is surgery."
Most patients with pancreatic cancer have distant metastases or locally advanced disease when they are diagnosed, making them ineligible for surgical resection, or removal of a tumor. Preliminary research by Narayanan shows that it may be possible to shrink tumors with IRE, helping patients with pancreatic cancer become candidates for surgery.
Advanced vascular reconstruction may also make patients with pancreatic cancer eligible for surgical resection, said Patrick Jackson, MD, chief of the division of general surgery and program director of surgical residency in the department of surgery at MedStar Georgetown University Hospital.
"We can render patients resectable even with borderline or locally advanced pancreatic cancer," Jackson said. "The key to the operation, the takeaway message that I give to my residents is you have to leave the operating room with the concept that you have left no disease behind, that there is no cancer left in the patient."
Honoring Individuals Who Have Helped Patients with GI Cancer
This year's Ruesch symposium also included the first annual Luminary Awards in GI Cancer. The awards, presented by the Ruesch center and OncLive, honored clinicians, researchers, patients and advocates who have made significant contributions in the lives of patients with gastrointestinal cancer.
This year's honorees are:
Julie Fleshman, JD, MBA
Pancreatic Cancer Action Network

Daniel G. Haller, MD, FACP, FRCP
Abramson Cancer Center, University of Pennsylvania

Henry T. Lynch, MD, MS, FACP, FAACR
Creighton University School of Medicine

Frank McCormick, PhD, FRS
University of California, San Francisco (UCSF) Helen Diller Family Comprehensive Cancer Center

Andrew L. Warshaw, MD, FACS, FRCSED (Hon)
Harvard Medical School, Massachusetts General Hospital

Kat Zambon
GUMC Communications