Service to Country Goes Beyond Military Duty for Dean Mitchell
Posted in GUMC Stories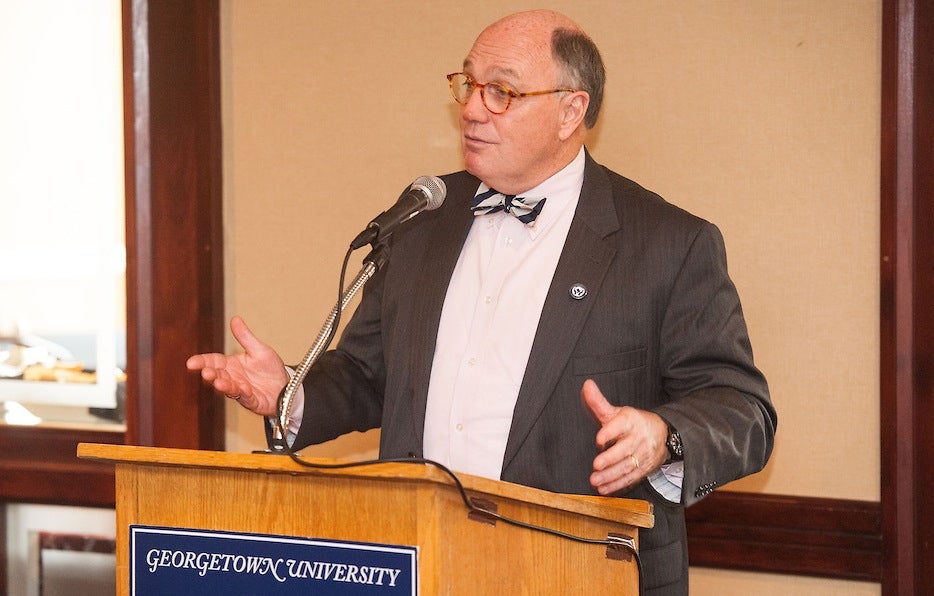 Not long after the Persian Gulf War in 1991, U.S. military veterans returning from the overseas conflict reported medical problems ranging from fatigue and pain to respiratory and cognitive troubles. No single cause has ever been found to explain the spectrum of symptoms that became known as Gulf War Syndrome. Now, more than 20 years later, the Institute of Medicine (IOM) has issued new recommendations regarding the care of these veterans.
Stephen Ray Mitchell, MD, dean for medical education at Georgetown University School of Medicine, served on the IOM Gulf War and Health committee, a congressionally mandated series that developed the report.
"We didn't find a one-size fits all treatment, but there are treatments that can improve a veteran's health when they are tailored to the individual," Mitchell says.
The syndrome, now called chronic multisymptom illness (CMI) is defined as the presence of chronic symptoms in at least two of six categories — fatigue, mood and cognition, musculoskeletal, gastrointestinal, respiratory, and neurologic — experienced for at least six months. CMI affects roughly one-third of veterans of the 1991 Persian Gulf War. Many personnel who served in the more recent conflicts in Iraq and Afghanistan also have reported similar symptoms.
Mitchell says he and the other 14 members of the committee reviewed dozens of select reports evaluating various treatments for CMI before developing recommendations on how best to manage veterans' care.
Other IOM committees have studied CMI, but Mitchell says this is the first to provide advice on how the U.S. Department of Veterans Affairs (VA) should improve care for veterans with CMI.
"We concluded that the VA can make a significant difference in the care of veterans with CMI if they receive more integrated, comprehensive and responsive health care," Mitchell says.
An Air Force veteran himself, Mitchell says he was honored to serve on a committee examining the veterans' health.
Georgetown psychologist and researcher, Janice Krupnick, PhD, also appreciates the opportunity to work on issues affecting veterans. She served on an earlier Gulf War and Health committee as well as three subsequent IOM committees focused on the stress of deployment and the readjustment of veterans who served in Iraq or Afghanistan, their families, and communities. At the present time, she is serving on an IOM Advisory Board that reviews research on veterans.
"This work has been so important to me that my area of research has moved in large part to treatment development in the area of veterans' mental health," Krupnick says. "Since my service on the various IOM committees, I have conducted two pilot studies with veterans. One was the development of a treatment for women veterans with post traumatic stress disorder who had experienced trauma during military service. The other study is ongoing and provides an online intervention for veterans of the wars in Iraq or Afghanistan with PTSD."
"It's been nearly a quarter century since the first gulf war and we're still looking for answers to the medical mysteries that plague those who served our country," Mitchell says. "We owe it to them to keep this issue in focus."
Mitchell points out that others at the School of Medicine conduct research that impacts veterans' health.
Georgetown psychologist and associate dean for faculty development Bonnie Green, PhD, conducts research to understand the psychological and physical health consequences of trauma.
"Trauma and PTSD can have a profound effect, not only on mental health, but on physical health as well," Green explains. "And trauma affects how patients relate to their medical provider, including trust and openness to collaborating in healthcare decisions."
On March 20, James Baraniuk, MD, and his colleagues will publish new research that may help redefine CMI by pointing to brain activity linked with pain and fatigue.
The School of Medicine fosters other activities focused on active duty military and veterans. In the fall of 2012, it participated in the "Joining Forces Wellness Week" initiative, launched by First Lady Michelle Obama and Jill Biden, MD. The week-long educational program of seminars included Georgetown faculty and more than four dozen medical students on scholarship for military careers to discuss medical issues that affect active duty and veterans.
By Karen Mallet, GUMC Communications
(Published March 11, 2013)