Second-year Medical Students Welcome Class of 2022 with Mentorship Programs and Ongoing Support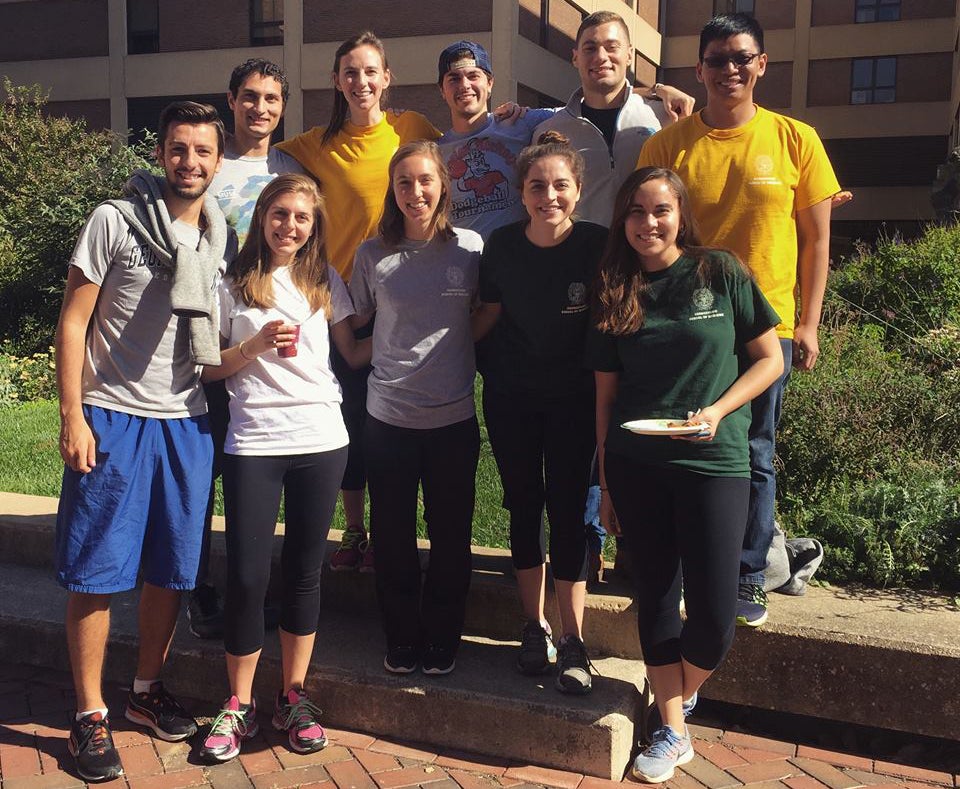 Posted in GUMC Stories | Tagged School of Medicine
(August 23, 2018) — Medical students in the Class of 2022 were all smiles as they pulled on their crisp, white coats and recited the Hippocratic Oath for the first time at the White Coat Ceremony on August 3.
Yet, what does it really mean to spend late nights in Dahlgren Memorial Library or undergo the first exam block?
While it can be hard to face the challenges of the first year of medical school, receiving mentorship and support from other students can make it easier.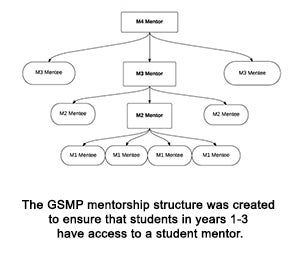 There are several ways to seek out mentorship at the School of Medicine, but the first place one may want to look is the Georgetown Student Mentorship Program (GSMP).
"GSMP was created as a more formal mentorship program," says Neil Sarna (M'21), GSMP president. "Many of us find mentorship through different avenues, but what's nice about a formal mentorship program is that you get your own mentorship network."
In order to receive a diversified mentorship experience, three to four M1s are paired with M2s, M3s and M4s within their learning society. Therefore, a small group of incoming students are able to connect with each other and with medical students at different stages in the process.
Student mentors and mentees connect at GSMP-sponsored events and on their own, either in-person or through other forms of communication. "Even though we're a formal mentorship program, what we do is very informal," Sarna says. "The mentorship process itself is meant to be as natural as possible."
Providing Academic Support Through Workshops and Resources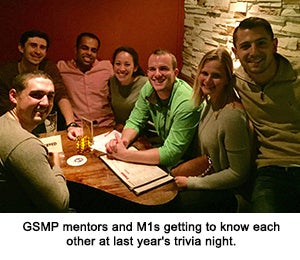 Outside of connecting students, the GSMP also provides workshops and social programming throughout the year for both mentees and mentors, such as hosting a trivia night and requiring participation in the GUSOM Day of Service.
In an upcoming academic workshop geared toward M1s, "How To Study In Medical School," M2s will share three different study methods and helpful resources such as flashcards and study guides that helped them in their first year.
"We're bridging the gap," Sarna says. "We had to navigate this for ourselves and that will be beneficial for the incoming class."
Community is Key to an Enriched, Positive Experience
However, there are other ways to seek out mentorship and community at GUSOM.
Mark Brahier (M'21) is not officially involved in the formal mentorship program, but has informally mentored students in a number of ways through the HOYA Clinic and other experiences.
"One of the most underrated goals is to find your people," he says. "It might be classmates, M2s you're formally assigned to, M2s you informally meet, faculty or clergy. But having someone nearby who can help you through the process is important."
Brahier also adds that it's important to find others who share your interests, values and/or learning style.
"I think this is directly tied to wellness and mental health," he says. "It's a lot easier to say in a lecture hall or orientation 'make sure to take time for yourself.' But, when the rubber hits the road, and we're looking to make this process better for students, it does go back to having a support group."
What's the best way to connect with other students? Brahier recommends a simple solution.
"In the first couple months, spend time on the medical campus. Put yourself in a position where you're around other people. I always recommend making connections in person because that's when you really meet each other."
Meredith Njus (M'21), a GSMP board member, echoes this sentiment.
"These are the same classmates that will follow you throughout the next four years," she says. "You can really lean on them. You can open up to them when you're feeling down, ask them to hang out or study."
"When you're open and vulnerable, you lift each other up. This helps form a better relationship and seek strength in your peers, which can be powerful," she adds.
Looking Forward: Mentorship Beyond the Hilltop
While the GSMP program primarily focuses on M1s and M2s, there could be more of an emphasis on M3s and M4s in the future. "When you get to be an M3 or M4, you tend to look for mentors in your own specialty," Sarna says. "That's an area where [GSMP] can advance and create a better mentorship program for upperclassmen."
Sarna also mentioned the program potentially tapping into GUSOM's robust alumni network in the future. "It could be interesting to have a stronger alumni connection," he says. "I know it already exists within each specialty, but maybe there's another way we can connect. That's something I'd like to look into further."
While these ideas are in their early stages, GSMP is open to suggestions and collaboration from the GUSOM community.
"Georgetown is a tight-knit and close community, so if anyone has any ideas on what might work better for them, we want to hear from you," says Sarna. "One idea could end up blossoming into a whole program, so we're open."
Giuliana Cortese
GUMC Communications