Second-Year Medical Students Gather on Campus in Person for the First Time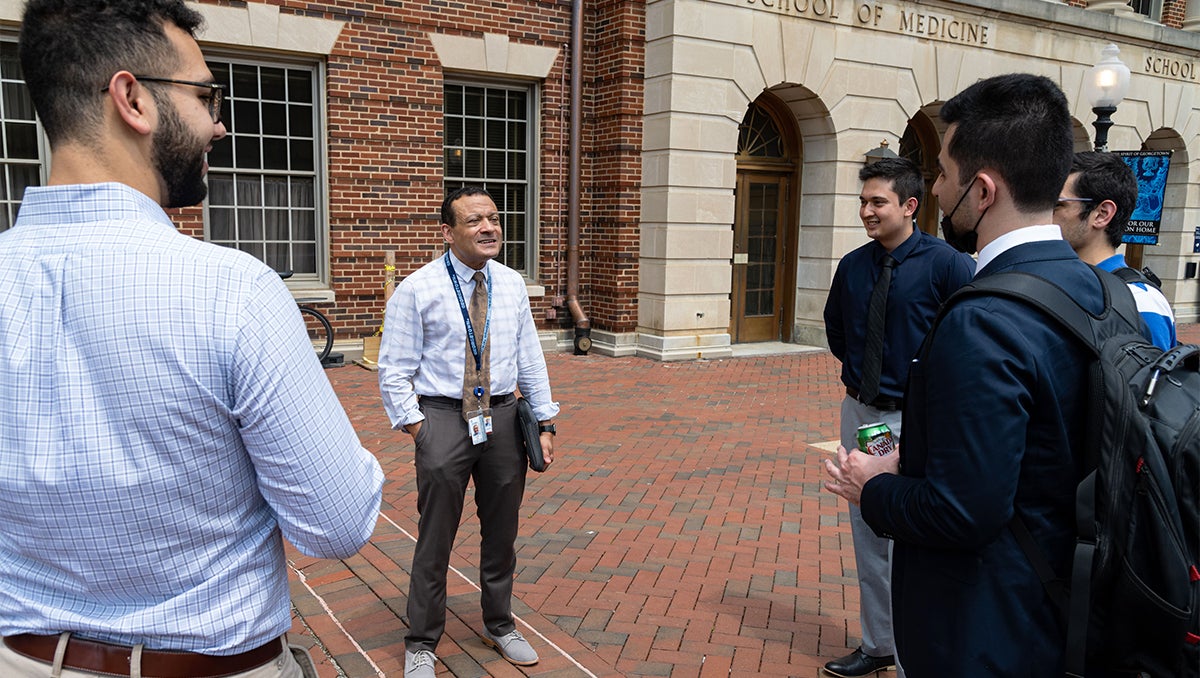 Posted in GUMC Stories | Tagged COVID-19, medical education, School of Medicine
(August 13, 2021) — After the COVID-19 pandemic forced them to start their medical education in a virtual setting, the students of the School of Medicine Class of 2024 were excited to start their second-year orientation, the first time they were all together as a class.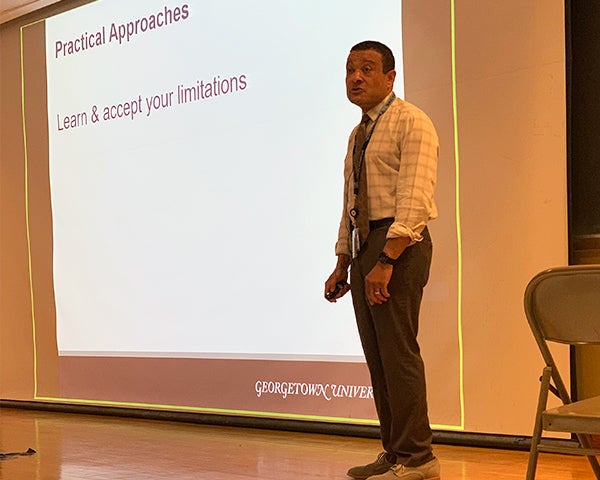 Having started at Georgetown a week earlier, Lee Jones, MD, dean for medical education at the School of Medicine, welcomed the second-year students to campus. "I actually feel like a kindred spirit with those of you who have not been on campus, because you're going to be as lost as I am right now," he said at the August 9 orientation in the Pre-Clinical Science Building.
With the exception of some of their gross anatomy classes, the students have taken all of their medical school classes to date in a virtual format, including community-based learning, making their second-year orientation a special experience.
"Just take a deep breath and realize it's great to be together for the first time," Jones said.
'Our Lives Were Not What We Planned'
Before the medical students listened to talks about the curriculum, grading, library and wellness resources, Jones shared his reflections and words of encouragement.
In addition to the twin pandemics of COVID-19 and the struggle for racial justice, 2020 was characterized by dramatic political polarization. Jones started by congratulating the students for successfully completing their first year in spite of the challenges they faced.
"I want to acknowledge anyone that had any losses this last year," Jones said. "And I do mean losses of loved ones, family, and friends, but just there was a lot of loss for all of us.
"Our lives were not what we planned," he added. "This is not the way you probably planned to start medical school, and I bet it wasn't the way you planned the end of your senior year in college for those of you that came here directly, right? So there were a lot of changes and things that were not as planned."
Encouraging Self Care
Recognizing that students may not feel a strong connection to campus due to virtual learning, Jones shared some of the reasons behind his interest in becoming the dean for medical education at the School of Medicine, including Georgetown's dedication to cura personalis.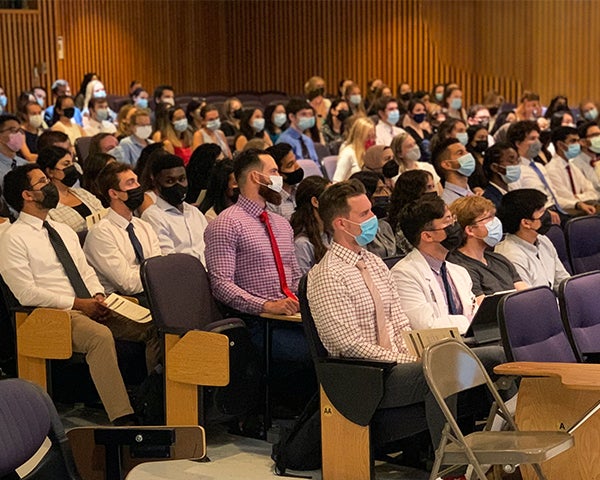 "I had a great job at UCSF," he said. "I was dean of students. I loved that job and I thought, There's nothing that's going to get me out of San Francisco. But I distinctly remember the second set of interviews with the entire committee and realizing, I want this job, I really want this job. It's just a great place to be."
Out of thousands of applicants, Jones explained, the students selected to join the School of Medicine Class of 2024 were chosen because admissions committee members felt they would become the doctors they would want caring for their sick loved ones. However, to reach this potential, he cautioned, students need to practice self-care. Jones encouraged them to include time for relaxation in their schedules.
"What most of us do, which is a mistake, is when you fill out your schedule, when there are holes left, that's when we put in relaxation," he said. "That's not how that should work. You need to put it in first.
"Take care of yourselves, take care of each other, take care of the community," Jones added. "I'm going to say the first one again — take care of yourself. It's really, really, really important. People that aren't taking care of themselves do not make good doctors."
Kat Zambon
GUMC Communications