Team Georgetown Joins Scope It Out 5K to Raise Awareness of Colon Cancer
Posted in GUMC Stories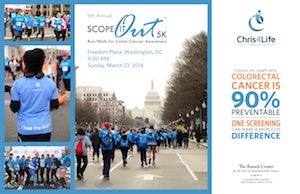 January 31, 2014 - Faculty and staff from Georgetown University and MedStar Georgetown University Hospital, along with patients and family members, will come together as Team Georgetown to raise funds to support colon cancer advocacy research at the ninth annual Scope it Out 5K on March 23.
The event will begin at 9:00 a.m., near Freedom Plaza, located at 1350 Pennsylvania Avenue, Washington, D.C.
Held during National Colorectal Cancer Awareness Month, the race is expected to attract more than 4,000 participants, according to the organizers, the Chris4Life Colon Cancer Foundation. The Scope It Out 5K calls attention to colonoscopy as an important tool in early detection of the deadly disease. This is of particular urgency in the D.C. region, which ranks No. 1 in lives lost to colon cancer. The disease is the second-leading cause of cancer deaths for men and women combined in the U.S., according to Chris4Life.
Along with fielding a team, the Ruesch Center for the Cure of Gastrointestinal Cancers at Georgetown Lombardi Comprehensive Cancer Center will also sponsor the race as in previous years. Chris4Life hopes to raise $400,000 at this year's event, with some of those funds going to support research at the Ruesch Center.
"Chris4Life is a valuable partner and the Scope It Out 5K provides critical funds to support clinical research in colon cancer at Lombardi," says John Marshall, MD, director of the Ruesch Center, professor of oncology at Georgetown University Medical Center and chief of the division of hematology/oncology at MedStar Georgetown University Hospital.
To date, the Scope it Out 5K has donated more than $1 million in support of colorectal cancer research and awareness.
Register at http://www.scopeitout5k.com/events/286/scope-it-out-5k-run-walk-washington-dc as a team member and join Team Georgetown.
For more information about ways to support the team or to get involveld with the Ruesch Center, e-mail rueschcenter@georgetown.edu.
By Craig Lustig