Team Georgetown Joins Scope it Out 5K in Call for Colon Cancer Screenings
Posted in GUMC Stories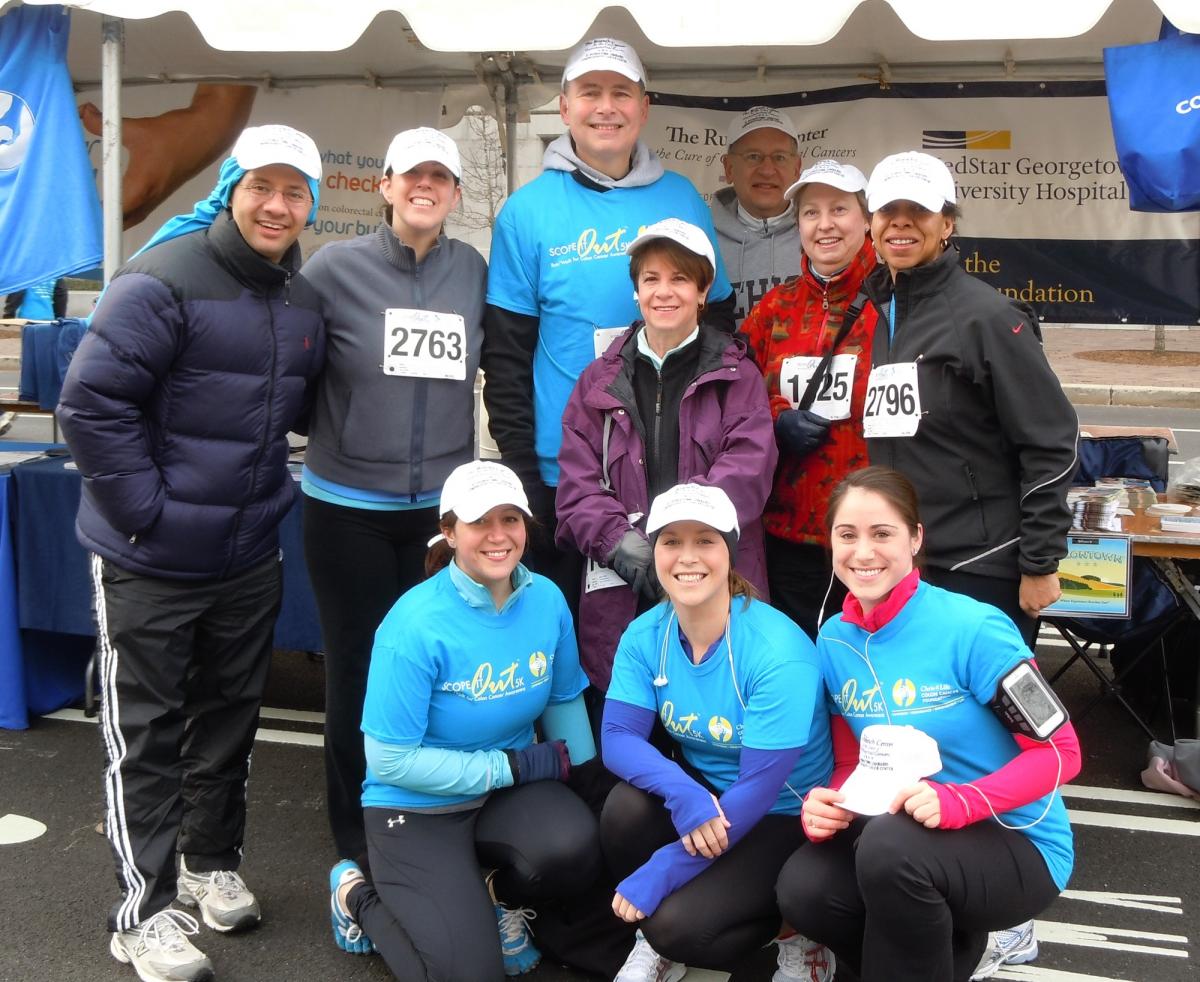 Joanne Wilson thought she was doing everything "right" to stay healthy. She stopped eating red meat years ago, avoided tobacco and excess alcohol, and was an avid exerciser. 
When she turned 50, she dutifully scheduled a colonoscopy as is recommended, thinking it was another item to tackle on her health checklist. So she was surprised when that colonoscopy detected something, and shocked when that something turned out to be a stage 3 colon cancer diagnosis. 
With no family history that she was aware of, Wilson didn't see this coming. Her oncologist, John L. Marshall, MD, head of hematology/oncology at Georgetown Lombardi Comprehensive Cancer Center, part of Georgetown University Medical Center and MedStar Georgetown University Hospital (GUH), told her she didn't have any of the typical risk factors that would land a patient in his office. 
About two and a half years later, she is now cancer-free and feeling exceptionally fortunate. 
"I am the poster child for the importance of screening," Wilson said. "If I hadn't gone in for that routine colonoscopy, I would not be here."
Wilson recently joined Team Georgetown in the Scope it Out 5K on March 24, a race to raise funding and awareness around colon cancer.  The race drew nearly 4,000 people to Freedom Plaza on a chilly morning – setting a new record for registrants, according to the organizers, the Chris4Life Colon Cancer Foundation.  
The eighth annual event, which has grown exponentially over the years, raised nearly $300,000 for colon cancer advocacy and research efforts, organizers said. Some of those funds go to support research at the Ruesch Center for the Cure of Gastrointestinal Cancers at Georgetown Lombardi. 
Chris4Life is a Washington, DC-based advocacy group that seeks to boost funding and advocacy efforts with the aim of curing colon cancer. Through its funding for colon cancer research and other patient support services, the organization is a key partner with the Ruesch Center.
This year, the Ruesch Center and MedStar GUH jointly sponsored the race, and together made their presence known through Team Georgetown. 
In remarks to the crowd after the race, Louis M. Weiner, MD, director of Georgetown Lombardi, said he hopes that awareness-raising events such as these would keep people out of his office. 
"Did you know that if colon cancer is caught early enough, the vast majority of cases are curable? Not enough people know this," Weiner said. "That is where you come in and why events like these are so critical."
Each year, more than 140,000 people are diagnosed with colon and rectal cancer in the United States, according to the American Cancer Society. Chris4Life, which was formed just three years ago, has raised more than $1 million through the race to further colorectal cancer research and to support education and patient support initiatives. 
For more information about Chris4Life's programs and activities, visit chris4life.org. 
For more information about the Ruesch Center, visit www.rueschcenter.org. 
By Lauren Wolkoff, Georgetown Lombardi Communications
(Published April 03, 2013)