Scientific Method on Display at Student Research Day
Posted in GUMC Stories
Student Research Day 2013 was held July 10, giving graduate students a forum to showcase their research pursuits. This year, students presented 27 posters in the Preclinical Sciences Building, interacting with faculty members, advisors and other students about their findings. In conversations and on structured written forms, faculty members provided feedback to the students on both their studies and presentations, identifying strengths and areas for potential improvement.
New this year was the establishment of two awards that were presented at a reception following the poster presentations: the Dr. Zofia Zukowska Award for Excellence in Thesis Research, and the Dr. Mark Smulson Award for Excellence in Thesis Research. Dr. Zukowska was the former chair of physiology and biophysics at Georgetown. Her research focused on neuropeptide Y function in cardiovascular disease, stress and obesity. Dr. Smulson, was a longtime professor of biochemistry and cellular and molecular biology at GUMC; his research focused on chromatin remodeling during DNA replication and repair, and maintenance of genomic stability. Dr. Smulson mentored many graduate students over the course of his career.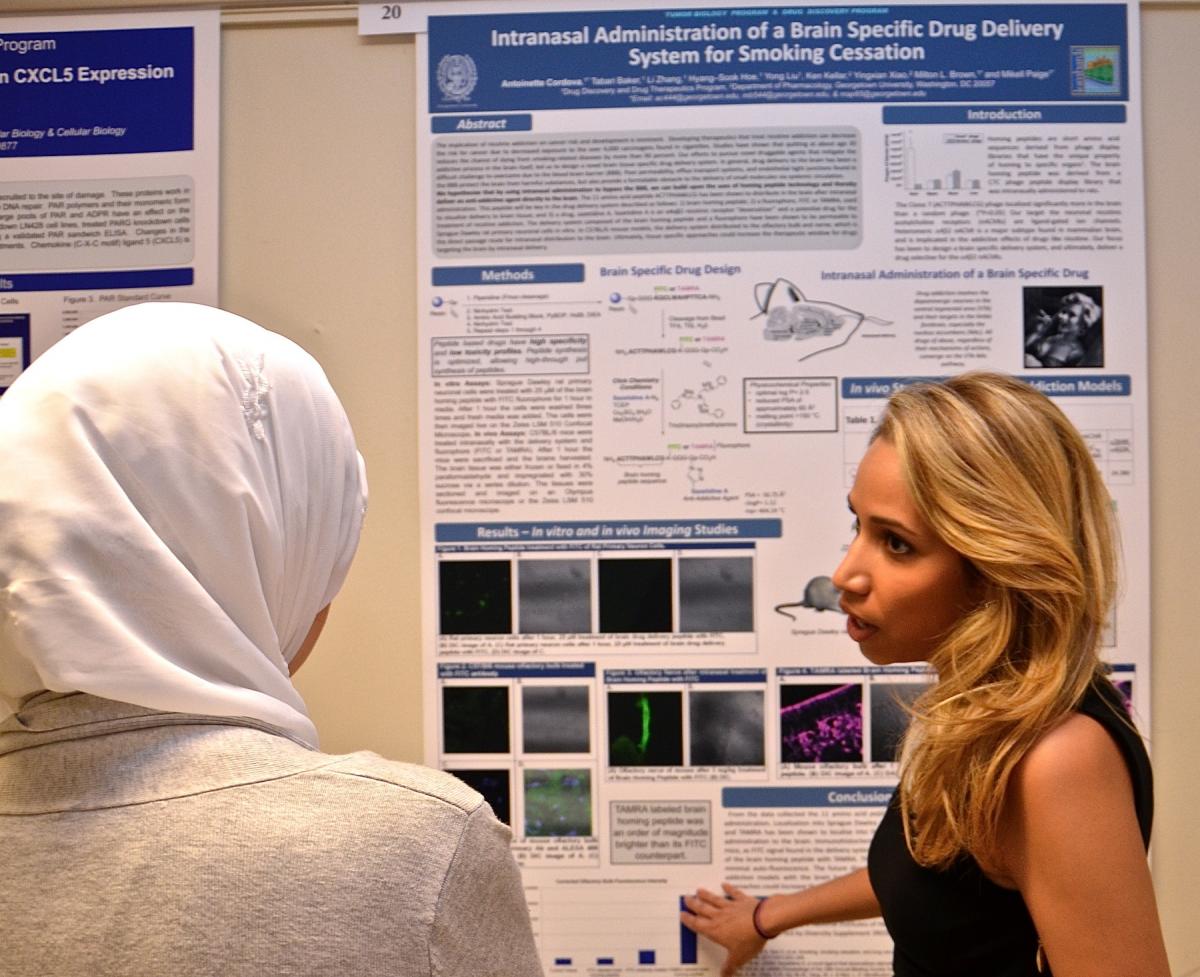 Antoinette Cordova (r.), a doctoral student in the Tumor Biology Program at Georgetown Lombardi Comprehensive Cancer Center, has been a science enthusiast since her University of Miami undergrad days. Cordova then made her way to the Washington area as an Office of Naval Research Scholar. First enrolled at Georgetown University School of Medicine before realizing that medicinal chemistry was her calling, she was fortunate to meet her current mentor, Milton Brown, MD, PhD, director of the Georgetown Center for Drug Discovery, and decided to pursue her long-held research interests in tumor biology. Cordova hopes to eventually work at a "research hub, like the NIH [National Institutes of Health], an extraordinary place to pursue my scientific endeavors and develop therapies to one day help people."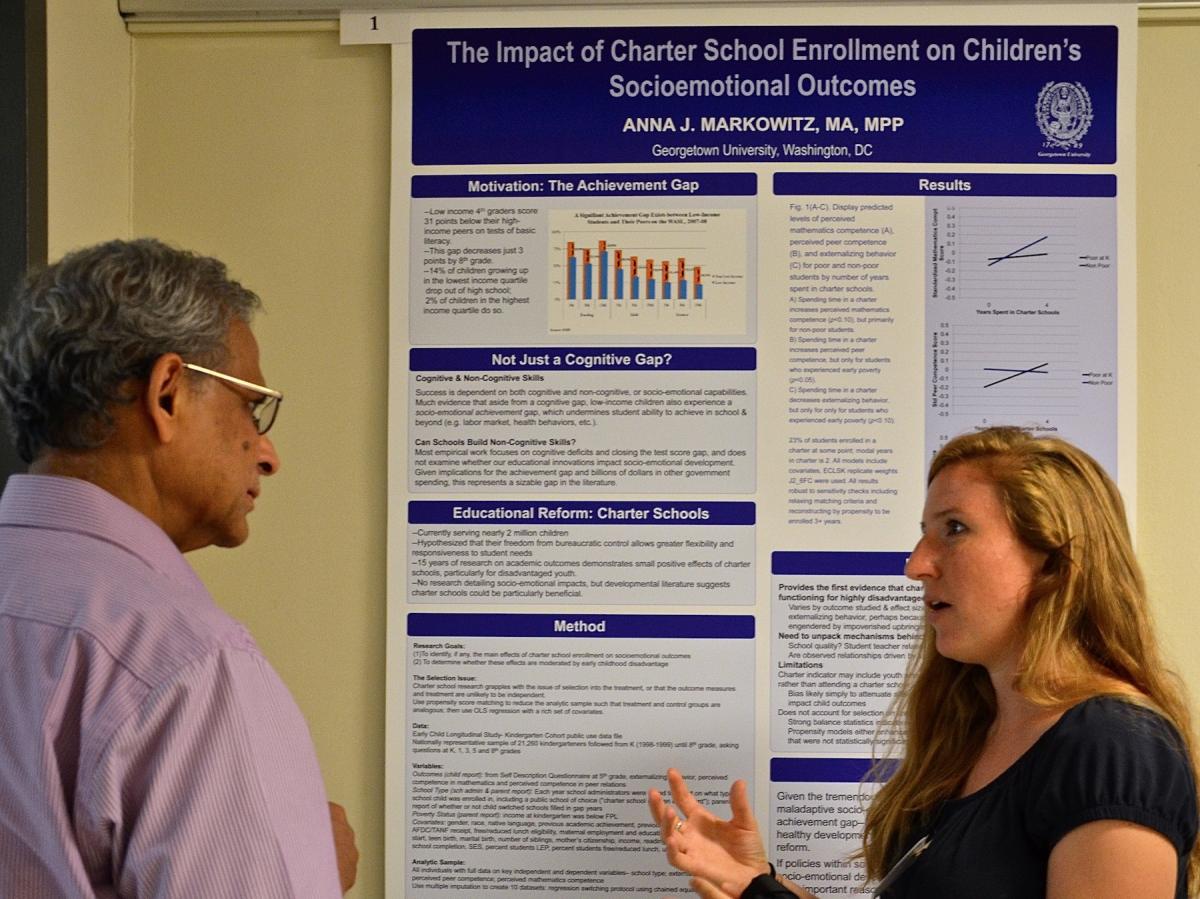 Georgetown University dual degree student Anna Markowitz recently received a master of public policy from Georgetown Public Policy Institute and is a doctoral student in psychology. Markowitz' poster – The Impact of Charter School Enrollment on Students' Socio-emotional Outcomes – was her master's thesis and is particularly relevant in Washington, where more than 40 percent of public school students attend charters. Markowitz eventually plans to teach or work in a school of education. "I want to work with teachers who interact with kids every day, and to use research to make a positive impact in kids' lives," she said.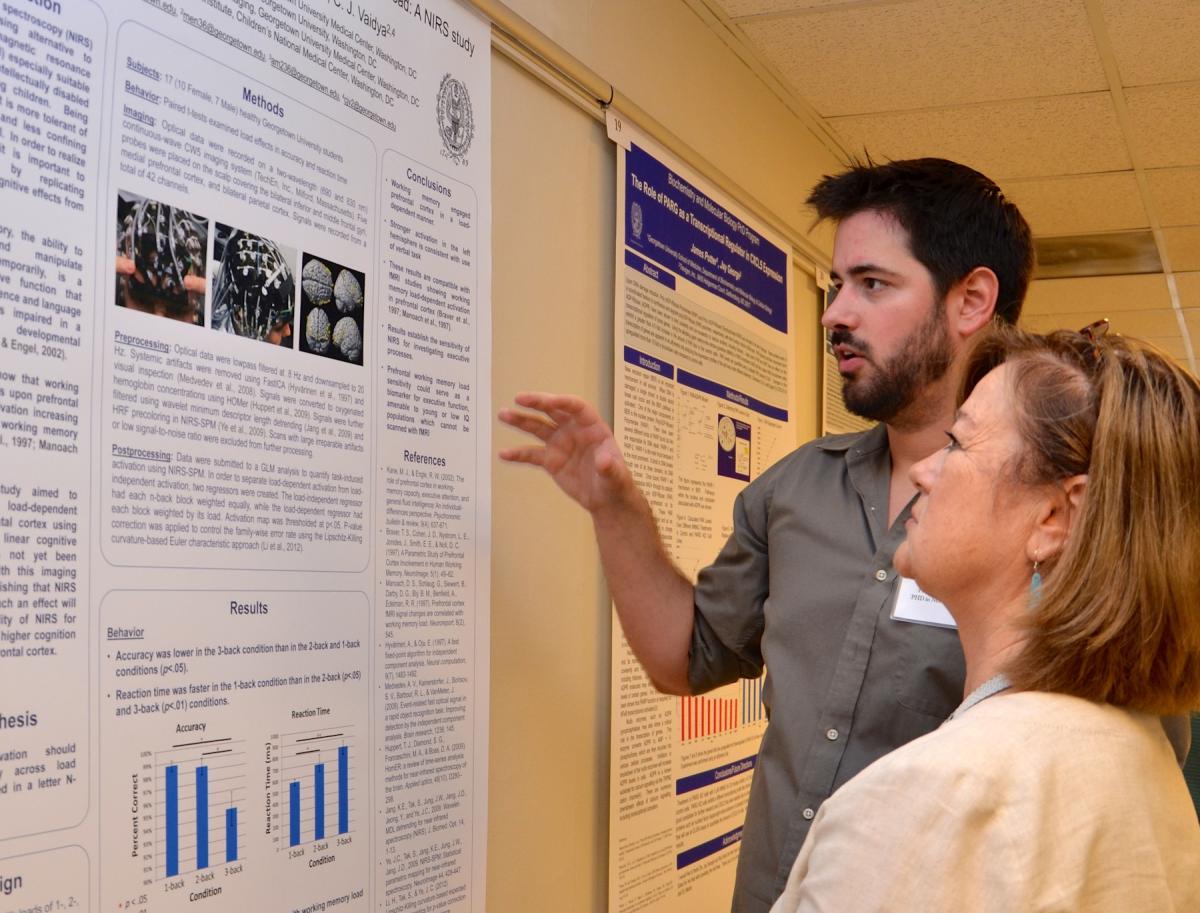 Frank Fishburn, enrolled in the Interdisciplinary Program in Neuroscience, presented research on near-infrared spectroscopy, an emerging imaging modality that is particularly well suited for use with young children. Under the mentorship of imaging expert Andrei Medvedev, Ph.D., an assistant professor in the Center for Functional and Molecular Imaging at Georgetown, and psychologist Chandan Vaidya, associate professor of psychology, Fishburn said he "really likes conducting research in the early stages of the technique, with opportunities to explore important questions." When asked about a career path, Fishburn said that whatever direction he heads, be it academia or industry, "research is the most important thing to me."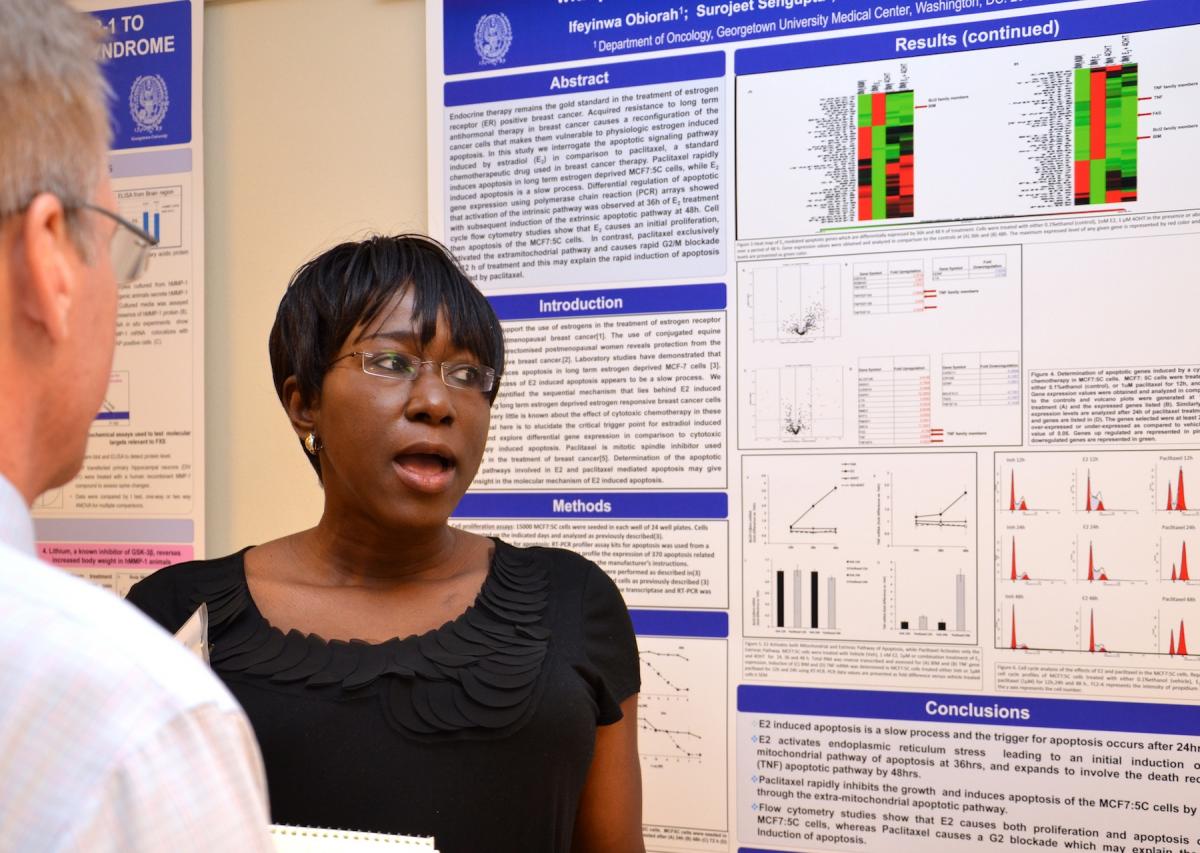 Tumor Biology graduate student Ifeyinwa Obiorah has worked in the lab of Georgetown Lombardi Comprehensive Cancer Center pharmacologist V. Craig Jordan, OBE, Ph.D., D.Sc., FMedSci since 2010. Obiorah's research examined a novel molecular mechanism for estrogen-induced apoptosis (or programmed cell death) that contrasts with paclitaxel-induced apoptosis in breast cancer. Now in her last year of her program, Obiorah looks forward to starting a postdoctoral fellowship in the 2014 academic year.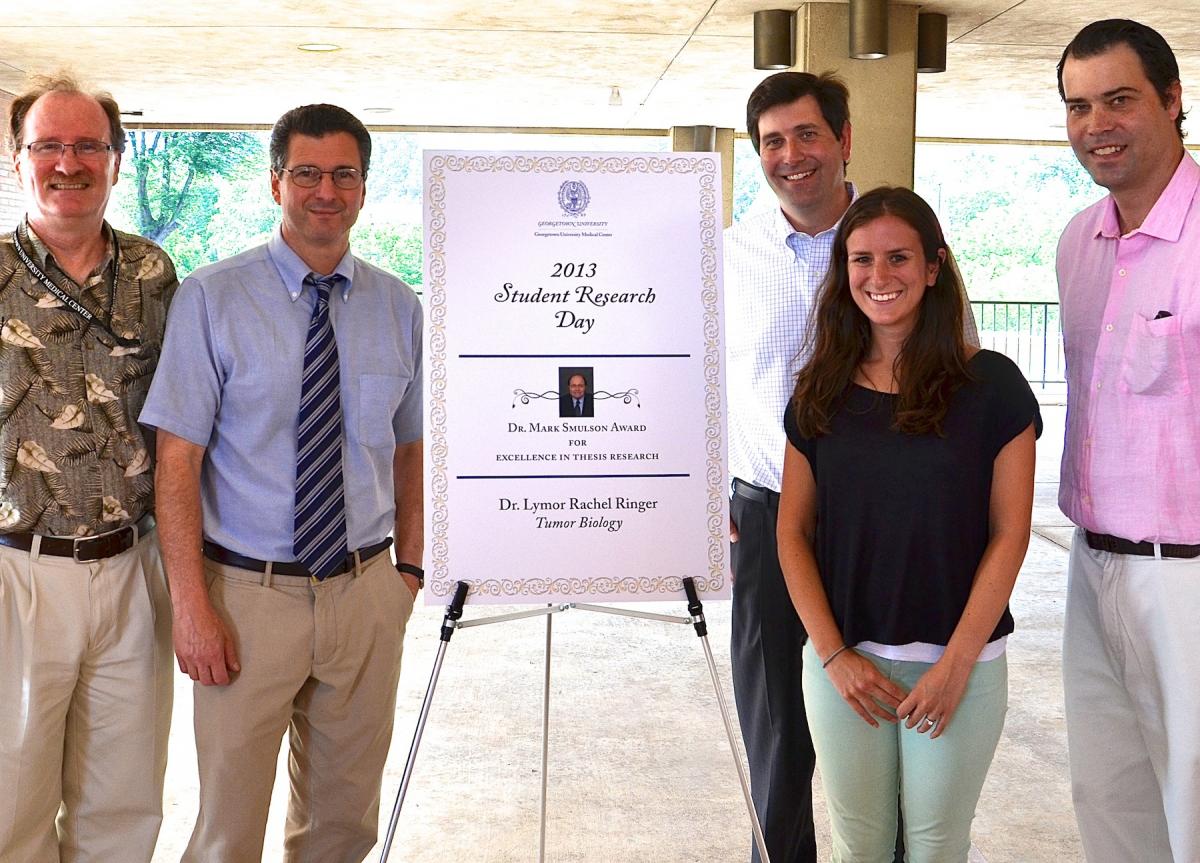 Lymor Rachel Ringer, Ph.D. (third from r.), was the recipient of the Dr. Mark Smulson Award for Excellence in Thesis Research. Ringer received her doctorate in Tumor Biology from Georgetown in 2012 and is now leading research projects in the lab of Chris Albanese, Ph.D. (second from l.). Also pictured are Elliott Crooke, Ph.D., (l.) chair of biochemistry and cellular and molecular biology, and Dr. Smulson's sons Kristoffer (right) and Erik (second from r.).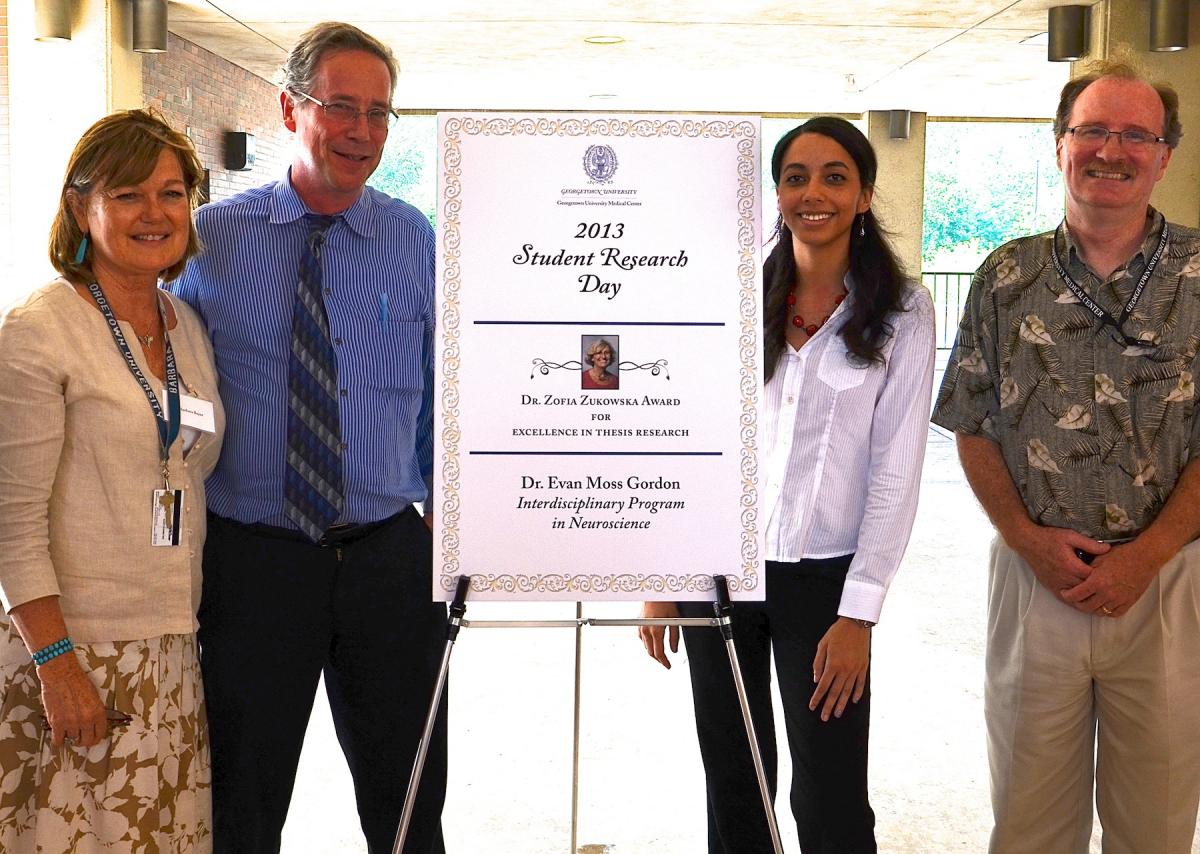 Dr. Evan Moss Gordon, Ph.D., was the recipient of the Dr. Zofia Zukowska Award for Excellence in Thesis Research. Dr. Gordon was a 2012 graduate of the Interdisciplinary Neuroscience Program; he has begun his postdoctoral fellowship at Washington University in St. Louis and was unable to attend the ceremony. Pictured are Dr. Zukowska's husband, John Mill (second from l.), daughter Anna Grojec (second from r.), Barbara Bayer, Ph.D., chair of neuroscience, and Elliott Crooke, Ph.D., chair of biochemistry and cellular and molecular biology.    
(Published July 12, 2013)