In Spring, Science Is in Bloom at GUMC
Posted in GUMC Stories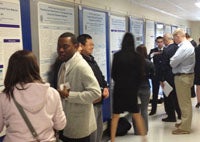 It started in early March with the Fourteenth Annual Lombardi Research Days. Students doing research in cancer get a chance to present their findings and gain recognition for their work.
Then on March 29, there was Health Justice Week with medical students' research posters on display, each relating a study in the area of health disparities.
April 18 was the Undergraduate Research Conference sponsored by the School of Nursing & Health Studies, where again, research posters were displayed and explained, and outstanding achievement recognized.
Last Friday, April 27, if you were in the Pre-Clinical Science Building, you would have run into two research day events taking place simultaneously.
First there was the First Annual School of Medicine George M. Kober, M.D., Research Day. Medical students are required to complete a research project under the guidance of a faculty member before graduation. "Georgetown medical students have always been drawn to investigation in our faculty labs and clinical offices," said Stephen Ray Mitchell, M.D., Dean for Medical Education. "Even before the mandatory research requirement was implemented as part of the curriculum, more than half our students completed research with a faculty member and half of those published a scientific paper with faculty." This year, 182 projects were presented.
The second event was a biotechnology and biochemistry research display from the Department of Biochemistry and Molecular and Cellular Biology. This was the 14th year for this event, which featured student research projects, some with a decidedly entrepreneurial flair, since many of the graduates have set their sights on careers in the innovative biotech industry.
On May 3, there was the Department of Medicine Research Day, featuring the posters by residents, fellows, and, yes, once again, medical students. This event, held in the Leavey Center, offers a $1,000 prize for the top entry and $500 for the runner-up in each category. To read about the array of research projects submitted for this year's Department of Medicine Research Day as well as a list of the winners, click here.
By Frank Reider, GUMC Communications
(Published May 07, 2012)