School of Medicine Honors Four Master Teachers
Posted in GUMC Stories | Tagged Commencement 2022, MAGIS Society, School of Medicine, SOM Commencement 2022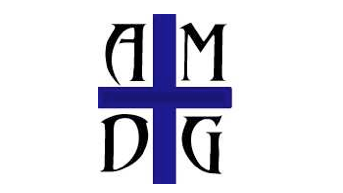 (May 23, 2022) — As is tradition, Georgetown University School of Medicine launched its 2022 commencement week with the annual MAGIS Society of Master Teachers induction and faculty awards ceremony recognizing contributions to medical education. At this year's 20th annual event on May 19 at the medical center campus, four new MAGIS inductees were recognized.
The omnipresent impact of the COVID-19 pandemic that precluded the MAGIS gatherings in 2020 and 2021 threatened to halt medical education altogether, said Edward B. Healton, MD, MPH, executive vice president for health sciences and executive dean of the School of Medicine.
"To state the obvious, these past two years have been remarkable — not only remarkable for what we have not been able to do, but for what we have been able to do," he said. "When the growing pandemic suddenly curtailed in-person education, all of you — really, all of you — labored hard to create new ways to teach. You were innovative — learning new technologies and strategies for engaging students and guiding them through such challenging times that we all had to go through together."
Since its inception in 2003, 52 master teachers have been inducted into the MAGIS Society. The newest members include Donna Cameron, PhD, MPH, professor of family medicine, and Thomas Sherman, PhD, professor of pharmacology and physiology, who were honored for their work as educators in preclinical science, as well as Eileen Moore, MD, professor of medicine and family medicine, and Sean Whelton, MD, associate professor of medicine, who were recognized for their work as educators in clinical science.
Read About this Year's MAGIS Society Inductees
2022 Master Teachers
Preclinical Science Educators
Donna Cameron, PhD, MPH, professor of family medicine
Thomas Sherman, PhD, professor of pharmacology & physiology
Clinical Science Educators
Eileen Moore, MD, professor of medicine and family medicine
Sean Whelton, MD, associate professor of medicine
Kaiser Permanente Awards
Excellence in Preclinical Teaching
John Partridge, associate professor of pharmacology & physiology
Excellence in Clinical Science Teaching
Eileen Moore, MD, professor of medicine and family medicine
Mother of Pearl Award
Jeannette Joly, MD, resident, Department of Surgery, MedStar Georgetown University Hospital
---
Donna Cameron, PhD, MPH: 'I Just Showed Up Every Day'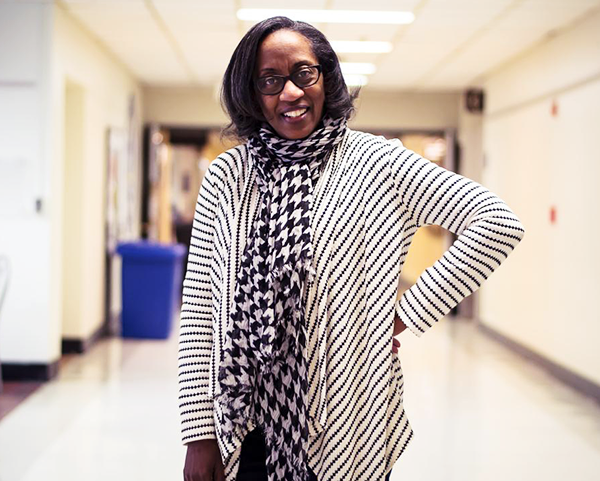 Donna D. Cameron, PhD, MPH, has often walked past the wall of plaques near the conference center that honors past MAGIS inductees. "I never thought that I would be on that wall," said Cameron, the professor and director of diversity, equity and inclusion in the Department of Family Medicine, associate director of community-based learning and adjunct associate professor for the School of Nursing & Health Studies.
Raised in a Seventh Day Adventist tradition that emphasized health, nutrition and exercise, Cameron pursued a formal education that would allow her to share that mindfulness of health with others.
With a master's degree in public health from Loma Linda University, Cameron returned home to New Jersey in the late 1970s to teach. After working in elementary education and as an educator for a county health department, she wrote a 10-year life plan that included getting a PhD. She earned her doctorate in public health from the University of Maryland in 1996, right at the 10-year mark — then spent three years applying for jobs, teaching piano to make ends meet.
In May 1999, she applied for an opening at Georgetown. During the final of three interviews, she told her interviewer, family medicine professor Jay Siwek, to look out his window at the clouds. "Behind those clouds," she said, "I believe there's a God and He's in charge of my life, and if I'm not hired to do this job, the right job will turn up, because He cares about me like that."
Siwek called her the next day with a job offer.
"I did not know about medical education, I did not have any physicians in my family," she said. "I just showed up every day and then every day turns into 22 years."
Having read reams of applications while serving on an admissions committee, Cameron knows that quite a few medical students don't come from wealth and they understand what it is to be underserved, to come from a single-parent home or a home with parents who were refugees. Others arrive "with little or no idea of the lived experiences of poor people, of marginalized populations."
When she arrived at Georgetown, community-based learning (CBL) was a tiny elective called service learning. Cameron thought every student should have that experience to open their eyes to aspects of life, health and illness to which they might never otherwise be exposed. By convincing those above her of the idea's worthiness and developing relationships with community leaders throughout the D.C. area, she helped shepherd CBL into a required course for all medical students.
More recently, amid the national tumult after George Floyd's death at the hands of police in 2020, Cameron said she asked herself, "What have I done for the marginalized student?" She decided to actively support participants in the Georgetown Experimental Medical Studies (GEMS), a 45-year-old post-baccalaureate program for underrepresented students interested in applying to medical school, by meeting with them regularly to discuss issues related to wellness.
---
Eileen Moore, MD: A Passion for Justice and Outreach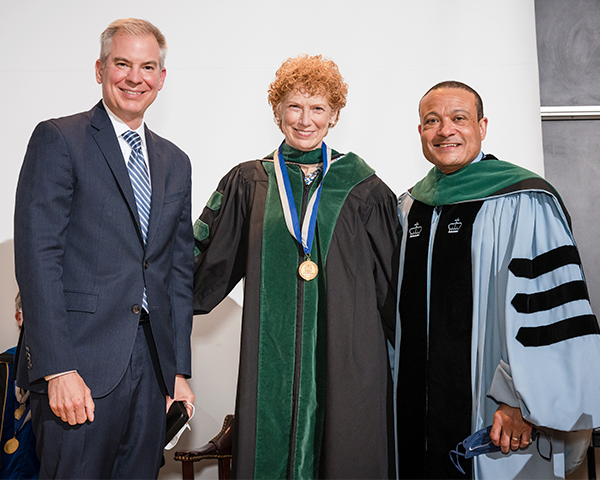 "I receive so much more from caring for my patients than I could ever give to them," said Eileen S. Moore, MD, associate dean for community education and advocacy at the School of Medicine. "I truly love what I do and I can't think of a more rewarding profession on the planet."
Following medical school at the University of Cincinnati and residency at University of Cincinnati Hospital, the Ohio native completed her fellowship in primary care and health policy at Georgetown in 2000 and joined the faculty of the School of Medicine. She is a founding member of the Center for Patient Safety, and designed and implemented the Patient Safety Immersion Program in which medical students and new-to-practice nurses learn together in an interactive, interdisciplinary format.
Since 2007, she has been medical director of the Health Outreach to Youth and Adults (HOYA) Clinic, the first student-run free clinic in Washington, D.C., serving some of the District's most vulnerable residents. In 2019, she earned the Excellence in Teaching at HOYA Clinic Award for exemplary patient care and teaching skills at the clinic.
In November 2016, Moore was named founding medical director of the Georgetown Health Justice Alliance, a medical-legal partnership to reduce the harmful social determinants of health for those contending with housing insecurity or homelessness. She also designed and implemented the School of Medicine's Health Justice Scholars Track, which encourages student physicians to advocate for the elimination of health disparities.
Primary care has always been her chosen path, both for the variety of people from different backgrounds with whom she interacts and the continuity of caring for some of the same patients over decades. "Meeting that patient for the first time, meeting them where they are, wherever they are, working with them, accompanying them over the course of time as their primary care is just a wonderful privilege," she said.
Because of that, she finds the current shortage of students going into primary care puzzling, but believes changes are underway at the policy level to address that. "We're striving to give our medical students more exposure to primary care," she explained. "Honestly, if you don't see it, you're not gonna be it."
Asked about her reaction to news of her selection for the MAGIS Society, Moore said she'd forgotten she's been at Georgetown for more than 20 years, one of the criteria for consideration. "The medical educators that are in the MAGIS Society have just always been role models to me," she added. "It's just very humbling to be inducted into such a group."
Moore was also recognized with the Kaiser Permanente Award for Clinical Teaching during this year's MAGIS induction ceremony.
---
Thomas Sherman, PhD: Creating a Generation of Role Models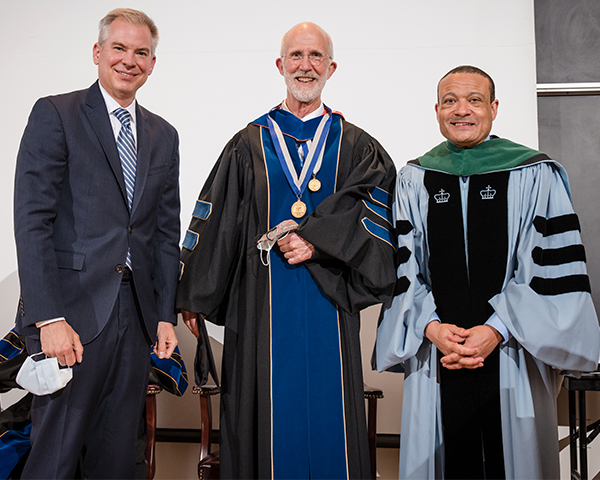 "I really enjoy teaching biochemistry," said Thomas G. Sherman, PhD, director of the Biomedical Sciences Program in the Department of Pharmacology & Physiology, associate director of the Special Master's in Physiology Program, and chair of the Medical Center Graduate Advisory Committee. "I feel like I can make it understandable and attractive to students who typically fear this topic."
A native of Indiana, Sherman entered graduate school in biochemistry at the University of Texas Southwestern Medical Center in Dallas, completing his PhD research at Columbia University Medical Center. After postdoctoral research in molecular neuroendocrinology at the University of Michigan's Mental Health Research Institute, he served on the faculty at the University of Pittsburgh for seven years.
Sherman came to Georgetown in 1996. He was named Georgetown Physiology Teacher of the Year in 2019.
Conversations with his classes about metabolic pathways and how food creates energy expanded into discussions about what constitutes healthy eating and what foods his students ought to be eating. That student interest led Sherman to create an evidence-based elective nutrition course, which has since grown into five different nutrition courses every year. "It has sort of taken over my life," he said.
Sherman is part of Georgetown's Thread Initiative, designed to keep certain topics in front of medical students for all four years. As a director of the Nutrition Thread, he's responsible not only for teaching his course to first-years, but also introducing new nutrition-related topics in many other courses, from pharmacology to pediatrics, in those students' second and clinical years.
"I'm a member of a group of faculty who really want to create a generation of physicians who can serve as role models to their patients in terms of cooking, exercise, body-weight control, eating well — because all of those things are so challenging for so many people," he said. "If you have a physician who can talk intelligently about those topics and can convince you that they will help you, then I think it's just much more likely to be effective."
A self-taught cook, Sherman practices what he preaches. "If I have a superpower, it's I can read a recipe and tell if my family will like it or not." He's particularly known for his paella, and his "Give Peace a Chance" walnut granola is a staple of student fundraisers.
"Honestly, I was surprised because I didn't even realize I had been nominated," Sherman said of being named a MAGIS inductee. "It was really nice to realize that my peers recognized my teaching."
---
Sean Whelton, MD: Following the Family Calling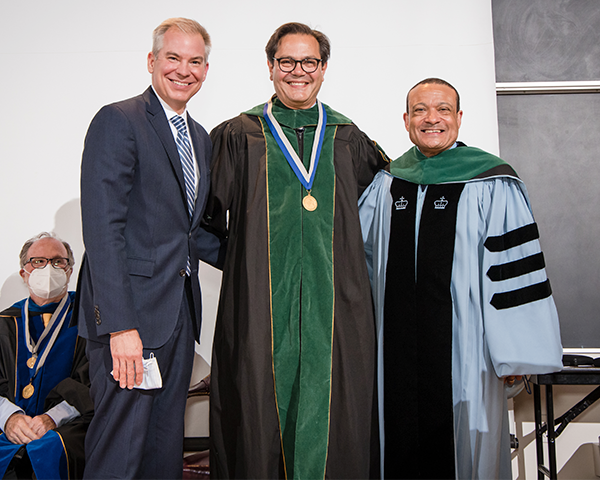 Sean A. Whelton, MD, FACR, FACP, director of the internal medicine residency program and vice chair for education in MedStar Georgetown University Hospital's Department of Medicine, is a third-generation physician. His grandfather taught medicine at Ireland's University College Cork. His father was a rheumatologist and his father's brothers were all physicians as well. No other path called to him than following in their footsteps.
"Having that example absolutely inspired me to do this and to also stay involved in teaching others about medicine," he said. "That just seemed like the best way to go: to get to do something that's just so interesting and inherently exciting and, at the same time, have the chance to help people through difficult times."
Rheumatology was always going to be his specialty. "It's one of those fields that's a little bit hard to explain to people outside of medicine — or to my kids — exactly what it means, but it's one of those fields where you get, on one hand, to be a detective and try to sort out challenging problems, and then with the kind of treatment that we have to manipulate the immune system, you can make an incredible and long-lasting impact on people."
After obtaining his medical degree at Tulane's School of Medicine in 1997, Whelton completed his internship and residency in internal medicine, as well as his rheumatology fellowship, at MedStar Georgetown. He joined the faculty in 2002 and served as medical student internal medicine clerkship director from 2003-2016. His clinical focus is inflammatory autoimmune conditions.
He is active in the Center for Innovation and Leadership in Education (CENTILE), a community of educators focused on innovation, excellence and scholarship in education across departments, centers and schools at GUMC. He also serves on the National Board of Medical Examiners test-writing committee.
In 2014, Whelton was inducted as a faculty member into the Georgetown University chapter of the national Gold Humanism Honor Society. Having been awarded four Golden Apple teaching awards, he was inducted into the Golden Orchard in April 2022.
Whelton called being named to the MAGIS Society "the biggest academic honor that I've ever had," adding that the previous inductees are "the educational heroes that I look up to, people that I've tried to learn from and use their methods of teaching, and copy their enthusiasm for teaching."
He also cited the late W. Proctor Harvey, Georgetown's director of the Division of Cardiology from 1950-1985, who coined the G/T (give/take) ratio, maintaining that everyone should give more than they take. "You always want to be on the side of giving when you're involved with education," Whelton said.
And how does it feel now that he's a role model alongside his longtime heroes? "I guess maybe I'll start to feel a little bit old," he admitted.
Profiles by Michael von Glahn
GUMC Communications