School of Medicine Commencement Speaker Calls on Graduates to 'Look for Every Opportunity to Do Good'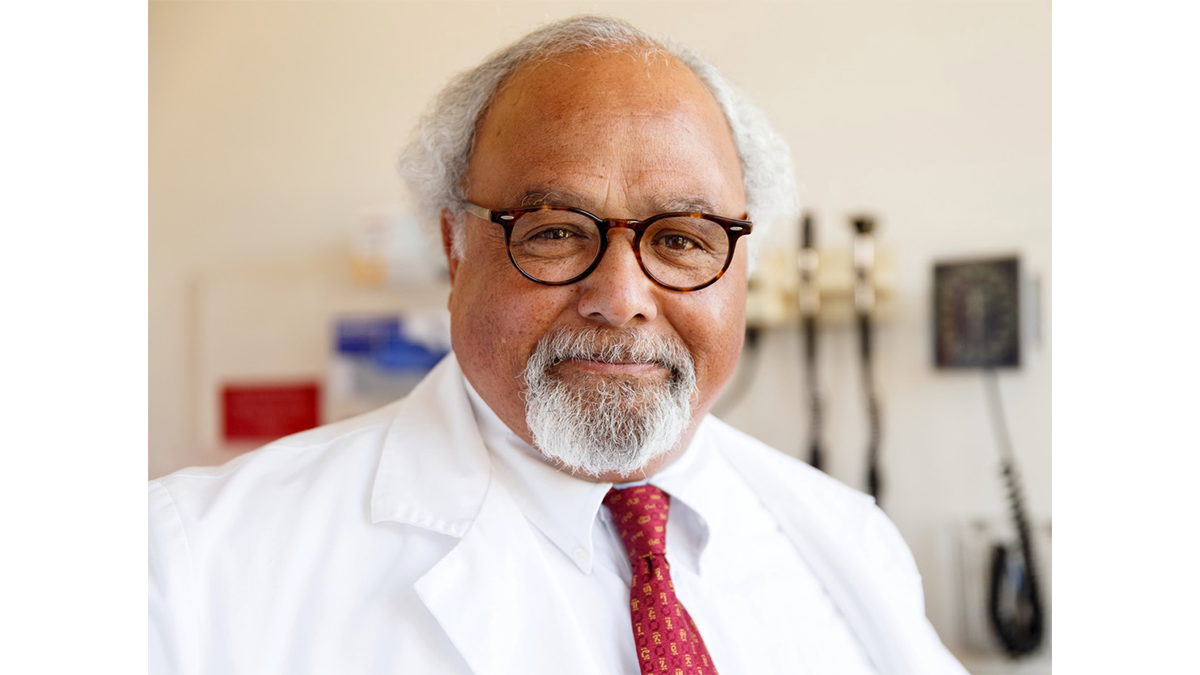 Posted in GUMC Stories | Tagged Commencement 2022, School of Medicine
(May 18, 2022) — For the Honorable Eric B. Goosby, MD, a renowned leader in global health and infectious diseases, wrestling with the response to the COVID-19 pandemic is an ideal time to address the School of Medicine Class of 2022 at their commencement ceremony.
"I was just flatly honored to be asked to do it," Goosby said of the invitation to speak, because the pandemic "for many of us was a challenge on just so many different levels — that challenged the profession — to speak to those who are just beginning their journey is a privilege."
In recognition of his leadership and vision in ridding the world of two of its deadliest diseases, Georgetown is privileged to bestow upon Goosby the degree of Doctor of Science, Honoris Causa.
A Global Health Leader
After earning his MD and completing his internship and residency with a fellowship in general internal medicine/infectious diseases, all at the University of California San Francisco (UCSF), Goosby immediately found himself confronting the emerging AIDS epidemic at San Francisco General Hospital. He worked at the hospital's Ward 86 clinic, the country's first dedicated outpatient AIDS clinic, where he helped pioneer the collaborative, patient-centered "San Francisco Model" of care.
Goosby joined the federal government in 1991 as director of HIV Services at the Health Resources and Services Administration of the Department of Health and Human Services (HHS), where he administered the Ryan White CARE Act, the largest federal program for providing care and treatment to uninsured/underserved low-income people living with HIV. He also helmed development of HIV/AIDS delivery systems in the U.S. and, in 1994, became founding director of the HHS Office of HIV/AIDS Policy.
His focus shifted from national to global in 2001, when he became CEO and chief medical officer of the Pangaea Global AIDS Foundation, an NGO. In 2009, Goosby was named United States global AIDS coordinator at the State Department, heading the President's Emergency Plan for AIDS Relief (PEPFAR), which remains active in more than 50 developing countries heavily impacted by HIV. On his watch, PEPFAR broadened its work to prevent, diagnose and treat tuberculosis as part of HIV treatment and care. From 2015-2018, he served as the United Nations Secretary-General's special envoy on tuberculosis.
In 2013, Goosby returned to UCSF to launch the Institute for Global Health Sciences, and continues his clinical practice at San Francisco General Hospital.
Balancing Work and Life
Learning to nurture work/life balance was a challenge Goosby experienced in his career. "It was a struggle where at times I was better at it than other times, but when I talk to my kids or my wife about their perspective of what I was doing, it's dominated with absence from their life," he said. "Yeah, they intellectually understood, but it's hard to sustain that understanding."
In his commencement address, Goosby will encourage graduates to develop a healthy work/life balance early on. "You can't put it all in the work column, even though this work demands that kind of focus for years," he said. "You need to figure out how to plant and water those other aspects of our persons that make us whole and effective."
Compartmentalizing stresses and concerns rather than sharing them with loved ones denies those people both understanding and the opportunity to offer empathy and support.
"For this work, being able to tell those who love you and care for you about your work is critical," Goosby said, "and to keep that at work and not share it with your significant other and your children and all of that keeps you more of a black box than you should be."
Cultivating Resilience and a 'Greater-Good Agenda'
The Class of 2022 will start their medical careers more than two years into the COVID-19 pandemic, a situation that has some similarities to Goosby's graduation during the emergence of HIV/AIDS. Developing resilience will be critical for young doctors, Goosby said, as "fatigue has set in from coast to coast, especially in inpatient settings."
"The biggest gift I hope that [these students] are able to realize," he said, "is that they have the tools to approach an unknown problem and to define it. And I think that's the special role that physicians play in helping communities respond to rapidly developing threats. That's something that they share with a long line of physicians."
He also wants to remind the Class of 2022 that their basic overarching role "is not only to do no harm, but to look for every opportunity to do good and to not forget that they go together.
"I believe it's their generation that is going to need to engage, to understand, and to allow the pendulum to move back to a domination of a greater-good agenda and not a profit-margin-expanding agenda as the reason for every decision."
Michael von Glahn
GUMC Communications