School of Medicine Commencement Ceremony Celebrates "A Class of Significant Leadership"
Posted in GUMC Stories
May 21, 2017 - At their white coat ceremony in August 2013, 193 first-year medical students at Georgetown University School of Medicine read the Hippocratic Oath together for the first time. At the School of Medicine's 165th commencement ceremony nearly four years later, the graduating medical students read the oath together one last time.
"Now it is truly official," said Edward B. Healton, MD, MPH, vice president for health sciences at GUMC and executive dean of the medical school, after Donald Knowlan, MD, professor emeritus of medicine, led the graduating students in the reading of the oath. "Congratulations!"
"This is a class of significant leadership," Stephen Ray Mitchell, MD, MBA, dean for medical education, said at the May 21 ceremony at DAR Constitution Hall in Washington, DC. "They will leave us with the gift of a new curriculum, learning societies that are off and running creating community, and we are very grateful."
The 105 women and 88 men who make up the class of 2017 represent 32 states and the District of Columbia, Mitchell said. In addition to the 30 members of the class of 2017 who already have graduate degrees, one student received an MD/MS degree, four received MD/MBAs and two received MD/PhDs.
"Today, we recognize and celebrate you, your hard work, your service, your dedication, your vocation to medicine," said John J. DeGioia, PhD, Georgetown University president. "Now as you commence, as you embark on a new phase in your lives, as you begin your service as physicians, this is a very special time. This is your time and we are honored to be able to share this moment with all of you."  
"You are in for the ride of your life"
Worta McCaskill-Stevens (M'85), MD, MS, chief of the community oncology and prevention trials research group in the division of cancer prevention at the National Cancer Institute, delivered the commencement address and received the honoris causa, or honorary doctor of science degree.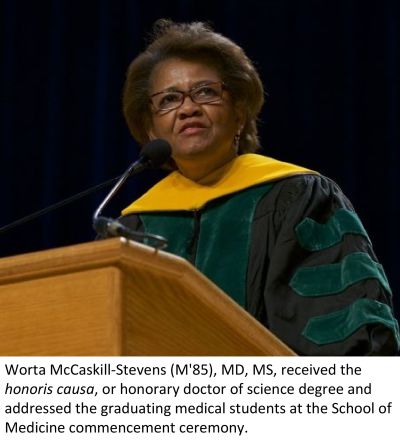 "A true steward of cura personalis, Dr. McCaskill-Stevens has consistently embodied the virtues instilled in our medical students: compassionate care of the whole person and a commitment to meeting the health needs of our society," Healton said.
McCaskill-Stevens encouraged the students to never lose sight of "the patient behind the test results, the family with whom those results are likely to be shared, the lives taking part in clinical trials."
"Compassion is what elevates the great above the good," McCaskill-Stevens continued. "Feel every patient you treat, let them inspire your research, let them help you grow as a scientist, as a physician, as a person."
The graduating medical students should also extend that same compassion to themselves, McCaskill-Stevens said. "Recognize the light within you," she said. "See yourself with your own eyes and love yourself with your own heart."
"Please know that you have everything you need inside of you," McCaskill-Stevens concluded. "And buckle up, buttercups, you are in for the ride of your life."
Honoring a "CPR Giant"
At the ceremony, an honorary degree was also awarded to Gordon A. Ewy, MD, professor emeritus of cardiology and director emeritus of the Sarver Heart Center at the University of Arizona College of Medicine. Named a "CPR giant" by the American Heart Association for his research on defibrillators and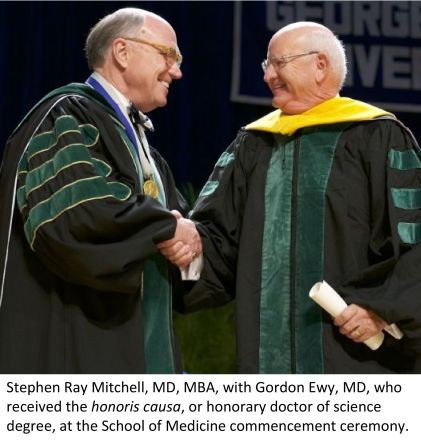 defibrillation, Ewy has been listed as one of the best doctors in America for decades.
After earning his BA and MD from the University of Kansas, Ewy completed his internship and first-year medical residency at Georgetown's division of DC General Hospital. In addition to the second year of his residency and his cardiology fellowship training, Ewy spent four years on the faculty at Georgetown University School of Medicine before leaving for the University of Arizona College of Medicine in 1969.
In collaboration with Michael S. Gordon, MD, PhD, from the University of Miami, Ewy developed the teaching and multimedia instructional materials that accompany the teaching mannequin "Harvey," a device named in honor their mentor at Georgetown, W. Proctor Harvey, MD. A multi-medical school study funded by the National Institutes of Health validated Harvey as an educational tool.
"Dr. Ewy displays the mission of cura personalis in his academic and research achievements, rooted in his dedication to caring for the health needs of our society," Healton said
Watch the Georgetown University School of Medicine commencement ceremony here.
Kat Zambon
GUMC Communications