School of Medicine Class of 2023 Takes First Step in Medical Career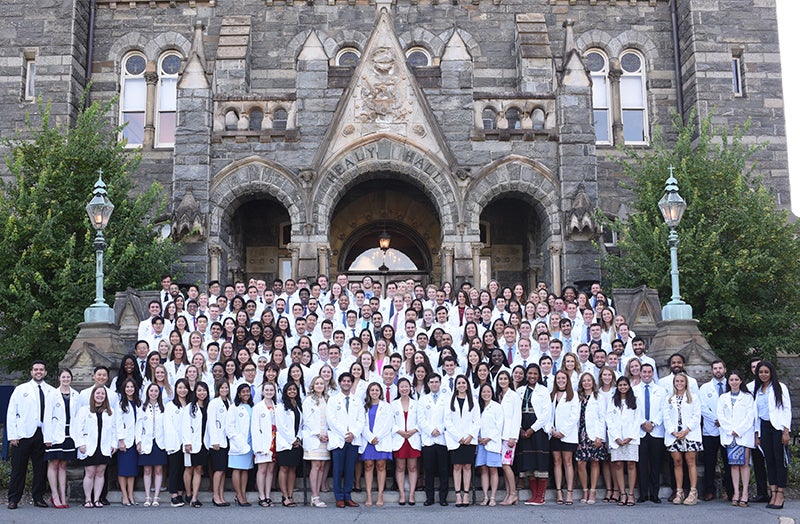 Posted in GUMC Stories | Tagged medical education, School of Medicine, White Coat Ceremony
(August 4, 2019) — In front of loved ones and friends who made up a standing room-only crowd in Gaston Hall, the Georgetown University School of Medicine Class of 2023 took its first step toward joining the medical profession by donning their white coats, collecting their stethoscopes and reciting the Hippocratic Oath.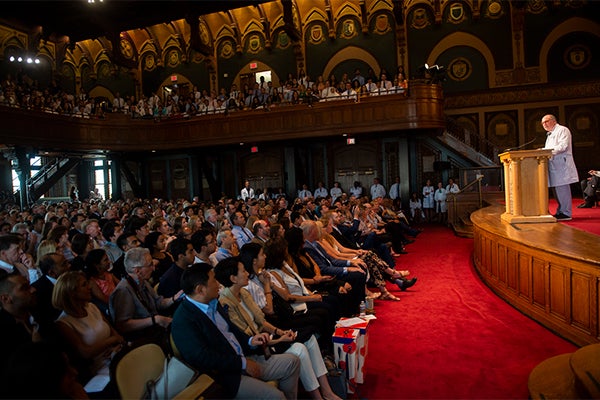 The 203 classmates gathered as a group on August 2 to be "coated" with their embroidered white coats after several days of orientation lectures, basic lifesaving training, wellness coaching and bonding activities.
Dean for Medical Education Stephen Ray Mitchell, MD, MBA, described the annual ceremony as "true magic."
"Just remember… the white coat chooses you," he said.
In his opening prayer, Rev. Mark Bosco, S.J., PhD, compelled students to embrace Georgetown's Jesuit values and cura personalis, or care of the whole person:
"May all those who are called to study and practice the arts of healing the sick and the prevention of disease and pain do so in a spirit of care and compassion — not only for the sick, but for the poor and the needy, the marginalized and the forgotten in our communities."
A Diverse Student Body
Georgetown received more than 13,000 applications before seating just over 200 students in this year's class, making it one of the most selective medical schools in the country.
During orientation, Mitchell pointed out that women outnumbered men — a change in class makeup that first happened less than a decade ago. He also shared that the average age of this year's incoming student is 24, with the age range spanning from 21 to 43 years old.
Owen Sisbarro, MS (M'23), holds the mantle as the oldest student in this year's class. However, the retired Marine chopper pilot with two children nearly as old as his classmates was unfazed by his elder status.
"I'm really looking forward to learning from my classmates every single day," he said.
Owen Sisbarro, MS (M'23), retired Marine pilot, is pictured at left.

Alexandra Eckert (M'23) got a hug from her mom at the podium.

It's tradition for Dean Mitchell to place a stethoscope in the pocket of each student's new white coat.

Each student had the opportunity to be "coated" by a Georgetown physician or family member who is a medical doctor.
A Focus on Patient Care
After years of delivering the annual Edmund Pellegrino Professionalship Lecture, Donald Knowlan, MD, professor emeritus, delivered his final White Coat lecture, providing students with "directions" for wearing the white coat: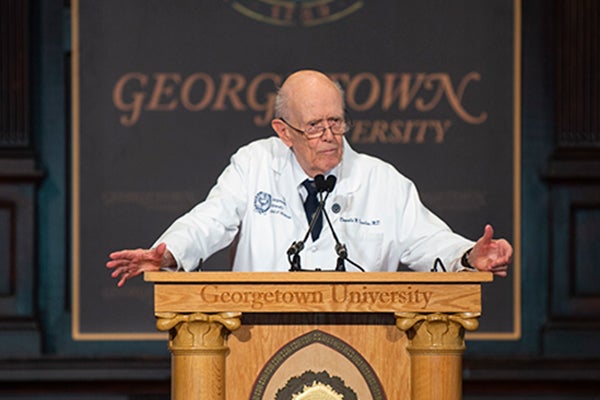 "If you become fully attentive to your patients you'll discover the incredible complexity and depth of the human psyche. You may even discover humanity's common ground deep within all of us.
"In this new era of precision medicine, with its complex diagnostic and therapeutic decisions, and specific patient-directed decisions, it will be your task to see that your patients receive the best specific care for their illness.
"Precision medicine will call for precision diagnosis by future physicians who will need to be strong patient advocates."
Foundations of Medical Education
Before the ceremony concluded, Knowlan administered the Hippocratic Oath to the freshly coated medical students and all physicians in attendance, which was written in the fifth century B.C. by the "father of medicine," Hippocrates.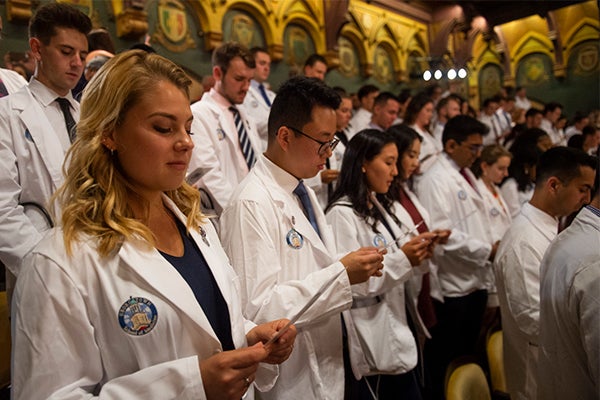 The sacred oath will be recited twice more by the students during medical school — once before clinical rotations and again upon graduation.
The Class of 2023 officially begins training on Monday, Aug. 5, and their first day of medical school will include courses in scientific foundations, but also in patient care and patient-centered interviewing.
As Knowlan powerfully delivered at the end of the White Coat Ceremony, the patient should always be the primary focus for a physician.
"The patient. The patient. The patient. [They] need you now more than ever," he said.