School of Medicine Celebrates 170th Graduating Class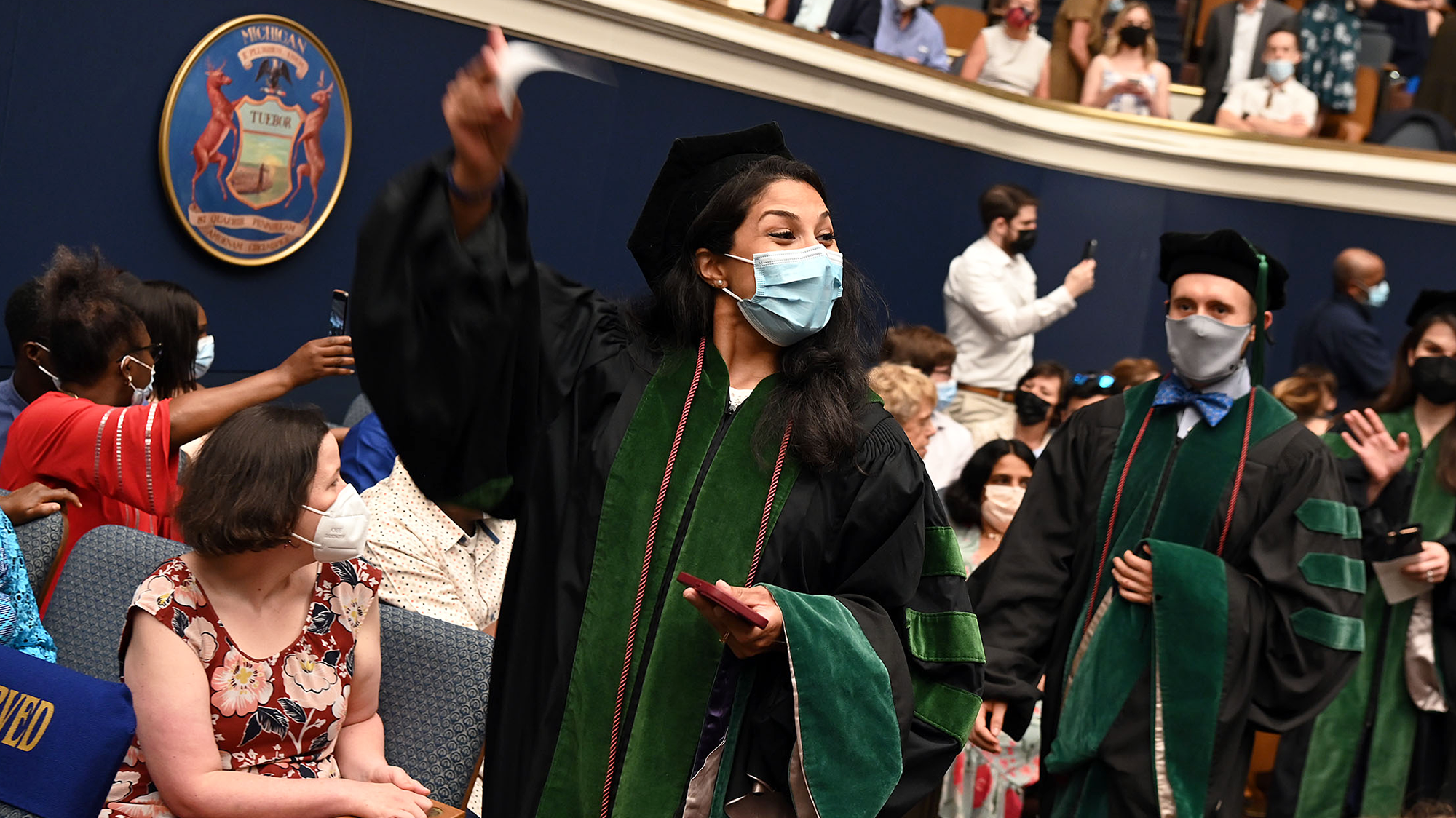 Posted in GUMC Stories | Tagged Commencement 2022, School of Medicine, SOM Commencement 2022
(May 23, 2022) — With hundreds of family members and friends in attendance to share their support, the School of Medicine's 170th graduating class came together at DAR Constitution Hall in downtown Washington, D.C., to celebrate the completion of their time at Georgetown before embarking on the next steps in their medical careers.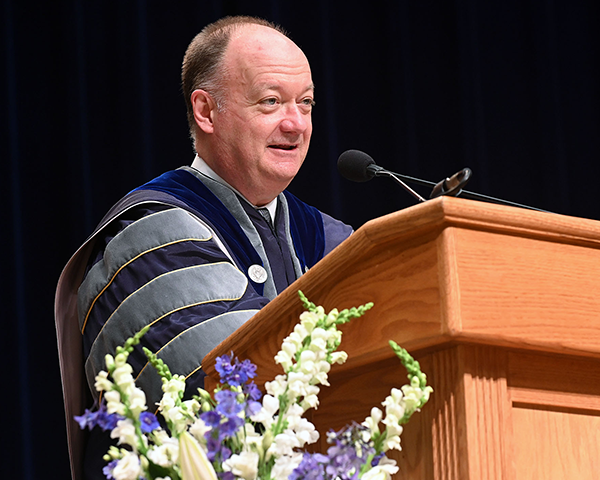 "When you arrived here, you embarked on a journey that now continues beyond this place, beyond this moment," said Georgetown President John J. DeGioia at the May 22 commencement ceremony. "As you depart on this day of celebration and accomplishment, we are so deeply grateful for all the contributions you have made to this community and we look forward to the ways that your leadership and service will contribute to the common good of our broader communities."
"It has been my privilege to play a very small role in your journey, especially over the last two years," said Edward B. Healton, MD, MPH, executive vice president for health sciences at Georgetown and executive dean of the School of Medicine. "You are a remarkable group of individuals, students and now doctors, and I wish each of you the very best in the next chapter of your careers."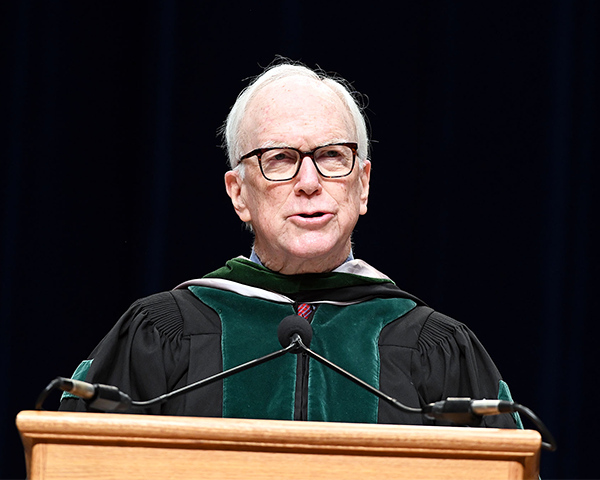 In his first time participating in commencement since coming to Georgetown last August, Lee Jones, MD, dean for medical education, proudly shared statistics about the School of Medicine's 170th graduating class. Made up of 101 women and 95 men, the 196 graduates range in age from 25 to 38 years of age and represent 35 states, with the most students coming from California, New York, Maryland, New Jersey and the District of Columbia. The class also includes 47 individuals with graduate degrees, and five graduates earned MD/MBA degrees.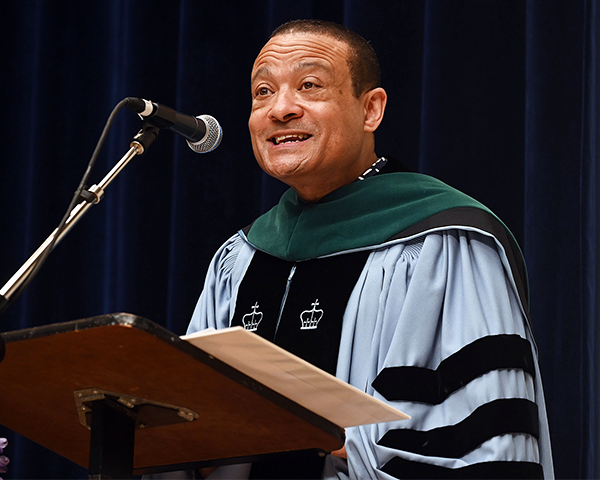 Additionally, eight members of the Class of 2022 earned their degrees through the Health Professions Scholarship Program (HPSP). On May 21, Armed Forces Day, they received promotions as officers in the Medical Corps of the United States Army, Navy and Air Force in a commissioning ceremony. Five graduates in the Navy were promoted to the rank of ensign while one graduate in the Air Force and two graduates in the Army were promoted to second lieutenant.
In a benediction for the graduates, Jones paraphrased St. Ignatius of Loyola. "Help us know that 'whatever you are doing, that which makes you feel the most alive … that is where God is,'" he said. "And that we must 'go forth and set the world on fire.'"
Honoring the Role of Trust
The Honorable Eric Goosby, MD, a preeminent leader in global health and infectious diseases, received the degree of Doctor of Science, honoris causa, in recognition of his leadership and vision in the fight against two of the world's deadliest diseases.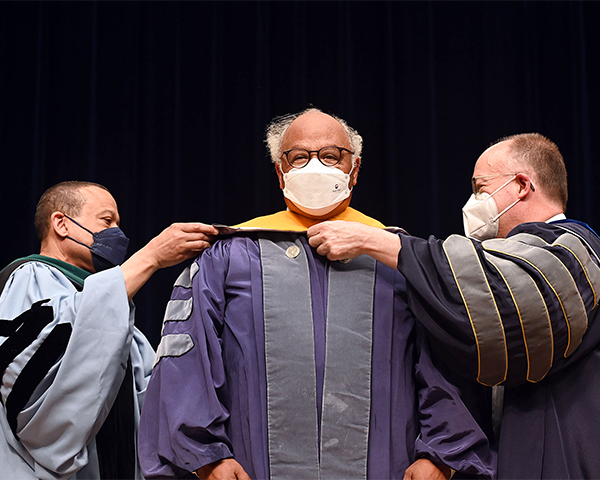 In his commencement address, Goosby spoke about two major challenges faced by the Class of 2022 — the COVID-19 pandemic and the racial justice movement motivated by the killing of George Floyd by Minneapolis police — as well as the role of trust in the doctor-patient relationship.
"From the stories our patients give us, we are privileged to hear so much how humans manage and cope, how they move through their lives," said Goosby, professor of medicine at University of California, San Francisco and former U.S. Global AIDS Coordinator. "The physician is trusted to hear these stories, and through this understanding, always and every time, the patient must believe [that] you, the physician, the delivery system, are making decisions that are in their best interest.
"This trust is fragile," Goosby added. "It's delicate. It requires vigilance in each and every interaction with each patient and their family with your colleagues as you work."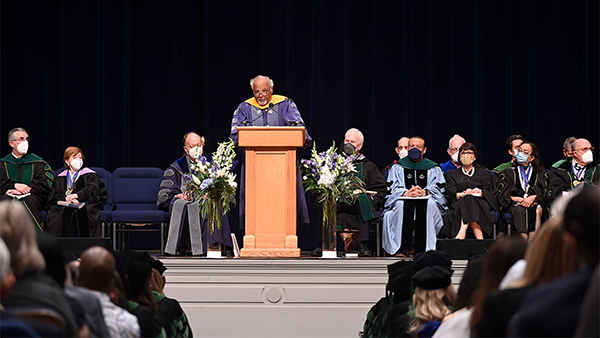 Trust is an important part of the doctor-patient relationship on an individual level as well as for society at large, making it important to protect that trust by acting with transparency, he added. When it became apparent that Black communities were disproportionately impacted by the distribution of personal protective equipment at the beginning of the COVID-19 pandemic, "being intellectually honest enough to see that and call it out became an expression of engagement and commitment in many major cities throughout the United States," Goosby said.
He also pointed to the need to address unconscious bias in order to build trust.
"Understanding how the unconscious biases operate at all levels in individuals and in institutions, and understanding better the harm it does, and the ease at which we can move toward a more amicable outcome has made issues of DEI, disparities and public health outcomes become a concurrent issue for your work as physicians," he said.
Moreover, doctors must protect their patients by speaking out against business models that prevent patients from accessing the care they need. "The trust our patients hold their health providers in is further challenged when we do not become outraged at those who could benefit from a diagnostic test or therapeutic intervention and do not get access based on a business model that includes strategies to decrease use," he said.
"We must aim high," Goosby said. "You must keep learning. You must be skeptical, skeptical of accepted certainty and staying fast in the belief that facts matter.
"Doctors, now your work begins. Congratulations."
Kat Zambon
GUMC Communications