Hans Schöler Talks About Pluripotency
Posted in GUMC Stories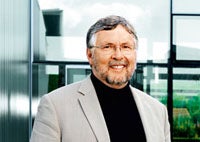 Until recently, researchers worked mainly with two types of stem cells —embryonic stem cells and adult stem cells. Following a scientific breakthrough in 2006, a third type of stem cell was created. These are adult cells that have been genetically reprogrammed to have the properties of embryonic stem cells, including pluripotency, the ability to differentiate into one of many different cell types in the body. These new stem cells are called induced pluripotent stem (iPS) cells and they have the potential to transform drug discovery, repair diseased tissue, and expand our understanding of basic cell biology—without the ethical restrictions and problems of rejection by the immune system.
As medical science approaches new possibilities in the therapeutic application of iPS cells, the GUMC community recently had the opportunity to hear from one of the world's preeminent scientists in the field of stem cell biology. As invited speaker at the Baldev R. Bhussry Seminar and Lecture Series held on February 23, 2012, Hans Schöler, director of the Department of Cell and Developmental Biology at the Max Planck Institute for Molecular Biomedicine, Münster, Germany, gave a detailed overview of the latest work being conducted in laboratories throughout the world. His own research, focusing on inducing pluripotency in adult neural cells with the transcription factor, Oct4, won him the prestigious Max Delbrück Medal in 2011.
Originally, iPS cells were generated using retroviral gene transfer of four transcription factors, two of which were oncogenes, rendering these cells useless in the clinic. By eliminating the cancer causing genes in the induction process, Schöler was able to create potentially safer cells for therapy. As he explained the underlying mechanisms that made his discovery possible, audience members received a world-class post-graduate review of stem cell biology.
In a moment of light-hearted perspective, Schöler reminded the audience that, despite the wondrous marvels of manipulating stem cells, human mortality is destined to remain a stubborn fact of life. There is a limit to how many times human cells will divide. "By the age of 45," he said, "your body's warranty expires."
The Baldev R. Bhussry Seminar and Lecture Series is named for the former chair of the department of anatomy, Baldev R. Bhussry, Ph.D. A memorial fund commemorating his devotion to research and education was established and has been overseen by his widow, Rose Mary Greenwood.
"We are very grateful that Mrs. Greenwood allowed us to create the Baldev R. Bhussry Seminar and Lecture Series as a means to best continue the purpose of the fund, which is to enhance the educational and research missions of the department," said Elliott Crooke, Ph.D., chair and professor of the Department of Biochemistry and Molecular & Cellular Biology.
By Frank Reider, GUMC Communications
(Published February 27, 2012)