Ruesch Center and OncLive Recognize Former VP Biden at the Luminary Awards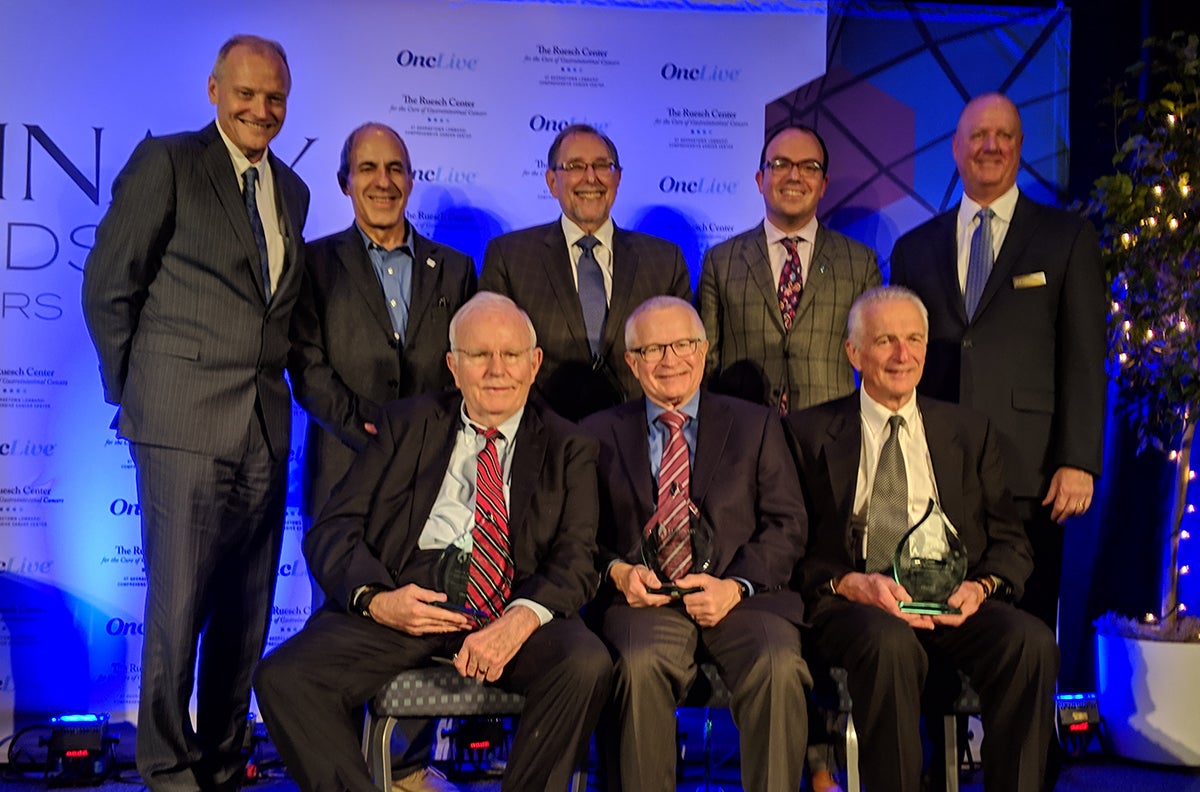 Posted in GUMC Stories | Tagged cancer, cancer research, gastrointestinal cancer, Georgetown Lombardi, Luminary Awards, Ruesch Center
(December 9, 2018) — Former Vice President Joe Biden was among those who were recognized for improving the lives of patients with gastrointestinal cancer at the Second Annual Luminary Awards, hosted by the Ruesch Center for the Cure of Gastrointestinal Cancers at Georgetown Lombardi Comprehensive Cancer Center and OncLive.
"Each of these recipients have made transformative strides in the lives of patients with GI cancers," said John Marshall, MD, director of the Ruesch Center at Georgetown Lombardi and chief of the division of hematology/oncology at MedStar Georgetown University Hospital. "These individuals have helped propel the field of GI cancer with their enduring commitment and groundbreaking contributions in treatment, research and advocacy."
Though Biden was unable to attend the November 29 event at the Washington Hilton, he expressed his gratitude at being named the recipient of the Luminary Leadership Award and praised the Ruesch Center for being an organization "that put patients at the center, the center of everything they do" in a prerecorded video.
"I've always measured the worth of an award based on the character and consequence of the institution or the individual bestowing the award," Biden said. "So I am truly honored to receive a Luminary Award from an institution of such renown and importance as the Ruesch Center here at Georgetown."
In addition to Biden, the recipients of the Luminary Awards include:
John S. Macdonald, MD, FACP, senior medical advisor for the Academic GI Cancer Consortium (AGICC) and the consolidated Oncology Consortia of Criterium Groups (Criterium, Inc.)
Michael A. Sapienza, chief executive officer of the Colorectal Cancer Alliance
Richard L. Schilsky, MD, FACP, FASCO, FSCT, senior vice president and chief medical officer of the American Society of Clinical Oncology (ASCO)
Paul H. Sugarbaker, MD, FACS, FRCS, director for the program in peritoneal surface oncology at MedStar Washington Hospital Center
Daniel D. Von Hoff, MD, FACP, physician-in-chief and distinguished professor at the Translational Genomics Research Institute; Virginia G. Piper Distinguished Chair for Innovative Cancer Research at the HonorHealth Clinical Research Institute; medical director of research at McKesson Specialty Health; chief scientific officer for US Oncology Research, and professor of medicine at the Mayo Clinic
The Luminary Awards took place before the start of the Ninth Annual Ruesch Center Symposium. More than 500 physicians, researchers, patients and advocates attended "Fighting a Smarter War Against Cancer: Innovations in GI Cancer," November 30 and December 1 at the Washington Hilton.
Sessions at the symposium covered topics including the microbiome, biomarkers, molecular imaging, genomic profiling, precision medicine, proton therapy, dosing strategies and more. Panel discussions for patients focused on the way that relationships can change post-diagnosis, nutrition, getting involved in advocacy efforts and living with metastatic disease.
Discussing Drug Development
At a panel discussion on innovation and challenges in clinical research, Schilsky discussed difficulties related to planning clinical trials for patients with rare tumor types within the existing paradigm. "As much as we have opportunities these days in drug development and in developing more and better therapies for patients, we have still many challenges in how to design the trials, how to use the patients most effectively, what the endpoints of those trials should be and then ultimately how to collect and interpret data," he said.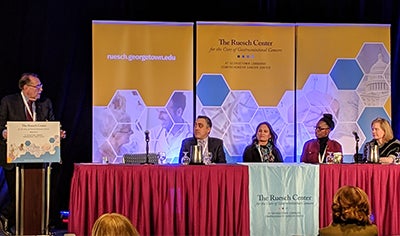 "The traditional paradigm of drug development where we would go from phase 1 to phase 2 to phase 3 is becoming obsolete, if it's not obsolete yet," said Martha Donoghue, MD, clinical team leader on the gastrointestinal cancers team in the division of oncology products 2 at the U.S. Food and Drug Administration Office of Hematology and Oncology Products.
Thinking of drug development in terms of phases can be misleading because drugs have been approved without going from phase 1 to phase 3. In fact, Donoghue recently served as the cross-disciplinary team lead for the review team that recently approved larotrectinib based largely on phase 2 data. However, one advantage of that drug development paradigm is that it included opportunities for researchers to pause and reflect on their findings.
Regardless of their clinical trial design, Donoghue encouraged attendees to ensure that they prioritize patient safety. "Our goal in the oncology community of course is to get drugs as quickly as possible that are safe and effective to our patients," she said.
Addressing Cost and Complexity in Clinical Trials
As clinical trials increase in complexity, the cost of trials increases as well. Paying for participants to travel to treatment sites could decrease costs without limiting the trials' accessibility to patients, said Tanios S. Bekaii-Saab, MD, professor at the Mayo Clinic College of Medicine and Science and program co-leader for GI cancer at the Mayo Clinic Cancer Center.
"If you have a patient from Idaho who wants to come down to Arizona, then if you pay for the travel, it's much, much cheaper than having Idaho as a site," said Bekaii-Saab, who is also the medical director of the cancer clinical research office and senior associate consultant at the Mayo Clinic – Arizona.
However, clinical trials are complex for a reason, said Subha Madhavan, PhD, chief data scientist at Georgetown University Medical Center and director of the Innovation Center for Biomedical Informatics.
"Complexity is not necessarily is a bad thing," said Madhavan, who is also an associate professor in oncology at Georgetown University. "I think we need to determine where the complexity needs to be. Science is complex."
The biggest drivers of increased costs in phase 3 clinical trials are administrative staff, the cost of clinical procedures, site monitoring, site retention and the costs of RN and CRA staff, said Asha S. Collins, PhD, country head, U.S., country clinical operations; PD clinical operations at Genentech.
"I really have this feeling that disruption is afoot and we have to get in front of it," Collins said. "What all of this will really bring us to is doing the right thing at the right time for the right patient."
Kat Zambon
GUMC Communications