Riegel Named Leader of Biomedical Graduate Education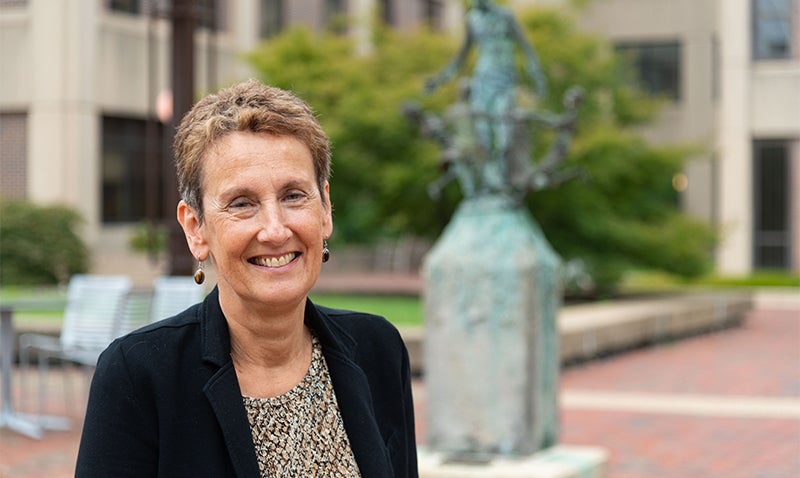 Posted in GUMC Stories | Tagged Biomedical Graduate Education, biomedical research, Georgetown Lombardi, new faculty appointment
(September 4, 2019) — The Biomedical Graduate Education (BGE) program, home to a robust variety of PhD, master's and certificate programs, has a new leader. Research oncologist Anna Tate Riegel, PhD, has been named senior associate dean of BGE following the retirement of Barbara Bayer, PhD, who led the program for eight years.
Riegel joined the university 30 years ago and is the Cecilia Fisher Rudman Distinguished Professor of Oncology and Pharmacology and a member of Georgetown Lombardi Comprehensive Cancer Center.
Riegel is no stranger to graduate education — she has served on the BGE executive council and graduate advisory committee, and has led the graduate training program in tumor biology for nearly two decades. She has been PI of the prestigious Tumor Biology NCI funded T32 grant for over 14 years. In her new position, she plans to continue strengthening the university's research expertise to keep pace with developments in the field, and increase the number of grants awarded to fund graduate students in the program.
Overseeing One of the Largest Sectors of Graduate Programs at Georgetown
BGE includes degrees in interdisciplinary basic and health science, data science, policy and ethics, and industry science. Organized in 1989, the program now includes seven PhD degrees, 19 master's degrees, and nine graduate certificates, as well as dual degrees and online programs, all conferred by Georgetown's Graduate School of Arts & Sciences.
Currently, BGE enrolls close to 900 graduate students into its graduate programs, making it one of the largest graduate programs at Georgetown. Over a third of the program's alumni go on to earn another advanced degree, while many others work in research for academic, biopharma, government or health care organizations.
"My job is to make sure the educational product we offer people is excellent," Riegel says. That includes continuing to create career development opportunities for graduating students, she says, something the program takes seriously.
Riegel has served as a PhD thesis mentor for 22 students and has trained a dozen postdoctoral students. She was awarded an Excellence in Teaching Award by Georgetown Lombardi Comprehensive Cancer Center in 2016 and an Outstanding Service Award by Georgetown University Medical Center in 2015.
In addition to her Georgetown experience in graduate training, she'll draw on involvement as an advisory board member for graduate education training programs at the University of Chicago, Northwestern, and Wisconsin, Florida, Arizona and Maryland universities.
'It's Good to Have a New Challenge'
Riegel has studied breast cancer for 25 years, an interest sparked by her senior thesis project on tamoxifen, a breast cancer prevention drug, as a pharmacology undergraduate at the University of Leeds. She earned a PhD in oncology from the University of Wisconsin-Madison.
Her laboratory currently focuses on the biological mechanisms by which certain cells produce proteins that trigger formerly slow-growing cancer cells to become more aggressive and spread to new areas. Her research has been supported by grants from the Department of Defense, the American Cancer Society and the National Institutes of Health, including the National Cancer Institute, as well as other foundations. Current support is from several NIH/NCI grants.
While she plans to continue her research work part-time while taking on the new administrative duties of leading BGE, she's looking forward to focusing on research more broadly. "It's good to have a new challenge, and to have to look in a new direction after focusing on one thing for a long time," Riegel says.
Kathleen O'Neil
GUMC Communications