Rebuilding Rwanda's Nursing Workforce
Posted in GUMC Stories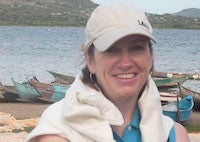 Motivated to impact global health care, Georgetown student Nancy Reynolds (G'12) plans to use her degree to help rebuild the nursing workforce in Rwanda.
With a more than 20-year nursing and literacy-teaching career and extensive international experience, Reynolds came to the School of Nursing & Health Studies (NHS) to pursue a master's degree in nursing.
"Living in different countries exposed me to the massive health disparities around the world," said Reynolds. "There was a definite division in the status between the two ends of the socioeconomic spectrum, particularly in education and health care. It was so evident every day, and it bothered me tremendously."
Choosing Rwanda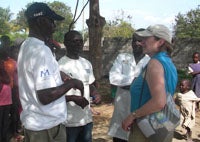 During a trip to sub-Saharan Africa and India with her husband and a group from the Young Presidents' Organization, to which they belong, development needs were explored. The Reynolds sought to gain a deeper understanding, in particular about the health care needs of these regions.
While in Rwanda, the couple heard a compelling appeal from the country's president Paul Kagame about Rwanda Vision 2020, and economic development plan, which includes the critical need to improve the health care system infrastructure.
Her immediate thought: build a rural health care clinic.
However, after meeting with Sister Mary Murebwayire, – who oversees nursing for the Rwandan Ministry of Health – Reynolds realized she could make an even greater impact by helping educate the country's next generation of nurse faculty.
Murebwayire, according to Reynolds, explained that in the country's 1994 genocide many nurses and most nurse educators were killed.
"What we need is knowledge so we can pass it down, so we can stand on our own two feet," Reynolds remembers Murebwayire saying. "We could use your help educating nurse instructors. This will have more impact. This, in turn, will help us eventually build on our capacity and capability to staff rural health clinics."
Coming to Georgetown University
Once Reynolds realized the critical need for nursing expertise in Rwanda, she knew she needed to attend an academic program that would provide her with the foundation to help rebuild the country's nursing infrastructure.
Within Georgetown's master's-level nurse educator program, she found that she would have the opportunity to develop her skills as an educator in areas such as curriculum development, evaluation, and teaching strategies.
"The breath and depth of the nurse educator program has been absolutely invaluable," said Reynolds. "It's as though this program is perfectly suited to meet the needs of Rwanda's Ministry of Health."
Teaching in the Classroom, Clinic
As Reynolds approached the program's final semester, she began to think more about the impact she also wanted to have in the clinical setting.
"I really feel that teaching can be done best in a clinical setting, as well as a classroom setting, particularly as much of Rwanda's population and health clinics are located in rural settings" she said. "That's when I started to think about pursuing the school's family nurse practitioner program."
After speaking to Murebwayire and exploring the idea more with NHS faculty and staff, Reynolds has decided to earn a master's degree through Georgetown's family nurse practitioner program, as well as a certificate through the nurse educator program.
"[Georgetown] is a wonderful environment from which to launch a project," said Reynolds. "I feel enormous support from my fellow students, advisors, and faculty. It's very encouraging."
By Alicia Lee, NHS Communications
(Published April 18, 2012)