Putting the Heart in "The Heart of the Harvey"
Posted in GUMC Stories
April 9, 2017 - In a nod to the venue's namesake, the heart was the theme for the second annual Heart of the Harvey, an evening of short plays, monologues, poetry and dance that explore the intersection of art and medicine, held April 7 in W. Proctor Harvey Clinical Teaching Amphitheater.
In opening remarks, Stephen Ray Mitchell, MD, MBA, dean for medical education at Georgetown University School of Medicine, spoke about the late W. Proctor Harvey's passion for the arts. "He loved theatre and he loved music," Mitchell said. "He would be so pleased that in this old historic building, you turn down the house lights and here is the heart."
Presented by the Georgetown Operating Theatre, the event brought together students, faculty, staff and alumni from Georgetown University Medical Center as well as Georgetown College, Graduate School of Arts and Sciences, School of Continuing Studies, McDonough School of Business and McCourt School of Public Policy.  
"Proctor Harvey examined 30,000 human heartbeats and we of Georgetown Operating Theatre are so grateful to follow in his footsteps, creating performances in his amphitheater which also examine the human heart," said Susan Lynskey, MFA, associate professor of the practice in the department of performing arts and Heart of the Harvey co-founder. "The students, faculty and staff who participate each year have such inquiry and dedication, and in doing this work, we always learn something new about art, about medicine, and self and about others."
Increased Interest Across Campus
Organizers received several more submissions for this year's event, forcing them to turn down a number of compelling entries, said Bill Rebeck, PhD, MFA, professor of neuroscience and Heart of the Harvey co-founder.
"We love that people are getting more interested, and we hope it will grow even more next year," he said. "We hope it's a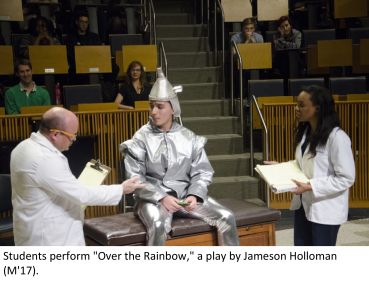 way to continue uniting different parts of the university, and to continue building ties between the arts and the sciences."
Rebeck praised Lynskey for her remarkable talent and dedication. Several of the performers, directors and tech crew members were recruited by Lynskey from the performing arts department and she personally worked with every performance, ensuring the show's success. "Honestly, we could do the Heart of the Harvey without me, but we couldn't do it without Susan," Rebeck said.
"For me, it's about examining the human condition, the human heart, by teaching and learning empathy and fostering an appreciation for difference – one play at a time," Lynskey said.
An "Extremely Transformative" Experience
After writing, casting, directing and acting in his own play during the first Heart of the Harvey, Jameson Holloman (M'17) authored two pieces performed in this year's show. "Over the Rainbow" starred the Wizard of Oz as an attending physician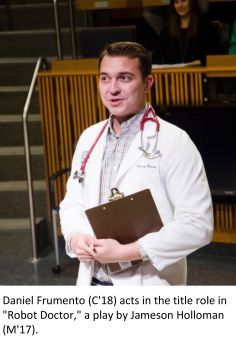 working with Dorothy, a third-year medical student on her first clinical rotation. As they diagnose and treat their patients – the cowardly lion, the tinman, the scarecrow and the wicked witch – Dorothy's idealism is challenged by Dr. Oz's cynicism.
Holloman also wrote "Robot Doctor," which demonstrated the limits of technology when a patient receives a surprising diagnosis from a fully automated robot that has replaced his primary care doctor. Both plays explored important topics from a thoughtful perspective, receiving lots of laughs in the process.
Describing his experience as "extremely transformative," Holloman expressed gratitude towards Rebeck and Lynskey for the opportunity to participate in the Heart of the Harvey.
"Going through medical school is a wonderful yet harrowing experience. You grow an extraordinary amount through situations that push your emotional, intellectual and physical boundaries," Holloman said. "The Heart of the Harvey was an incredible show to be a part of because it allowed me to have a great deal of fun while also exploring issues within medicine I've been thinking about for a while."
"The Best Thing About Theatre"
Last year, the Heart of the Harvey included an award-winning romantic comedy titled "Brad Pitt" by Michael Long, a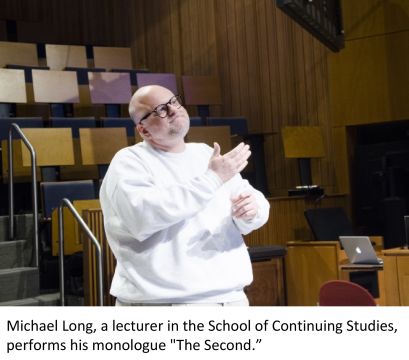 lecturer in the School of Continuing Studies' public relations and corporate communications program. This year, Long wrote and performed "The Second," a monologue he previously performed at the New York Short Play Festival.
"The great thing about this festival is it has such creative and open-minded folks behind it that they're interested in anything you bring to the table," Long said. "You don't know what you'll see next and it's all focused on this theme of the human heart."
"The Heart of the Harvey is really the best thing about theatre," Long added. "It's about taking chances and having fun and trying to create something that's both entertaining and meaningful within the Georgetown community."
Kat Zambon
GUMC Communications