Protecting Innovation, One Idea at a Time
Posted in GUMC Stories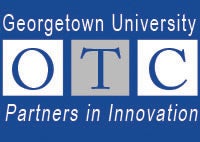 The Office of Technology Commercialization (OTC) at Georgetown University kicks off the semester with a one-day program providing the university community, including clinicians and scientific faculty in the process of – or considering – starting a new venture, with an opportunity to discuss the business, legal and practical issues facing today's technology and life science entrepreneurs. Georgetown, with Wilson Sonsini Goodrich & Rosati, hosts the Technology & Life Science Entrepreneurs Boot Camp on Wednesday, January 25, 8:30 a.m. – 3 p.m.
The boot camp is part of OTC's continuing efforts to inform our community on intellectual property issues and protect the interests of Georgetown researchers and clinicians.
Last month, OTC held an educational seminar on inventions and patents in its monthly innovation series. Michael L. Goldman and Shelley A. Jones, intellectual property attorneys of LeClairRyan, an entrepreneurial law firm that provides business counsel and client representation in a variety of matters including university patents, corporate law and high-stakes litigation, spoke with a group of Georgetown University medical and science researchers, students, and faculty members about the U.S. patent process.
The presenters engaged in a lively discussion with attendees and provided case study examples to clarify the patent system, and why patenting matters. When asked about the need for patenting, Jones reaffirmed, patents "don't allow you to do something, they keep others from doing what is claimed in your patent." She explained that without patents, university inventions will often fail to be commercialized.
There are three types of patents: utility, design, and plant patents. The most common patent for our community is the utility patent, which "may be granted to anyone who invents or discovers any new and useful process, machine, article of manufacture, or composition of matter, or any new and useful improvement thereof."
Changes in the Future of Filing
Effective March 16, 2013, a "first to file" system will be in effect. The Office of Technology Commercialization plans an upcoming seminar to discuss this new standard and other aspects of patent reform.
Be Informed
The Office of Technology Commercialization is your guide to navigating the correct processes for inventions, patent and licensing activities, related agreements, and the University's engagement in the founding and growth of local businesses.
It is important to become better informed about the rules and regulations. The Georgetown Faculty Handbook requires disclosure of all possible inventions to the OTC, which will then facilitate options in patenting or copyrighting. Seeking guidance from the office as soon as you think you have a novel invention, before you disclose it publicly, including on your website, will save you time in the long run, as there are many requirements and rules that must be followed so the patent process is not inhibited.
The Office of Technology Commercialization holds monthly I2I seminar series an open houses twice a year.
For more information please contact the Office of Technology Commercialization.
By Katherine Brazauskas, GUMC Communications
(Published January 17, 2012)