Proof of "Right Stuff" for Med School
Posted in GUMC Stories
Priscilla Tu lost her self-confidence after more than one medical school turned down her application to attend. So she decided to step back and apply to the Georgetown University School of Medicine Special Master's Program (SMP), a pioneering, one-year immersion into medical education that is designed to strengthen a student's academic credentials for medical school.
It's motto: "Get ready for the most challenging year of your life!"
These hopeful, yet cautionary words, featured prominently on the SMP website, were well placed, Tu says. "I was in a class full of brilliant individuals who were in the same boat as I was, so it helped me to not feel incapable."
Given that Tu sat side-by-side with traditional medical students in most of her SMP classes, and the grading standards were the same, "it made me realize I could handle medical school," she says.
Looking back, medical school was "nowhere near as tough as my SMP year," says Dr. Tu. She is now a physician, and an assistant professor in community and family medicine at Duke University Medical Center.
"I would definitely not be where I am today without the SMP program," she says. And there was a bonus, "I believe the kind of physician I am, one who understands failure and obstacles and how to take the challenges presented to you and rise beyond them, helps me in my interactions with patients in a way that would have been very different, if not for the SMP program."
Tu's experience is a common one among graduates of this unique master's degree program, which began in 1975, says Susan Mulroney, Ph.D., SMP director and a professor in the department of pharmacology and physiology at Georgetown University Medical Center (GUMC).
"The power of the SMP is that these amazing students have been vetted in the hardest medical courses, and if they get through it, they are highly competitive," Mulroney says. "Medical schools know they will be fine."
In fact, up to 85 percent of the SMP students, who receive a Master of Science degree in physiology upon completion, are admitted to medical school.
Setting the national model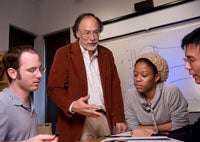 Georgetown's SMP — the first one in the country — began as a "feeder" program to the School of Medicine. "It was a way to test a dozen students to see if they could actually do the work despite a lower than optimum undergraduate grade point average," Mulroney says. The pioneering effort, developed by Lawrence Lillenfield, M.D., Ph.D., then-chairman of the GUMC department of physiology and biophysics, and Estelle Ramey, Ph.D., renowned Georgetown endocrinologist, has since been duplicated by various medical schools around the country that offer their own "boutique" programs.
But the difference is that most of those other special master's programs are tightly linked to their own medical schools in terms of admission, Mulroney says, while Georgetown's SMP attracts students from across the nation, who then go on to medical schools far and wide.
Georgetown is not only the first in the country, it is also the largest.
"From the beginning, the mix of medical and graduate courses that Georgetown's SMP has offered has been truly an inspiration to its students," Mulroney says. Over the 11-month course, students take 32 credits. Half of the credits are in courses taken by first year medical students and the rest are basic science courses such as neuroscience, microbiology and pathophysiology, to name a few.
The somewhat unconventional background of SMP students leads to their success, says Adam Myers, Ph.D., associate dean and associate vice president for special graduate programs at GUMC, who directed and led a significant expansion of the SMP program from 1993 to 2006.
"A lot of people who don't have the numbers they need to get into medical school deserve another opportunity," he says. "They often become great physicians because they have a broad-based background, teamwork, communication skills, and cultural competence — all the things that lead to success with patients."
At Georgetown, almost as many SMP students as first-year medical students matriculate annually. "To a student, they consider the SMP year, the best year of their lives," Mulroney says.
Vincent DiMaggio says he was the first in his family to finish college, and it was only through the SMP, and the additional help of Mulroney and Myers that he became a Georgetown medical student. Now in his third year, DiMaggio adds he has "grown into someone I can truly be proud of – a dedicated, diligent medical student; and despite my own doubts, a student leader. The SMP changed my life." DiMaggio serves on the 2011-2012 Executive Student Council, a group elected by the student body to "better our campus community."
Branching out
To grow the program and expand access, GUMC has established an educational collaboration with George Mason University, called GeorgeSquared. The graduate degree program, held at George Mason's Prince William campus, is taught by faculty from both institutions.
This new special master's program was launched in Fall 2011, following the 2010 successful début of George Squared's advanced biomedical sciences certificate program. Together, these two programs enrolled 89 students this academic year with the potential for future growth. Already, graduates of the certificate program have been placed in medical and dental schools around the country, Myers says.
These students are likely channeling the reaction expressed by Michael Maguire, a medical student at the University of Miami's Miller School of Medicine. "The Georgetown SMP's rigorous schedule prepared me to excel in medical school," he says. "With a master's in physiology, I am at the top of my medical school class.
By Renee Twombly, GUMC Communications
(Published February 1, 2012)