NHS Professor's Article on H1N1 Pandemic Wins Top Honor
Posted in GUMC Stories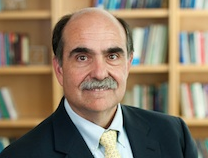 A Georgetown University population health researcher has earned a top award for his research on the impact of public health surveillance systems during the 2009 H1N1 pandemic.
Michael Stoto, PhD (new window), professor of health systems administration at the School of Nursing & Health Studies, received the Public Health Systems Research (PHSR) Article-of-the-Year Award.
"The award honors the best scientific work that the field of PHSR produced and published in 2012," a news release said.
'A Fine Example'
Sponsored by the Robert Wood Johnson Foundation and selected by AcademyHealth's PHSR Interest Group, the award recognizes, "articles that present, analyze, and comment on new data or synthesize and analyze data that have already been collected in the field of PHSR."
Stoto earned the award for his PLOS ONE article "The Effectiveness of U.S. Public Health Surveillance Systems for Situational Awareness during the 2009 H1N1 Pandemic: A Retrospective Analysis," which appeared in August 2012.
The committee, according to the release, said Stoto's work is, "a fine example of practical, system-oriented inquiry, where the triangulation of evidence reveals more than could have been learned through partial, more narrowly focused studies."
A Collaborative Effort
Stoto's research has been supported by the Centers for Disease Control and Prevention (CDC) as part of the Preparedness and Emergency Response Research Center based at Harvard School of Public Health.
"I'm grateful to have been recognized by my fellow public health systems researchers," he says. "It's an honor not just for me, but also my colleagues at Georgetown, Harvard, and elsewhere who have worked with me to bring a systems approach to improving the nation's preparedness for public health emergencies."
Impacting Public Health
Stoto was recognized during the PHSR Interest Group Meeting on June 26. As winner, he received a $1,000 cash award and complimentary registration and travel assistance to attend AcademyHealth's annual research meeting and the PHSR Interest Group annual meeting.
Patricia Cloonan, PhD (new window), the department's chair, congratulated Stoto on this honor.
"This is wonderful news for Mike and the department," Cloonan said. "To be recognized for producing the best scientific work in your field of research is an impressive achievement. Mike's scholarship typifies our efforts to study issues that impact the public's health and disseminate findings that may have implications for policy and practice."
By Bill Cessato, NHS Communications
(Published June 27, 2013)