Precision Medicine Pioneer Pursues New Cancer Treatments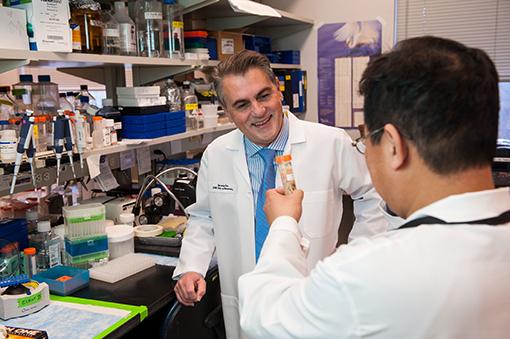 Posted in GUMC Stories | Tagged cancer, cancer research, Georgetown Lombardi
JAN. 6, 2016–Giuseppe Giaccone, MD, PhD, understands the pie-in-the-sky view that many physicians and their patients take on precision medicine. They say the concept makes sense — if a patient has cancer, test a bit of a tumor for cancer-causing genes and then use the drugs that turn those genes off. Presto! The tumor shrinks to nothing.
Giaccone recognizes the promise of precision medicine. A major clinical trial that he opened five years ago to test the potential of matching genes to therapy in lung and other chest cancers enrolled nearly 700 patients with advanced cancer in less than two years. The research team had estimated it would take five years or more to enroll the appropriate number of patients.
The findings, published in January 2015, showed some amazing results — but only for a subset of patients. The study, however, help set the standard for conducting such research. The so-called "basket" design Giaccone used is now considered the cutting edge because it can identify effective therapies much quicker than has ever been possible — an advantage that the U.S. Food and Drug Administration supports.
This basket approach upends traditional clinical trial design because it recognizes that molecular drivers of a cancer are much more important than, say, the organ in which a tumor initially developed. That means drugs used for one type of cancer may work for another.
So Giaccone has long been making the pie that so many people want to taste. He has been trying ingredients that have not been used before. And while there have been some treatment successes, the bigger issue, he says, is that many genes and the proteins believed to promote cancer are not yet targetable — that is, there are no drugs to shut them down, or, in some cases, turn beneficial genes on.
Another concern is that cancer can outsmart targeted therapies, just as it does chemotherapy. Cancer has ways of becoming resistant to treatment, Giaccone says, so therapy becomes an exercise in Whac-A-Mole, so to speak — knocking down the new tumors that arise due to resistance. Thus, new drug strategies are needed.
Given these constraints, Giaccone predicts it will be some time before the pie, the cake, will be successfully baked. He feels it is important to understand the limitations of precision medicine, and what can be done about them, as well as the tasty future benefits. He is, as one leading scientist describes him, "the adult in the room. He brings a remarkable wisdom to the field of targeted therapy that helps us more clearly understand where the opportunities and challenges lie."
Giaccone has held multiple leadership positions in the U.S., including chief of the medical oncology branch of the Center for Cancer Research at the National Cancer Institute. In Europe, he is regarded as a superb clinician and scientist who helped establish the principles of precision medicine.
He joined Georgetown Lombardi Comprehensive Cancer Center in 2013 to help direct clinical research as well as the medical center's experimental therapeutics program. He is also director of clinical research for MedStar Georgetown Cancer Network — a new collaborative effort that provides cancer patients at multiple hospitals in Washington and Maryland access to clinical trials and the newest strategies for treatment of the disease.
Giaccone has long been interested in cancers of the chest — non-small cell lung cancer (the leading cause of cancer deaths in the U.S.) and rareer forms such as small cell lung cancer and thymoma. Using next-generation sequencing technologies, he has identified genetic alterations for these different cancers, including mutations, translocations (in which gene parts are switched) and amplifications (meaning genes are duplicated and make too much toxic protein). These findings suggest these errant genes or their protein could be controlled with novel drugs.
Among other projects, he is currently conducting studies of novel agents in patients with advanced thymic malignancies, and in patients with advanced non-small cell lung cancer with epidermal growth factor receptor (EGFR) mutations.
The results of the trial that quickly enrolled 668 patients was published in the Journal of Clinical Oncology. CUSTOM (Molecular Profiling and Targeted Therapies in Advanced Thoracic Malignancies) was the first completed prospective clinical trial that used genetic analysis alone to assign cancer treatment to patients — what has come to be known as the basket design.
Giaccone and his team demonstrated that it was feasible to take a new biopsy from patients with advanced cancer and to do extensive genetic testing quickly. This is as close to real-time genetic analysis as is possible, he says. He also showed that while some patients with non-small cell lung cancer had a very high response to drugs targeted at genetic mutations, the study did not enroll enough patients with rare mutations and rare cancers to show significant results.
That is not a failure — it is a new opportunity, Giaccone says. "New basket trial designs for rare cancers should include a larger number of institutions and an adaptive design in order to successfully conduct such studies."
And so another ingredient in the pie will be tested.
Renee Twombly
GUMC Communications