Physician Readiness in the Genomic Era
Posted in GUMC Stories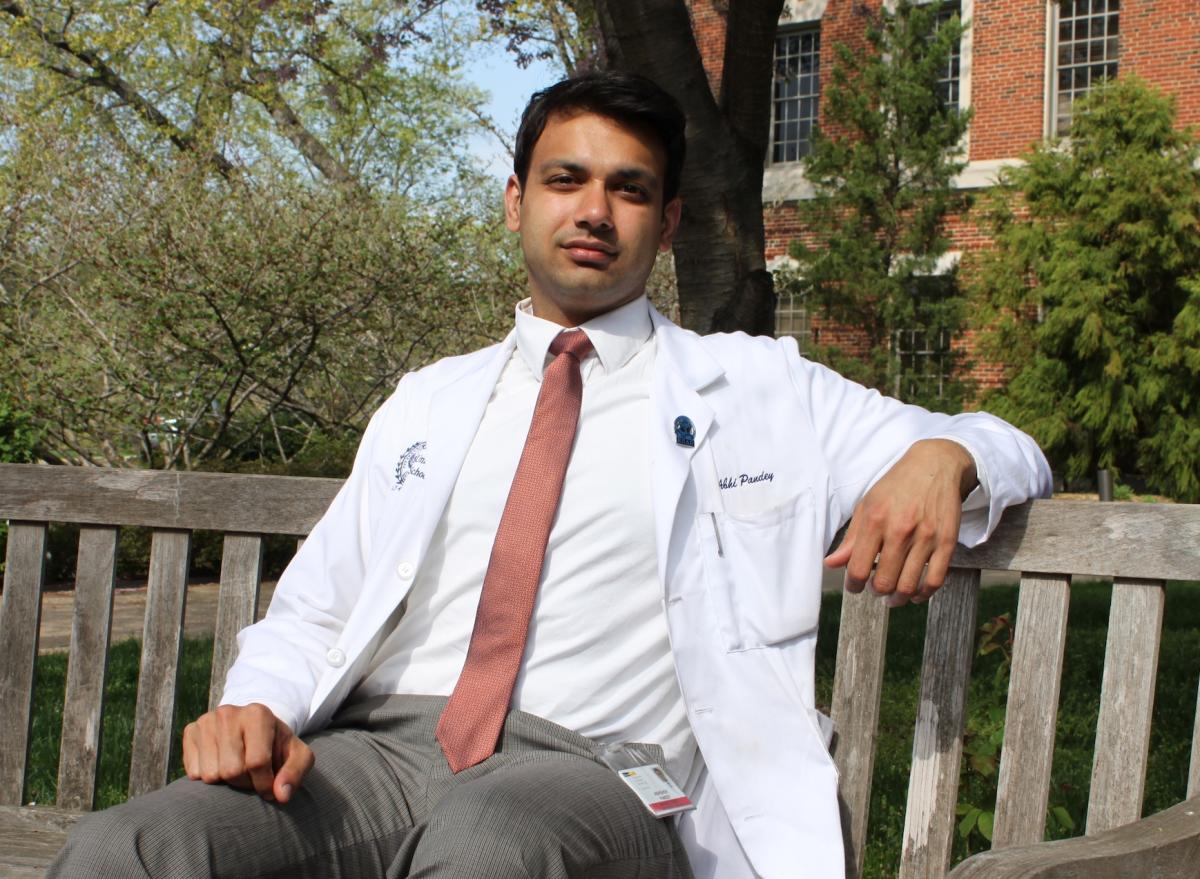 Are today's and tomorrow's medical professionals prepared for the genomic age? That's the question Abhi Pandey (M'14), a third-year Georgetown University medical student, explores in an essay published in the April 10 issue of the Journal of the American Medical Association (JAMA).  
Pandey's essay, titled "Preparing for the 21st Century Patient," explores the new challenges physicians face with proactive, well-informed patients who take advantage of recent advances in genetic profiling. These services are readily available through many direct-to-consumer (DTC) companies. 
The essay was published in JAMA's genomics theme issue and was prompted by the personal observations of Pandey's close friend Khashif (a pseudonym), who ordered his genetic profile from a DTC lab with no involvement of his physician, nor any immediate medical concern. 
Khashif explained how, after sharing the genetic lab results during a regular medical check up, his physician brushed the data aside and continued the visit.
In the end, Khashif had no discussions with a genetic counselor, physician or any health care provider about his test. "His physician, like the vast majority of practicing physicians in the U.S., wasn't trained to deal with DTC data, or most forms of genetic testing for that matter," Pandey says. 
Pandey says that traditional medical education provides little genetic or genomic testing information, and he questions whether physicians will be able to properly engage proactive patients who have genomic data. He points to an American Medical Association survey that shows nine out of ten member-physicians do not feel prepared to implement FDA-approved genetic testing recommendations in their practice.
A major challenge in this new world of easily attainable medical information is for physicians to communicate to patients which tools, procedures and drugs will not benefit them. "In an age when the public has unprecedented access to medical knowledge, being able to communicate that distinction to patients may be one of the most important qualities a physician may possess," he writes.
Pandey says today's medical education is starting to evolve in preparation for the curious and preemptive patients of the 21st century, explaining, "many schools and residency programs acknowledge the new trend in health care, and they have responded by adding lectures, training exercises, and even certification programs to their curricula." 
This kind of access to personal health information demonstrates the ability to empower patients and the medical community, inevitably creating a "marriage of medical innovation with the Internet that will change the health care landscape." 
The future challenge for Pandey and his medical school student cohort is to handle this self-motivated pool of patients with care. 
"Medical professionals must maintain good relationships with their patients, understand their concerns, appreciate their motivations, and educate them when necessary." 
To read the full essay by Pandey click here.
By David Blanco, GUMC Communications
(Published April 19, 2013)