Passion for Health Equity Inspires Undergraduate HJA Collaboration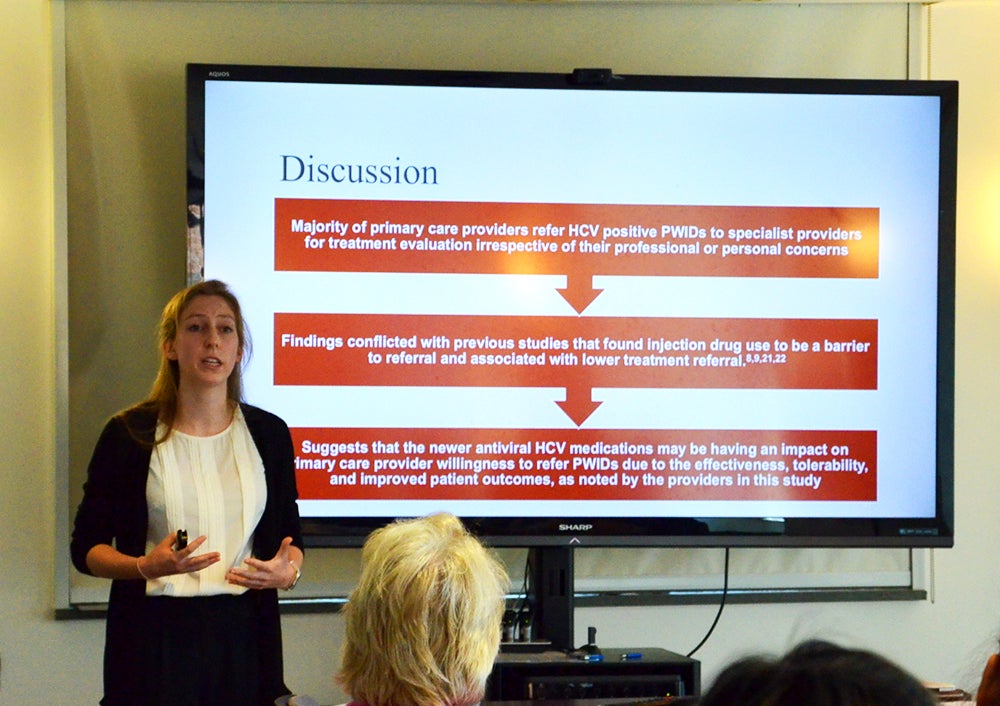 Posted in GUMC Stories | Tagged health disparities, health equity, health justice, Health Justice Alliance, School of Nursing & Health Studies, service to others
(June 1, 2019) — When she was a sophomore at the School of Nursing & Health Studies (NHS) , an experience volunteering abroad led Carolyn Hofley (NHS'19, M'23) to think more deeply about the way that social determinants of health contribute to health disparities. By starting a club for students interested in issues related to health and medical equity, she supported the work of local organizations, including Georgetown's Health Justice Alliance (HJA).
When considering colleges as a high school senior, her acceptance to Georgetown made the decision an easy one.
"There's no question I wanted to be at Georgetown," said Hofley, who graduated in May with a degree in human science and a minor in public health. "I felt that Georgetown's Jesuit principles, like cura personalis and people for others, really resonated with my passion for service," Hofley said. "It's really been a framework for my time there."
Early Medical School Acceptance Proves Meaningful
As a child, Hofley suffered from a series of illnesses. Observing her doctors' dedication and compassion motivated her to pursue a career in medicine. During her sophomore year, Hofley received conditional acceptance to the School of Medicine through its early assurance program, paving the way for her to expand her interest in health equity.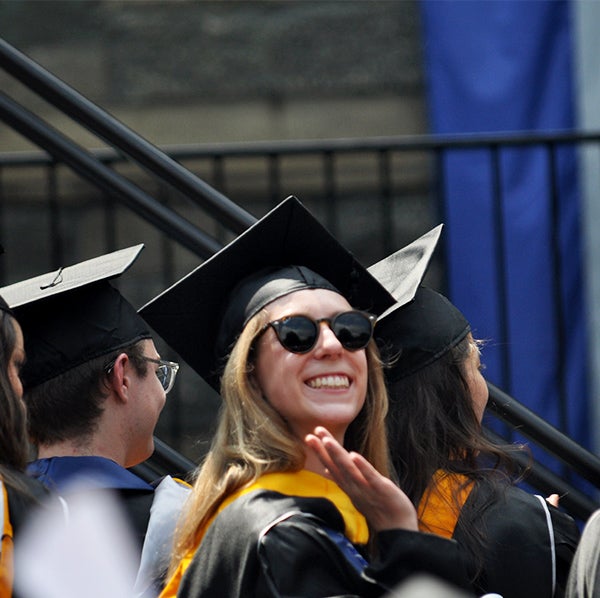 "It's such an amazing program because it gave me so much more of my undergraduate experience," she said. "Because I didn't have to take the MCAT, apply to multiple schools and go on so many interviews, I could instead focus on activities that I might not otherwise have had time to do until a gap year."
That spring, Hofley participated in a service trip to Honduras, led by a nonprofit sustainable development organization, where she worked with other Georgetown students to provide medical relief to poor and rural communities.
Upon her return, Hofley wondered if the volunteers should have instead examined the economic, social and environmental factors that led to the country's health disparities in the first place. Applying the same thinking to the health disparities in D.C., she set out to assemble a student club that would focus on broader social determinants of health, in hopes that other students would become as impassioned about the topic.
"Whether it's a food desert or limited access to hospitals, as is the case in communities across Wards 7 and 8, there are a number of systemic and policy factors that lead to these disparities," Hofley said.
Launching GUSHME
In her junior year Hofley and fellow undergraduate students Ariana Urias (NHS'19), Anna Braendle (C'19), Chloe Verwiel (C'19) and Emily Graul (NHS'20) co-founded GU Students for Health and Medical Equity (GUSHME), a group dedicated to service and raising awareness of the social determinants of health.
The first event GUSHME hosted was a panel on the ethical implications of "voluntourism," the term attributed to the types of service trips that sparked the introspection Hofley experienced upon her return from Honduras.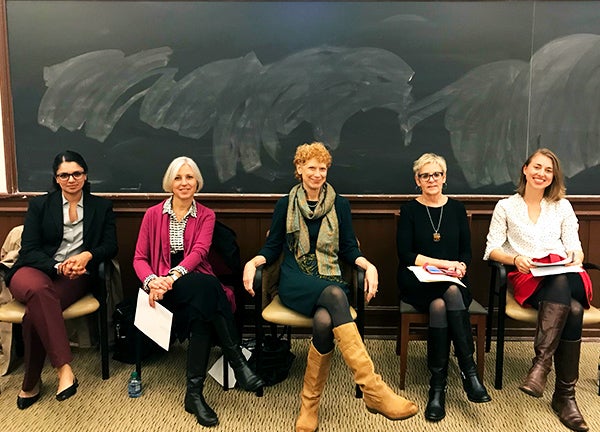 The panel featured leaders in health justice from across Georgetown, including Vicki Girard, JD (L'87), HJA founding co-director, and Eileen Moore, MD, HJA medical director and associate dean for community education and advocacy for the School of Medicine.
"I think the conversation was really eye-opening for a lot of my peers," Hofley said. "No one goes into a service trip with bad intentions, but it was good for them to learn more about other models of health equity volunteering."
For example, Hofley worked with HIPS, a D.C. nonprofit that provides comprehensive, specialized services and outreach for the city's sex workers and injection drug users. The organization focuses on models of harm reduction, which was the basis of a 40-hour training Hofley completed, led by former sex workers.
Lessons Hofley learned while volunteering with HIPS would become the foundation of her undergraduate thesis, which looked at barriers to hepatitis C treatment in her home state of New Hampshire for persons who inject drugs. Her experiences with HIPS also informed her research with Jennifer Bouey, PhD, MPH, associate professor of epidemiology and the Susan H. Mayer Professor for Health Equity at NHS, on barriers to the health care system for vulnerable populations.
Making Two Worlds Collide
Hofley learned about the relationship between law and health through a course she took in the fall of her senior year that was taught by John Kraemer, JD, MPH, associate professor in the department of health systems administration at NHS.
In the course, titled "Health in a Free Society," students studied how America's representative democracy and political structure fails to protect the health of marginalized populations, and how such grievances might be corrected.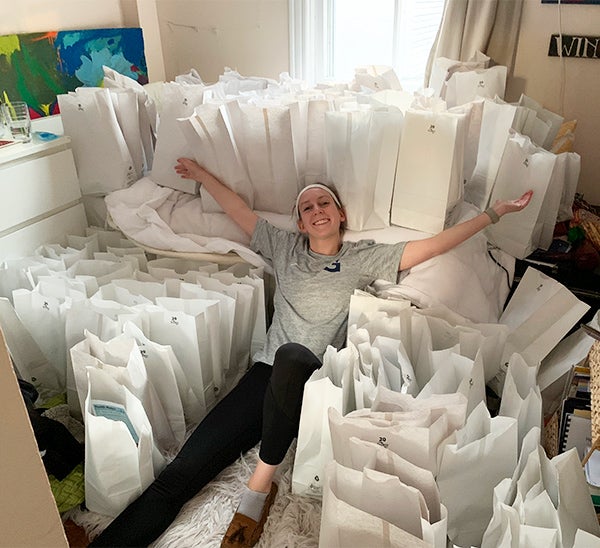 "He was one of my favorite professors in NHS, and I really loved that class," Hofley said. A collaboration between GUSHME and HJA helped cement what she learned in the course.
"While we were seeking additional service activities for our club, Professor Girard explained to us that many students who visit the school-based health center at Anacostia High School, the source of many referrals to HJA's law clinic, do not have basic hygiene products," Hofley said. "Particularly young women — feminine hygiene products can be really expensive."
In just a few months, nearing the end of the spring semester, GUSHME had fundraised for and compiled nearly 200 hygiene kits.
As she begins her first year of medical school at Georgetown this fall, Hofley hopes GUSHME can continue to make an impact both on and off campus.
"Even though a lot of us have graduated, we have some extremely motivated undergraduate members. Many of them have applied to the board," Hofley said.
"In reflecting on my own undergraduate experience, I love how at Georgetown, and at HJA for example, we're able to make the worlds of research and service collide and see how they inform one another."
Seren Snow
GUMC Communications