Partners In Research Funding Moves the Needle on Biomedical Research
Posted in GUMC Stories
MAY 11, 2016 — Four Georgetown University Medical Center scientists studying stroke recovery, diabetes, multiple sclerosis and Alzheimer's disease reconnected with the people helping to make their research possible.
A select group of community philanthropists known as "Partners in Research (new window)" helped fund the scientists, and on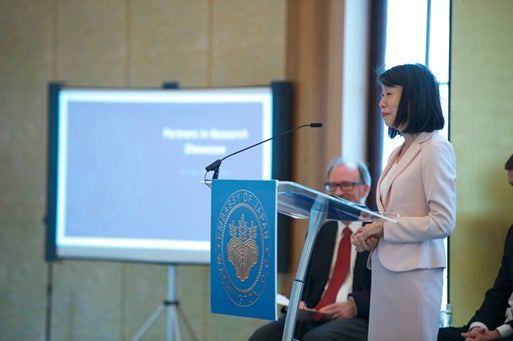 Tuesday, the donors received a progress report at the fifth annual Partners in Research Showcase.
Since its inception in 2011, Partners in Research has raised more than $450,000. The most recent grantees each received $30,000 for their work.
The showcase was hosted at the home of Nobuko Sasae, wife of Japanese Ambassador Kenichiro Sasae, and thediplomatic advocates chair for Doctors Speak Out, a group that gave rise to Partners.
Basic Science with Clinical Applications
"All of the presentations today were on important and common clinical problems," said Edward B. Healton, MD, MPH (new window), executive vice president for health sciences at GUMC. "It shows the application of basic science work in the real world."
Neurology researcher Matthew Edwardson, MD (new window), studies biomarkers associated with arm movement recovery after a stroke.
"We asked the question, 'why do people have natural recovery?' We are looking at what Mother Nature is doing, and identifying how we can help that process along to help patients achieve a more complete recovery," explained Edwardson.
Jeffrey Huang, PhD (new window), a Georgetown Interdisciplinary Program for Neuroscience faculty member, applied his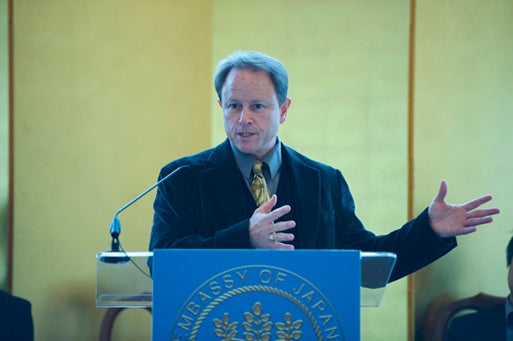 grant funding to multiple sclerosis research. He and his team are working to discover how the brain repairs itself, and if there is a way to harness that capacity to cure the disease.
Molecular biologist G. Ian Gallicano, PhD (new window) used his grant to grow adult islet cells, which produce insulin. His goal is to freeze islets in patients with early diabetes, expand them, and then replace them with the goal of a cure.
Success From Two-Time Grantee
Pharmacology researcher Daniel Pak, PhD (new window), employed two Partners in Research grants for his research in Alzheimer's disease. He found that the protein PLK2 increases the levels of amyloid beta, a hallmark of Alzheimer's and that volasertib, a PLK2 inhibitor, significantly slowed the progression of Alzheimer's disease in a mouse model.
He used his second grant to study whether volasertib would also decrease symptoms in mice modeled to develop Alzheimer's. The results showed that mice that received volasertib better retained their memories.
Pak leveraged the findings from his preclinical research to successfully apply for an NIH grant.
"None of the animal research would have been possible without Partners in Research," said Pak. "We wouldn't have been able to get the NIH grant if it wasn't for you."
Leigh Ann Renzulli
GUMC Communications