Panelists Discuss Diversity in Medicine at "The Voice"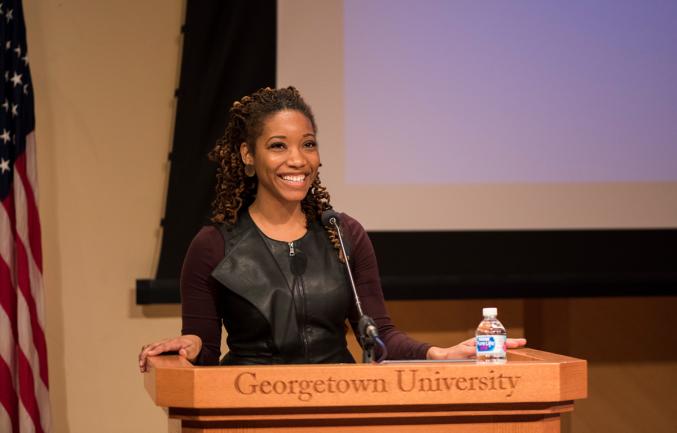 Posted in GUMC Stories | Tagged diversity, School of Medicine
(February 14, 2018) — Diversity in medicine, microaggressions and the state of immigration in the U.S. were among the topics discussed at "The Voice: Medical Edition – Candid Consciousness versus Silent Protests," an event held both to honor Dr. Martin Luther King Jr.'s legacy and reaffirm the university's dedication to cura personalis.
Hosted by Georgetown University School of Medicine's Student National Medical Association (SNMA), the Office of Diversity & Inclusion and the Office of the President's Let Freedom Ring! initiative, the February 7 event featured a panel discussion and question and answer session, as well as real-time audience polling.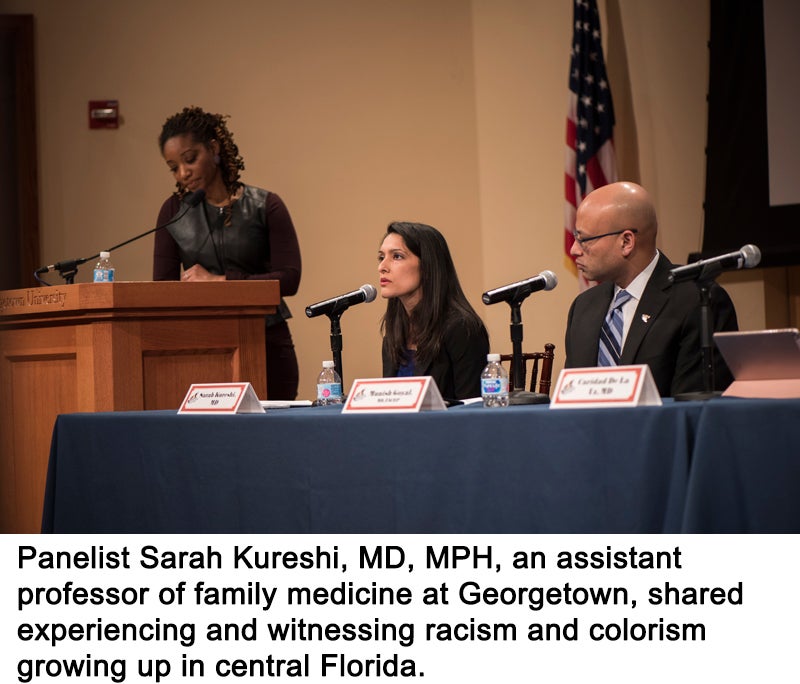 LaTasha Seliby, MD, assistant professor in family medicine at Georgetown, facilitated the conversation by asking the audience and panelists (new window) about their experiences. One of the panelists was Sarah Kureshi, MD, MPH, an assistant professor of family medicine at Georgetown. She discussed how, as a girl growing up in central Florida, she experienced and witnessed racism and colorism within her community.
As a Muslim woman, Kureshi said that modeling tolerance, respect, open-mindedness and peace within families and communities "starts at home. It's starts with how we see things and how we talk about things."
Another panelist, Doris Browne, MD (M'79), MPH, the 118th president of the National Medical Association and a graduate of Georgetown University School of Medicine, spoke about the importance of diversity in medical schools. With more students from different backgrounds, Browne urged the audience to look for teachable moments in discussing culture among peers and to learn from each other, adding how encouraged she feels to see the number of minority students at the School of Medicine increasing over time.
Anti-Immigrant Discrimination Prevents Patients from Seeking Care
Undocumented immigrants and the effects of media were also discussed at the event. Munish Goyal, MD, a Georgetown associate professor of emergency medicine, told the audience about an undocumented immigrant he cared for in the emergency room who did not have access to primary care for treating his chronic disease. The patient died a week after he was seen in the emergency room from complications of diabetes and cardiogenic shock.
In Goyal's opinion, that patient's death could have been avoided. "It's a tragedy that people won't seek primary care due to fear [of being deported]," Goyal said, adding that he is working to become more conscious and aware of the effects that racial and religious discrimination may cause.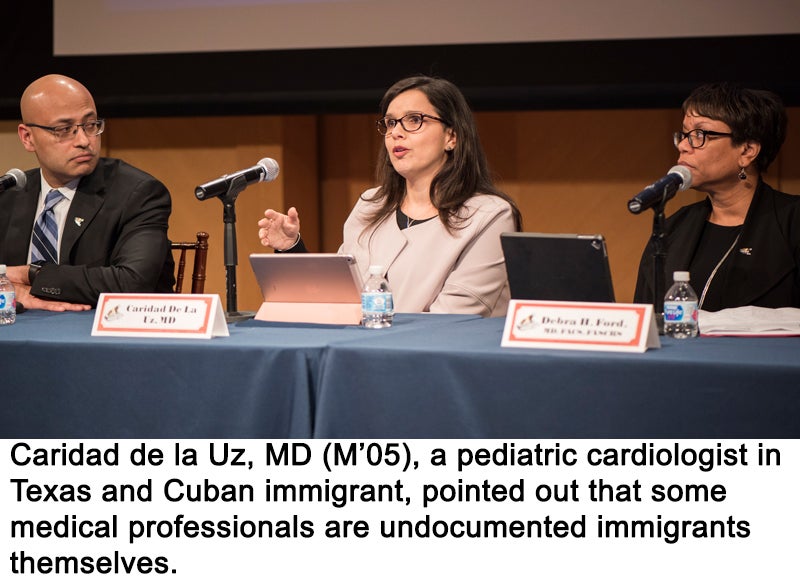 As a pediatric cardiologist in Texas, Cuban immigrant and School of Medicine graduate, Caridad de la Uz, MD, (M'05) said that she does not believe in turning away patients who need medical attention, even if they are undocumented immigrants. Some medical professionals are undocumented immigrants as well, she added.
"People don't know that maybe the doctor who is treating your child or who saved your life is undocumented," said de la Uz. "If they knew that, then that would make [undocumented immigrants] more valuable."
At the end of the event, the audience formed groups creating suggestions for ways to be an activist in healthcare settings. One student suggested having events similar to "The Voice: Medical Edition" as part of the medical school curriculum and a way to reach more students.
Georgetown's SNMA chapter plans to use the information gained from the event to continue the conversation on exploring social consciousness and activism in healthcare settings.
Amber Robins, MD, MBA
GUMC Communications