One Step Closer to Their Goals, BGE Students Receive Diplomas
Posted in GUMC Stories
May 21, 2016– They have been described as the "backbone" of the medical profession. More than 300 Biomedical Graduate Education students filed into the Leavey Center ballroom on Friday, greeted by the clapping and cheering of family and friends, for their diploma distribution ceremony.
BGE encompasses 26 MS and PhD programs in fields such as biochemistry and molecular biology, biotechnology, pharmacology, tumor biology, and complementary and biohazardous threat agents. There's also a Special Master's Program in physiology.
More than 300 BGE graduates received their diplomas at the Graduate School of Arts and Sciences commencement earlier in the day.
Graphing Success
Kenneth Dretchen, PhD, retiring chair of pharmacology, delivered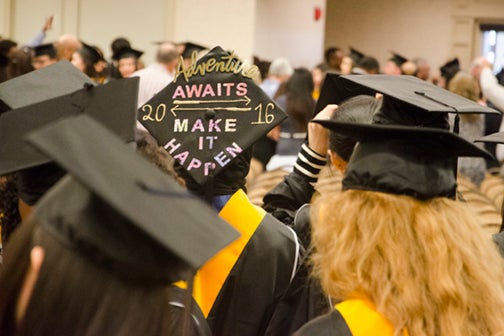 the keynote address. He started by discussing career trajectory in a way that a recent biomedical graduate might understand best.
"If we plot time after you receive your graduate degree on a horizontal axis and we plot advancement or promotion on the vertical axis, at some point you will reach the threshold when you get your new job. And with each promotion you'll rise a little and then plateau. And that will keep going until you become the president of the company," he said.
After the laughs subsided, Dretchen offered some serious advice.
"We all have different thresholds and we will all have different rates of progress, but the one thing I will tell you for sure is you must continue lifelong learning, or you will fall off the curve."
The Backbone of Medicine
Student speaker Walid Chatila (BGE'16), who graduated with an MS in biochemistry on the bioinformatics track, said it was always his goal to have a positive impact on healthcare and biomedical research, but he never thought he would earn a graduate degree in biochemistry.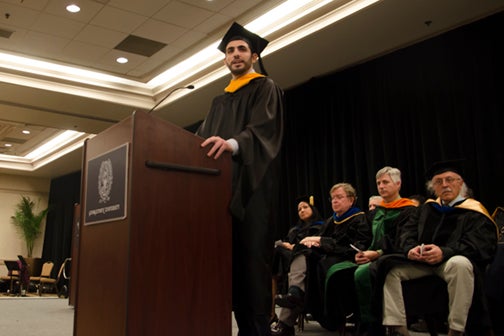 "I had always planned to pursue a career in medicine. But today I find myself in a position that I had not anticipated." he said.
Chatila noted that biomedical research often flies under the radar to the average person who thinks of doctors and nurses when they think of "medicine," but, he noted, biomedical research is the "backbone of medicine," providing new discoveries that can be translated to clinical work.
"None of us know where life will take us, but as long as you are one step closer to achieving your goals, you know you are moving in the right direction."
Leigh Ann Renzulli
GUMC Communications