Once His Home, Medical Student Uses Research Requirement to Investigate Hypertension in Zimbabwe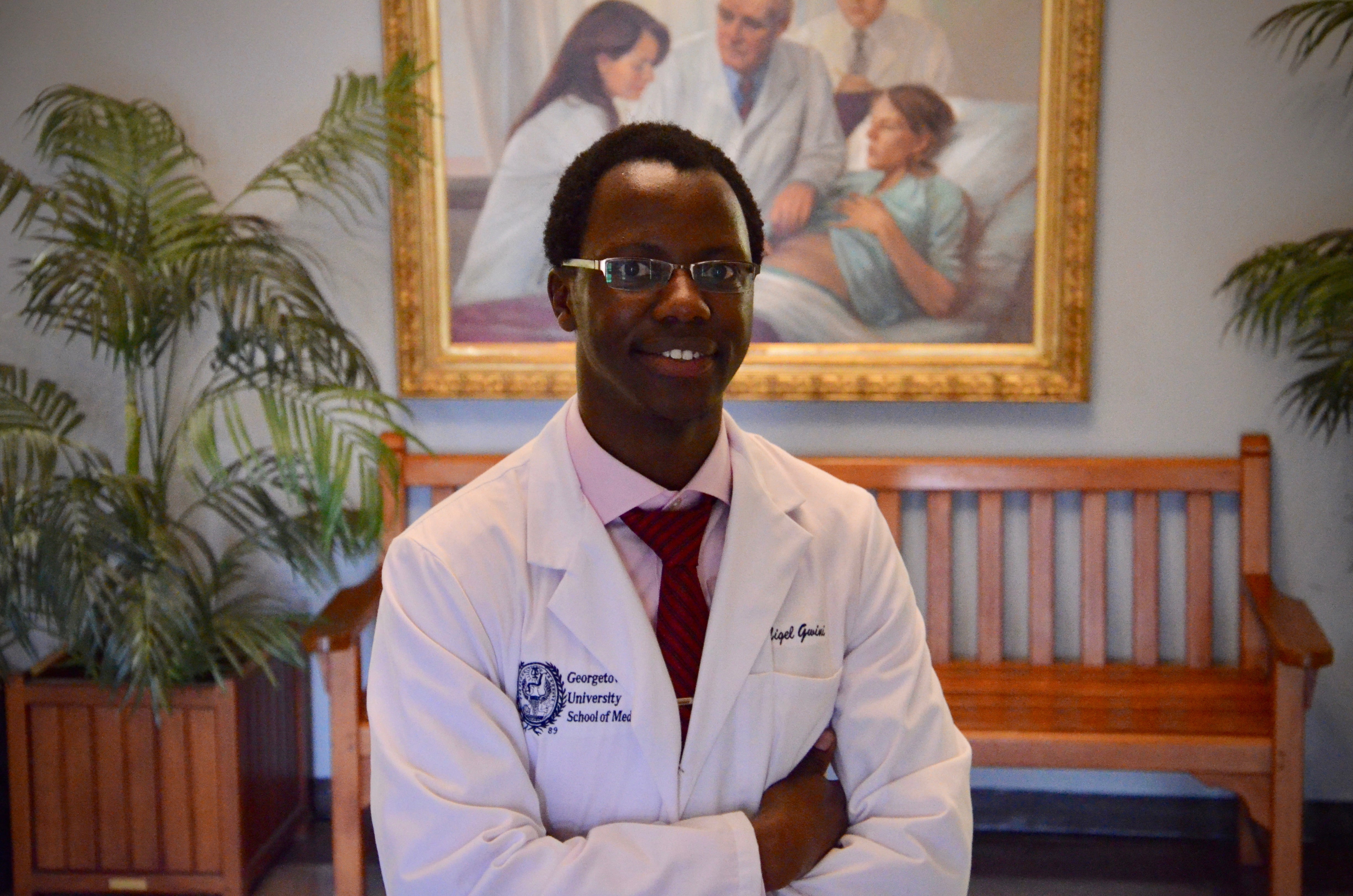 Posted in GUMC Stories | Tagged global health, hypertension, medical research, School of Medicine, student research
(March 29, 2019) — The nearly 200 independent scholarly projects completed by students at Georgetown University School of Medicine this year varied from topics including depression patterns, opioid usage, barriers to health care, attitudes about firearms, pregnancies complicated by HIV and even findings on hypertensive patients thousands of miles from campus.

As a graduation requirement, the projects School of Medicine students complete give them a chance to practice their research skills while exploring topics of personal interest throughout their four years of medical school, culminating with presentations on George M. Kober Student Research Day, held this year on March 18. The projects are completed with the guidance of a mentor and in parallel with the curriculum.

Student Research Day is coordinated by the Office of Student Research, led by its administrative director, Meskerem Lloyd. She and Joseph Timpone (M'85), associate dean for student research, work closely with the Student Research Advisory Committee and the Independent Scholarly Project Oversight Committee, made up of students and faculty members, respectively, to host the event.

"It is a great privilege to play a small part in helping our medical students graduate from the School of Medicine as well-educated and clinically-trained physicians as well as excellent scientists through their research work experience," Lloyd said.

Consisting of both podium and poster presentations, student and faculty judges work together to provide projects with feedback. The experience is designed to mimic a real professional conference or national meeting, Timpone has said of the experience, and helps students complement their clinical skills with those of a good investigator.

Uncovering Poor Patient Outcomes
In her role as an attending physician at Zimbabwe's Mpilo Central Hospital, Nigel Gwini's (M'19) mother noticed that many of the patients who had experienced a stroke and had a history of hypertension died in the hospital, even if they were taking medication to treat their hypertension.

Born and raised in Zimbabwe, Gwini was disheartened and fascinated by this observation, which he decided to explore for his independent scholarly project. "Sub-Saharan Africa has some of the highest rates of adult hypertension in the world," Gwini said, adding that several members of his family have been diagnosed with hypertension.

Working with his mother and a statistics and operations research expert based at Zimbabwe's National University of Science and Technology, Gwini reviewed the hospital records of patients who were admitted between January 2013 and December 2014.

After collecting their demographic data, blood pressure reading at the time of admission, prior antihypertensive medications and stroke outcomes, his mom's observations proved true. "The patients who were taking blood pressure medications before they had a stroke generally had the same mortality rates as patients who were not taking blood pressure medications before the stroke," Gwini said.

While the reasons are unclear, Gwini's review of related studies showed that hypertension awareness, treatment and control remain very low in Zimbabwe and many other low- to middle-income countries.

Looking Ahead
Reflecting its status as a significant public health concern for the region, Gwini believes health care providers need to implement better hypertension management guidelines and practices. "For physicians, this includes following up with patients who are on antihypertensive medication to make sure their numbers are where they should be," he said.
Even though Student Research Day has passed and his independent scholarly project and research poster are complete, Gwini plans to continue on with a second arm of the study, investigating outcomes for heart failure patients at Mpilo Central Hospital.
As a fourth-year medical student, Gwini recently matched with the internal medicine residency program at New York-Presbyterian/Weill Cornell Medical Center. "I was pretty pumped, really excited," he said about his feelings on Match Day. Weill Cornell's dedication to diversity among both its patients and providers is one of the top reasons he was attracted to the program. After his residency, Gwini plans to pursue a fellowship in hematology/oncology.
Seren Snow
GUMC Communications