O'Donnell Named The Nehemiah and Naomi Cohen Chair in Pulmonary Disease Research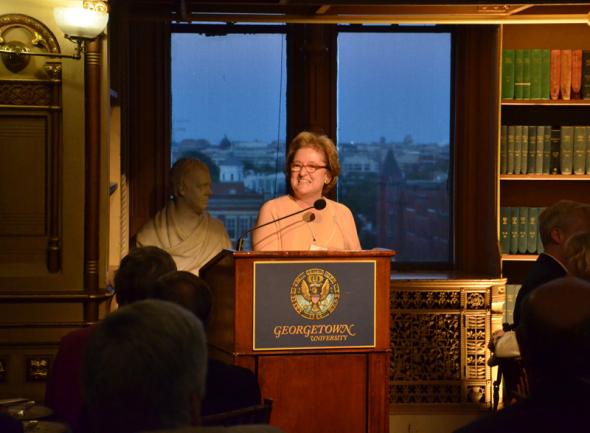 Posted in GUMC Stories | Tagged biomedical research, School of Medicine
(June 16, 2018) — Anne E. O'Donnell, MD (M'82, R'85, W'87), a professor of medicine at Georgetown University and chief of the division of pulmonary, critical care and sleep medicine at MedStar Georgetown University Hospital, has been tapped as the Nehemiah and Naomi Cohen Chair in Pulmonary Disease Research. O'Donnell's family, friends, colleagues and patients celebrated with her on June 14 at an investiture dinner in Riggs Memorial Library.
O'Donnell's distinguished career made her the "natural inheritor" of the Cohen Chair, according to Richard Waldhorn, MD, a professor of medicine and former chair of the department of medicine at Georgetown University School of Medicine, under which the division of pulmonary, critical care, and sleep medicine is housed.
"Anne has applied the principles and values by which she has lived her entire life," Waldhorn said at the event. "First, work hard. Then, become an expert, and learn all that you can possibly learn. Next, always respect and listen to the patients—by taking a careful history without the assumption that someone else has asked the important questions. And most importantly, strive to understand the patient's perspective."
From Catholic Schools to Renowned Career
Having authored over 40 manuscripts, O'Donnell is an internationally recognized expert in bronchiectasis and respiratory infections. She has been a principal investigator on numerous clinical trials investigating new therapies for bronchiectasis and NTM infections. "We are so proud to be an organization that boasts talent along the lines of Dr. Anne E. O'Donnell," said Edward B. Healton, MD, MPH, executive vice president for health sciences and executive dean of Georgetown University School of Medicine.
A native of New York City, a Catholic education is very important to O'Donnell and her family. She earned her bachelor's degree from Catholic University of America then went to Georgetown for medical school. Her postgraduate medical education, internal medicine residency and pulmonary diseases fellowship, were also completed at Georgetown. She served in the Air Force at Robert L. Thompson Strategic Hospital, Carswell Air Force Base, Texas, completed her service as a major, then joined Georgetown as a faculty member.
In addition to receiving numerous Georgetown awards, including the Michael J. Caruso Award, the Anatomy Department Award and the Georgetown Clinical Society Award, O'Donnell was also recognized with the prestigious Meritorious Service Award from the Air Force in 1991. O'Donnell is also a long standing member of the Mentored Patient Oriented Research review committee of the National Institutes of Health's National Heart, Lung, and Blood Institute.
History of the Cohen Chair
Endowed chairs are one of the highest honors awarded to faculty. In particular, the Cohen Chair has engaged world-renowned physician scientists in the research and academic mission of Georgetown and has sustained scholarship over decades in the area of pulmonary disease research.
The Nehemiah and Naomi Cohen Chair in Pulmonary Disease Research was established in 1986 by the children of Nehemiah and Naomi Cohen. The inaugural Cohen Chair was awarded to Sol Katz, MD (M'39), who held it while a national search committee was underway to find a permanent chairholder. Katz was followed by Donald Massaro, MD, who was appointed in 1987 and served as the chair until his death in 2014.
"Having this chair just makes an important contribution to moving forward in these very rare diseases—they've been under-studied, under-researched, underfunded, and I just hope that with this chair, we're going to make some really good contributions to the care of the patients," O'Donnell said. "Hoya Saxa!" she concluded.
Seren Snow
GUMC Communications