Nursing Students to Wear Red
Posted in GUMC Stories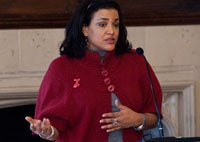 ABC's local television affiliate, WJLA Channel 7, reporter Jennifer Donelan will return to St. Mary's Hall as the keynote speaker at the National Wear Red Day presentation on Friday, February 3, at 11:00 a.m. The event, sponsored by the Georgetown University Chapter of the National Student Nurses Association, is aimed at raising awareness about women's heart health.
Donelan spoke at last year's event, telling the story of her own nearly fatal heart attack at the age of 36. On September 8, 2010 she began feeling a pain deep inside her chest, following her 5 p.m. television news broadcast. Then, she experienced numbness in her left arm and excruciating pain. A television crew member called 911 and Donelan was rushed to Washington Hospital Center, where it was confirmed she was having a heart attack.
Donelan later learned that she had suffered from a rare condition known as a spontaneous coronary artery dissection.
Heart disease is the leading cause of death among women in our nation, according to the Centers for Disease Control and Prevention. To raise awareness of heart disease, the American Heart Association has created Go Red For Women – an initiative designed to empower women to take charge of their heart health and wipe out cardiovascular disease and stroke. Each year, the campaign designates the first Friday in February, National Wear Red Day.
At this year's event, the NHS Chapter of the Student Nurses Association will again raise funds to donate to the American Heart Association's Go Red for Women campaign.
(Published January 29, 2012)