Department of Nursing Inducts New Students
Posted in GUMC Stories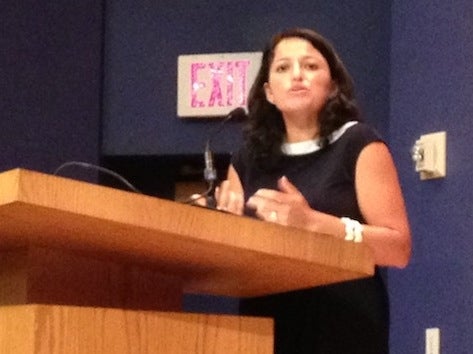 Nursing students must confront their feelings about individuals who don't look like themselves to help address health disparities in their professional practice, says an expert in mental health care access for diverse communities.
MaJosé Carrasco, MPA, director of the Multicultural Action Center at the National Alliance on Mental Illness, delivered the keynote address on August 27, at the Department of Nursing's Induction Ceremony, an event where new BSN students affirm the department's values.
"As future nurses, you can help eliminate these disparities," Carrasco said. "You can help make a difference."
The Ceremony
During the event, 75 new students in the traditional and second degree programs received journals to document their journey in the nursing profession. 
They also committed themselves to the department's values of human flourishing, upholding the common good, advocating for social justice, embracing and respecting diversity, demonstrating professional care and compassion, and striving for excellence.
"We are delighted to have you here with us on the Hilltop," said Jeanne Matthews, PhD, RN, chair of the Department of Nursing.  "…The ceremony formally marks the beginning of [your] journey from novice to professional nurse."
A Values Based Approach
Martin Y. Iguchi, PhD, the school's dean, told the new students that Georgetown's values will provide an important framework to the knowledge they will learn and memorize during the program.
"That's what we're proudest of in our curriculum," he said. "That's what attracts our unique students to Georgetown.  …When you're done, we're going to be sending you out as agents of Georgetown."
Health Disparities
During her keynote, Carrasco spoke to the students about how she has experienced bias while trying to access health care services.
She also talked to them about her current work in the mental health field and how individuals are often stigmatized because of lack of information.
"Many people suffer in silence," she said. "…You can treat them with respect, understanding, and compassion. You can help them recover."
Carrasco encouraged the students to study cultural competence, cross-cultural communication, and diversity, as well as to reflect on their own views.
Planning Committee
Jean Nelson Farley (NHS'72), MSN, RN, assistant professor of nursing, and Samuel Aronson, MA, assistant director of student academic affairs, planned the ceremony.
By Bill Cessato, NHS Communications 
(Published September 03, 2013)