Nursing Department Programs Earn 10-Year CCNE Reaccreditation
Posted in GUMC Stories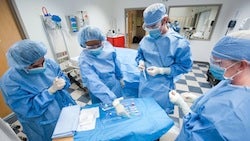 The Department of Nursing at the School of Nursing & Health Studies has received a 10-year reaccreditation from the Commission on Collegiate Nursing Education (CCNE), which is the maximum length of time the organization will reaccredit a nursing program before the next review.
A CCNE site review team conducted an on-campus visit from February 25-27, 2013, during which representatives interviewed university leaders, program faculty and students, school administrative staff, alumni, and others. The team also visited sites where students complete their clinical education.
"There are many people to thank for this great outcome," says Jeanne Matthews, PhD, RN, the department's chair.
BSN and MS Programs
According to its website, CCNE is an autonomous agency that is officially recognized by the U.S. Department of Education as a national accreditation agency.
Georgetown's reaccreditation covers its Bachelor of Science in Nursing and Master of Science Programs within the department. As is standard, the recently launched Doctor of Nursing Practice Program at Georgetown will go through a separate accreditation process once the program has been in operation for a year.
Word of Thanks
Matthews expressed gratitude to the faculty for their hard work on the self-study document, the staff members who provided assistance on many facets of the document and site visit, and the student body.
"Thanks to those students who escorted our site visitors throughout their visit," she says. "Our students are phenomenal. More than one of the site visitors talked with me personally about the wonderful students here at Georgetown."
The chair also pointed to the leadership efforts and commitment of Sandra Bobba, MS, RN, instructor of nursing who coordinated the effort, Peggy Compton, PhD, RN, FAAN, professor of nursing and interim associate dean of academic affairs, Martin Y. Iguchi, PhD, the school's dean, Yasmin Sharif, department manager, and Sarah Kinney, the BSN program coordinator.
"All of these special people work every day to make the Georgetown nursing programs values based, vibrant, and strong – qualities befitting our 110-year history," Matthews says about the overall group effort.
By Bill Cessato, NHS Communications
(Published November 13, 2013)