Nursing Department Hosts Annual Completion Ceremony
Posted in GUMC Stories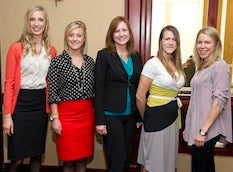 More than 120 students were recognized Saturday, Dec. 15, at a special ceremony hosted by the Department of Nursing.
Attended by more than 700 students, faculty, family members, and friends, the formal Completion Ceremony honors students who completed the second degree BSN program, the master's programs, and post-master's certificates during the summer and fall semesters.
In addition, the first students to complete the graduate program's online modality participated in this ceremony. They are the university's first-ever online degree graduates. Five of the six attended.
The Rev. Salvador Jordan, SJ, director of campus ministry at Georgetown University Medical Center, opened the ceremony with a prayer and asked the audience to observe a special moment of silence for the victims of the shooting in Newtown, Conn., on Friday, Dec. 14.
NHS Dean Martin Y. Iguchi, PhD, also reflected on the recent events and noted the power of community in times of tragedy. He asked the new nursing graduates to be aware of the important role that they will play in community.
"This really is a special moment to reflect on why you entered the profession – [to] really devote yourselves to the lives of others," he said. "When I think about what each one of you represents, it makes me proud to be dean of the school."
Student Speakers
Students from each program spoke to the audience about their experience and future paths. The speakers included:
Rubin noted that nurses build intimate relationships with patients, sharing in private moments of joy, sorrow, birth, and death.
"This intimacy, this knowledge that we have gained, can be a burden, but it is also a gift," she said. "It is this knowledge that allows us to change people's lives for the better. Every day, as nurses, we must strive to be worthy of this gift and to be worthy of the trust our patients place in us."
Roberts noted the strength of Georgetown's learning community.
"No matter what area of nursing you have chosen to pursue, I know each individual here has something important to do now and in the future," she said. "Georgetown's intimate learning setting has allowed us to learn from one another and create important relationships."
And Casey highlighted the way the school's values will influence the graduates' careers.
"As advanced practice nurses, Georgetown has educated us on a plethora of academic skills, but we have also been taught how to care for patients in a sensitive, comprehensive, and kindhearted manner. I believe this is what will set us apart from the rest as we begin to advance our careers."
Remembering a Classmate
The department – during and before the ceremony – took time to remember Paul Barton (NHS'09), PhD, who died in September after a brave battle with cancer. He had completed the school's second degree program and was currently enrolled in the Nurse Anesthesia Program.
Donna Jasinski, PhD, CRNA, program director, led a memorial tribute to Barton during a morning dedication ceremony at St. Mary's Hall, where the alumnus's family has donated a bench in his memory. She also spoke about Barton at the afternoon ceremony and invited his mother Deborah and his father David to the stage to receive his Georgetown University graduate nursing pin.
Wojno, a classmate who spoke on behalf of the Nurse Anesthesia Program, fondly remembered him during her remarks.
"He was an incredible man and an inspiration to all those who had the pleasure of knowing him," she said. "We are so thankful that he was and will forever remain a part of our class. And leave it to Paul to continue teaching us even after he is gone – that life is entirely too short, to love your family and your friends unconditionally, and to never, ever, ever, ever give up."
Sigma Theta Tau Induction
During the ceremony, 24 graduates were inducted into the Tau chapter of Sigma Theta Tau, the international honor society for nursing.
Sarah Vittone, MSN, MA, RN, assistant professor of nursing and chapter president, led the students through the induction pledge.
"Sigma Theta Tau recognizes excellence, leadership, and scholarship," Vittone said. "For those of you being inducted, you have been recognized for your academic success at Georgetown."
The honor society also presented an award for outstanding scholarly project that was performed by nursing majors in their final semester. The award recognizes "Childhood Obesity Screening: A Comprehensive Approach," by Claire McClure (NHS'12) and Arlena Ferrandiz-Myers (NHS'12).
Awardees
Additionally, several students were recognized for outstanding achievements.
The Award for Clinical Excellence is given to the undergraduate student who has demonstrated evidence of excellence in clinical nursing in the opinion of the clinical nursing faculty who teach in the program. The awardee is Samantha Rocks (NHS'12).
The Award for Academic Excellence is given to the undergraduate student who has achieved the highest grade point average while enrolled in the program. The awardee is Rebecca Johnson (NHS'12).
The Dean's Award is given each year to a graduate student who has shown outstanding achievement in scholarship, research, or service while enrolled in the program; and outstanding contribution to the health care field.
The awardees (tie) are Megan Lange (G'12) of the ACNP/CNS Program and Melissa Cornett (G'12) of the Nurse Anesthesia Program.
By Bill Cessato, NHS Communications 
(Published January 02, 2013)