Nurse Educator, Innovator Delivers McAuley Lecture
Posted in GUMC Stories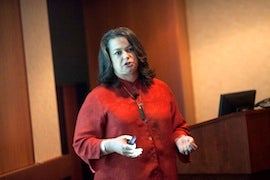 A nurse educator who has worked to support the native Hawaiian nursing workforce delivered the keynote address for the School of Nursing & Health Studies' McAuley Lecture Series.
Jamie Kamailani Boyd, PhD, FNP-BC, APRN, an associate professor and health programs coordinator at Windward Community College (WCC) of the University of Hawaii System, delivered the lecture, "Indigenizing Nursing: Walking the Path of Nursing with the Masters," on Nov. 13, in the Warwick Evans Conference Room.
Education and Poverty
Before becoming a nurse educator, Boyd worked in a variety of health care settings as a family nurse practitioner and witnessed the effects that minimal education and poverty can have on health.
"I saw that my sickest patients were those who were the poorest educated, had the lowest income, and were suffering from preventable diseases at an earlier age," said Boyd. "It seemed all preventable to me."
That experience – along with seeing an increasing aging population and need for native nurses – caused Boyd to begin focusing on preparing a native Hawaiian nursing workforce to address regional health issues.
Evolution of the Program
Following, at WCC, Boyd created the Pathway out of Poverty program, which helps disadvantaged students and native Hawaiian students progress from certified nurse aides to registered nurses, according to its Web site.
In the beginning, Boyd said, the college's CNA program struggled with retention due to cultural differences and educational gaps.
"After the first year, the students talked to us and said, '[the instructors] spoke too fast during lecture saying things like pericarditis and endocarditis, when we were still trying to spell words while the teacher was going on to the next chapter,'" she said. "We knew we had to put something in place to support those weaknesses so the students could succeed. It was important for Pacific Islanders to have native masters training them."
While Boyd worked to modify the program so it would prepare the students for their future in health care, she also maintained that accountability and committee leadership were to be cornerstones of the program.
"A key to the success of the program is accountability," said Boyd. "I cannot pull you out of poverty. You have to really want it. Students have to do 16 hours a month of working in long-term care. They must also publish and be on one of the 10 committees." The programmatic committees support a range of areas, such as Web site development, fundraising, and volunteering through community partnership.
Success of the Program
As the CNA program has grown, Boyd has seen continued success of her students.
"We're in year four and are now seeing that 100 percent of our students who complete the pre-nursing segment of the indigenous nursing program do successfully complete nursing school and pass NCLEX (National Council Licensure Examination)," said Boyd. "The students are really hungry and eager to learn. When you hear indigenous nurse, we want you to think Navy SEAL – the best of the best."
McAuley Lecture Series
The McAuley Lecture Series at NHS covers topics related to health and health care. The lecture series is made possible through the gift from Brian and Jane McAuley – parents of Georgetown University graduates Beth (C'98) Mary (NHS'07), and Tricia (NHS'02).
By Alicia Lee, NHS Communications
(Published November 28, 2012)