Novel Course Cluster Explores "Challenges in Childhood and Society"
Posted in GUMC Stories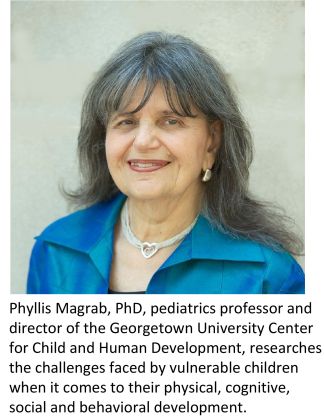 March 10, 2017 – No matter what professions Georgetown undergraduate students ultimately pursue, they will likely encounter a longstanding local and global issue — the challenges faced by vulnerable children when it comes to their physical, cognitive, social and behavioral development.
To help students understand and respond to those challenges, a group of professors from Georgetown University's main campus and medical center have developed a novel set of courses that involve undergraduates in interventions and solutions to pressing problems that too many children face.
"Think of the areas of knowledge Georgetown students are exposed to — government, politics and policy, humanities, philosophy and ethics, business and economics, foreign service, international affairs — and it is easy to understand how the health and well-being of children provides a vital context to their future professions, and to their flourishing as a whole person," says pediatrics professor Phyllis Magrab, PhD, director of the Georgetown University Center for Child and Human Development.
Interplay among children, society and health
The course cluster, Challenges in Childhood and Society, is among the first offerings from the Provost's Designing the Future(s) Initiative (led by Vice Provost for Education Randy Bass), which features a bold new set of educational and research opportunities for both Georgetown students and faculty as a way to explore emerging educational models.
The cluster is designed to connect undergraduates with faculty and resources on both the main and medical campuses. "The course needs an interdisciplinary approach because multiple fields have contributed to the knowledge now viewed as key to understanding," said Robert M. Groves, PhD, Georgetown University provost, in his blog last March. Among these disciplines are health sciences, human development, psychology, psychiatry, public policy, population sciences and health disparities.
"These topics are covered with a keen interest in the interplay between these attributes of children and the social contexts in which they live, learn and play," he wrote.
The cluster is designed to take students beyond the traditional classroom setting, according to Groves. "It lies outside the one-size-fits-all, 15-week, three-credit course but retains a commitment to coherence and connection among the parts," he wrote. "It uses a set of one-credit modules to give students flexibility in putting together an experience that links theory with practice with policy formation challenges."
Community as the classroom
Students in the cluster, which debuted in fall 2016, start by taking Principles of Challenges in Childhood and Society. Students may then choose other modules, bundling three credits or more, if they want to take a deeper dive.
The second module brings students into youth- and family-oriented educational settings, and social service agencies in the DC community. The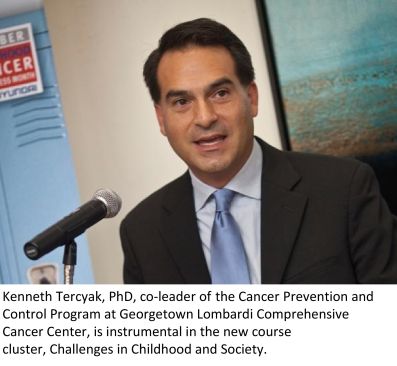 idea is to engage students in field study and direct observation of innovative and immersive educational experiences, says Kenneth Tercyak, PhD, an associate professor of oncology and pediatrics, and co-leader of the Cancer Prevention and Control Program at Georgetown Lombardi Comprehensive Cancer Center.
"One of our core ideas is that students synthesize what they learn in a classroom, and find meaning, by being in the community they are part of. It is one thing to talk about the foundation and theory of healthy child development and another to pair that with real-world experiences guided by Georgetown faculty who are with our students on-site at their community placements," Tercyak says.
In the third module, students may enroll in a course centered on policy or another that considers hot topic issues in childhood and society such as autism and developmental disabilities.
"Cross-campus engagement"
"Our cluster is unique in that medical center and main campus faculty are teaching side by side offering these courses. It's a model that has tremendous potential and benefit for students," says Tercyak.
The course cluster has received the community-based learning (CBL) designation from the Center for Social Justice — student coursework that involves disadvantaged and underserved individuals or groups. It is also a part of the Georgetown Disability Studies Initiative and has been approved for credit not only at Georgetown College, but also the McDonough School of Business, School of Nursing & Health Studies and Walsh School of Foreign Service.
Magrab says the childhood cluster is a strong example of "cross-campus engagement" that relates to the Jesuit interest in equity and inclusion. "We are all interested in equal opportunity, with a focus on vulnerable populations," she says.
Renee Twombly
GUMC Communications