NHS Student Wins AAHD Scholarship
Posted in GUMC Stories
A Georgetown undergraduate recently won a competitive American Association on Health and Disability (AAHD) scholarship.
Nancy Oduro (NHS'13), a health care management & policy major at the School of Nursing & Health Studies, learned about the scholarship from Joan Burggraf Riley (NHS'76, G'97), MS, MSN, RN, FNP-BC, FAAN, assistant professor of human science and nursing.
"Nancy truly lives the life of 'a woman for others,'" Riley says. "Her deep commitment to social justice is evident in her innovative and highly effective work to eliminate health disparities experienced by persons with disabilities."
In her application, Oduro discussed her disability – Erb's palsy, a nerve injury that affects arm, hand, and shoulder movement.
Oduro is one of two recipients from a national applicant pool of more than 100 students.
"Enabled Me to Do More Things"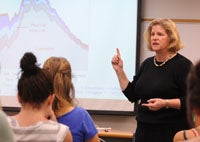 Growing up with a disability was difficult for Oduro. She remembers being teased and lacking self-confidence.
"I had very low self–esteem growing up because it was all I could think about, even if no one noticed," said Oduro. "For me, it was the most noticeable thing, and I let that stop me from doing a lot of things."
While in high school, some of her anxiety eased due to a supportive group of friends. But when she came to Georgetown, her old anxieties returned.
"At first, I was very self-conscious again," she said. "Not knowing if I was going to be able to excel or if people would allow me to excel because of my disability – those were real thoughts in my head. But being around great people and being in NHS, I realized it wasn't something that disabled me, but rather enabled me to do more things."
Connecting at Georgetown
During her freshman year, Oduro joined Diversability – a student organization dedicated to raising awareness and reshaping conceptions of what it means to have a disability.
Through Diversability, she began to feel comfortable talking about her disability and, for the first time, connected to other students with disabilities.
"For the first time in my life, I met someone who also had Erb's palsy," said Oduro. "She was a senior in the McDonough School of Business, and she had confidence and poise. It was so inspirational for me."
Today, Oduro credits her confidence to her involvement in Diverseability and the Lime Connect Fellowship – a national leadership program designed for rising juniors with disabilities.
She said her past experiences have helped shape her approach to overcoming challenges.
"Most of my growth in college has come from my work in Diversability and Lime," she said. "But I'm still growing, and I still have obstacles. I now realize that every challenge that I've gone through, every difficult time, every rejection that was anyway connected to my disability has helped me so much in the long run to where I am now. I know I'm this way for a reason, and whatever I do in the future will have some sort of impact and purpose."
As a result of winning the scholarship, Oduro looks forward to learning more about AAHD and connecting to their members who raise disability awareness.
By Alicia Lee, NHS Communications
(Published March 7, 2012)