Music-Minds Meld to Advance Neuroscience
Posted in GUMC Stories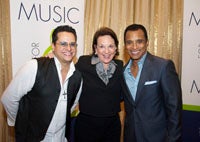 Uplifting Latin music and the promising potential of medical science to repair the mind melded at Washington's Kennedy Center where members of the Georgetown University Medical Center community gathered to support biomedical research to help fight against the hardest to cure non-cancer diseases, including Alzheimer's and Parkinson's.
More than 220 people gathered for an evening of festive cocktails, a brain-healthy buffet and roiling Latin and salsa music backed by the National Symphony Orchestra (NSO).
Music sensations Tito Puente, Jr. and Jon Secada and NSO Pops conductor Marvin Hamlisch performed at the evening concert.
But beyond the evident enjoyment of the event May 13th was serious brainstorming on how best to advance the biomedical battle against the most puzzling and hardest to cure non-cancer diseases.
Many of these, like Alzheimer's and Parkinson's diseases and traumatic brain injury, which are increasing rapidly, cause great suffering before eventual death. These neurological disorders are among the toughest in need of solutions through intensified biomedical research.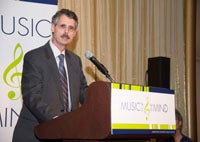 Entitled "Music for the Mind," this was the first of what is slated to become an annual event to support research, particularly that of younger researchers, for treatments and cures for neurological diseases and disorders. Proceeds of this and future events will be directed to the Young Investigators fund benefiting the work of Georgetown's youngest researchers to speed their quests to discover the treatments and cures of tomorrow.
Francine and Mel Levinson served as co-chairs and Mark and Jeanne Shriver were honorary co-chairs. Shriver spoke movingly of his father Sergeant Shriver's lost battle against Alzheimer's and the importance of saving patients and families from the agonizing ravages of the disease that destroys the personality before killing the patient.
"Neurologic diseases — such as Alzheimer's, Parkinson's, traumatic brain injuries, and stroke — often attack the core of what makes us human—our ability to think, talk, and remember," Howard J. Federoff, MD, PhD, executive vice president for Health Sciences and executive dean of the School of Medicine, said. "These diseases impact our senses—our connections to the world—they cripple, paralyze, cause excruciating pain—and they kill."
Federoff warned of the so-called Silver Tsunami, the emerging elderly status of the nation's 72 million baby boomers. "As the nation's population ages, we can experience a socioeconomic crisis because the risk for Alzheimer's rises steeply with age, and this will result in the tripling of the number of patients over the next 30 years."
But Federoff stressed hopeful signs of progress at GUMC and in the brilliant young minds that can propel research to an even deeper level. "Innovative science and cutting edge novel therapies that will take strides in conquering these diseases," he said, pointing to these examples:
• GUMC pioneered the technique of deep brain stimulation to relieve some of the worst of Parkinson's disease symptoms and now is extending the procedure to treat other neurologic disorders including mental health conditions such as depression and mania;
• The Medical Center is working with the Veterans Administration to identify biomarkers for traumatic brain injury that can lead to interventions that may limit brain damage or even restore neurologic function; and,
• GUMC is one of very few institutions selected to participate in the first-ever gene therapy clinical trial for Alzheimer's disease, an historic undertaking requiring rigorous scientific and surgical capability that underscores our growing strength in neurology.
Perhaps even more promising is the work of GUMC's young investigators, Federoff said. "They challenge our conventional ways and drive the integration of new technology in our research."
Among these promising researchers are Mark Burns, PhD, assistant professor of neuroscience, who is investigating the link between Alzheimer's and traumatic brain injury (TBI) because brain injury can quadruple the risk of developing Alzheimer's.
Hyang-Sook Hoe, PhD, assistant professor of neuroscience, is studying the normal function of the protein APP, which plays a key role in Alzheimer's. It is important for scientists to understand precisely what goes wrong with this protein in order to devise therapies to treat the disease.
Charbel Elhajj Moussa, MB, PhD, assistant professor of neuroscience, is examining the similarities among neurodegenerative diseases to see whether a therapy that increases the brain's capacity to dispose of amyloid beta –-fragments found clumped together in plaques in the brains of Alzheimer's patients– can reverse the process of dementia.
With cocktails, dinner and introductions completed, Federoff led his guests to an energizing two hours of music peppered with the Latin beat of Puente, the sensational solo songs of Secada and the glorious orchestration of Hamlisch and the NSO pops.
By Victoria Churchville, GUMC Communications
(Published )