Newest Awardees of Partners in Research Grants Announced
Posted in GUMC Stories
OCTOBER 24, 2014—Research projects in pancreatic cancer, Alzheimer's disease and cardiovascular risk were selected for funding this round through Georgetown University Medical Center's (GUMC) Partners in Research (new window) program, a novel community-driven philanthropy initiative.  
Partners in Research members—all members of the community with an interest in funding biomedical research—met Oct. 15 at Georgetown to hear presentations from the finalists and to select the awardees.
The three scientists heading each funded project will each receive $30,000 to pursue their laboratory research that and the funders believe have strong potential to be translated into clinical practice.  
The funded proposals are:
Accelerating Laboratory Research
The proposals had been narrowed down from an initial pool of about 25 submissions by scientists who looked at the proposed research design and overall scientific significance and impact. Then the Partners stepped in to make the final selections.
Now in its fourth year, Partners in Research has become an important mechanism for accelerating laboratory research, particularly in an era of declining availability of federal dollars.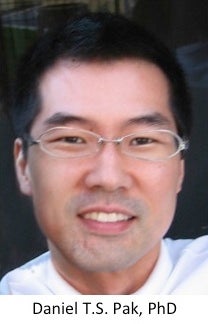 "The value of the Partners in Research funding goes well beyond the dollar amount. Each scientist who has received funding has gone on to make important discoveries that then seed their future research paths—we are seeing the fruits of that now," says Robert Clarke, PhD, DSc (new window), dean for research at GUMC. "The Partners know that they are making an investment in research that will have real impact on how we think about health and disease."
Providing Critical Resources
Assefnia proposes to focus his research on pancreatic cancer, one of the deadliest malignancies. Based on his preliminary findings, he has found that a molecule called cadherin-11 (CDH11) may be acting as a mediator in the development and progression of pancreatitis and pancreatic cancer—and therefore has the potential to be used as a biomarker to diagnose the disease at earlier stages.
"Our lab has developed small-molecule CDH11 inhibitors and FDA-approved repurposed drugs that can be used for treatment of pancreatic cancer," Assefnia says. "The seed funding from Partners in Research will enable me to investigate this hypothesis and
strengthen my preliminary findings in order to compete for national funding and move forward in the treatment of this devastating disease."
Pak's project seeks to understand the mechanisms that regulate the splitting of amyloid precursor protein (APP), known as a central player in the development of Alzheimer's disease.  If successful, his group's work will identify novel pathways that could be exploited to reduce Alzheimer's pathogenesis.
"In this era of ever-tightening federal budgets, the Partners in Research grant allows our laboratory to pursue promising leads that would otherwise go unexplored," Pak says. "Such funding sources are vital to our ability to continue to conduct excellent science, and we would not be able to do so as effectively without this support, for which we are very grateful."
The third project to be funded, led by Gourgari, seeks to use a technique known as nuclear magnetic resonance (NMR) to evaluate cardiovascular risk in children who have type 1 diabetes.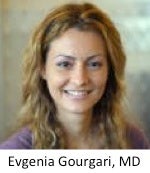 "This funding is fundamental for my research as it will allow me to collect the pilot data that is necessary when applying for further NIH funding, which has become extremely competitive," Gourgari says. "Moreover, this funding will give me the opportunity to have some protected time for research that I can devote towards the recruitment of patients, collection of data and administrative tasks related to the protocol."
Forging a Community Partnership
The Partners in Research program, now in its fourth year, is an outgrowth out of GUMC's Doctors Speak Out (DSO) series. This quarterly community education program invites leading Georgetown thinkers to participate in a panel discussion and question-and-answer session about hot health topics of the day with members of the community.
DSO regular attendees proposed the idea forging a direct partnership with researchers by hand-selecting which proposals to fund and move forward. This idea became Partners in Research, and the first round of competition was launched in fall of 2011.  Since the group's inception, the Partners have raised more than $335,000 to support biomedical research at Georgetown.
Each year, the donors track the grantees' project through lab tours and regular updates. The funding cycle culminates with final presentations each spring at which the researchers outline what their proposal has yielded.
For more information on Partners in Research, e-mail PartnersinResearch@georgetown.edu.
By Lauren Wolkoff
GUMC Communications