Myers, Steen Recognized for Exceptional Teaching at MAGIS Induction Ceremony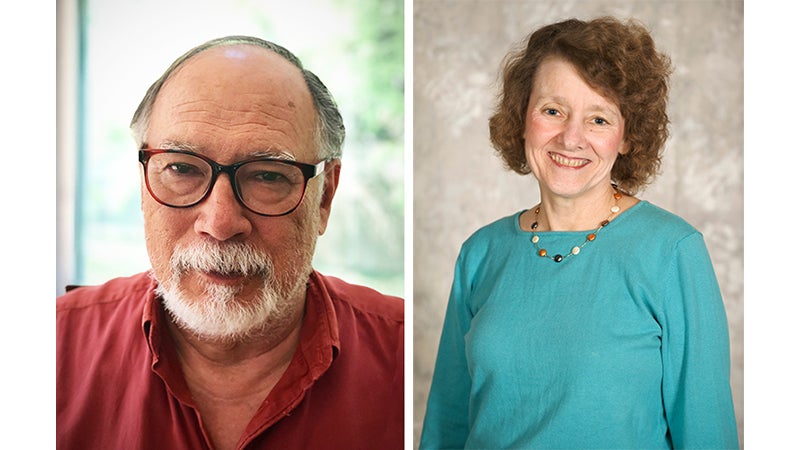 Posted in GUMC Stories | Tagged MAGIS Society, medical education, School of Medicine, SOM Commencement 2019
(May 16, 2019) — Most of the events held before Georgetown's commencement activities focus on the achievements of students, but the annual MAGIS Society Induction Ceremony celebrates the faculty members who helped students prepare for life after graduation.
At the 17th annual induction ceremony May 16 in the Goldberg Auditorium at MedStar Georgetown, Virginia Steen, MD, and Adam Myers, PhD, were welcomed as new members of the society, which draws its name from the Latin adverb for "more greatly," an abbreviation of the Jesuit motto "toward the greater glory of God."
Besides being great educators, Steen and Myers have something else in common. They say it is them who are honored — to teach at Georgetown, a medical center they love.
Success Depends on the Students
Myers, who received his PhD at Georgetown and began his career here in 1984, had a long-standing research focus in sex differences in cardiovascular disease, and how male and female steroidal hormones affect blood vessels and platelets in different disease states.
However, he found his true niche at the medical school as an educator. In addition to his classroom experience, Myers has contributed to research on the impact of new teaching methods on student learning, as well as the development and implementation of new biomedical graduate programs. He is well known as the seminal teacher of cardiovascular physiology, which he describes as among the most difficult subjects in human biology to understand.
"Physiology deals with complex networks," he says. "The body has so many control systems and the ability to respond to challenges in so many different contexts."
For example, when a physician tests a patient's heart rate, there may be perfectly healthy reasons why it may not be a perfect 70 beats per minute. And a doctor needs to understand what is going on, considering whether the patient is dehydrated, cold, excited, nervous, or subject to a long list of other conditions in the person's own behavioral and nervous system ecosystem.
"Physiology is hard, complicated, a challenge to teach," Myers says.
He incorporates a lot of technology in his effort to clarify the course material — smartboards, clickers, web resources and lecture-capture technology so students can review a class session at any time. He also watches his students' reactions while teaching. If the students' eyebrows furrow in unison, he knows that he didn't explain something clearly, prompting him to try again.
Myers says his success is always dependent on his students. "In order to do it well, I listen to my students and incorporate their input into my thinking. If they don't understand something, I have not taught it well," he says.
"And every year, I understand cardiovascular physiology better than I did the year before," Myers adds. "I am always amazed that after 30 years of teaching, I continue to make new connections which I can pass on to my students."
The Art of Patient Care
Steen is well known in the field of systemic sclerosis, a multisystem connective tissue disease that affects five times as many women as men. She did the groundwork for understanding what happens to organ systems in this rheumatic disorder, for which there are no approved therapies.
"It's a problematic, difficult disease to understand — as are many of the hundreds of multisystem disorders (arthritic diseases, lupus, Sjogren's, vasculitis and others) included under the umbrella discipline rheumatology," she says.
Steen's job is to help fellows clinically understand and manage these diseases. In her 16 years as the rheumatology fellows program director, all of the fellows have passed their specialty boards and half of them have gone into clinical education.
Steen also manages the 10 physicians involved in working with fellows at MedStar Georgetown University Hospital and the VA Medical Center and conducts rounds with the fellows, as well as some residents and medical students. In this group setting, a fellow must evaluate a patient and present the case to Steen. Then the group goes to see the patient.
"It's all hands-on in the process of providing clinical care," she says. "My job is to teach the best practice and management of diagnosis and treatment.
"These are often very sick patients, and their disorder can have a big impact on their quality of life, for the rest of their lives," she adds. "As a physician, I try to incorporate the whole patient into their care, and I try to emphasize to fellows that it is not just the science of medicine, but the art of patient care."
Renee Twombly
GUMC Communications