Moving Closer to the Cure – One Patient at a Time
Posted in GUMC Stories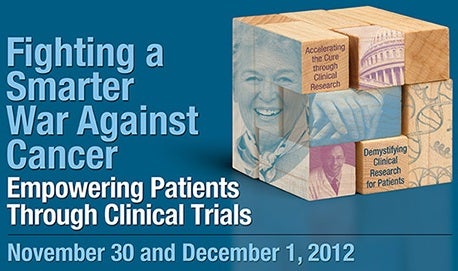 Just 40 years ago, a patient with a cancer diagnosis often had few options and little hope. Today, there are close to 12 million survivors. These advances have been made possible through better screening and extensive research, which relies heavily on patient involvement.
A robust body of clinical research is truly the key to finding tomorrow's cancer treatments, experts agree. Yet the vast majority of patients do not enroll in clinical trials. The participation rate nationwide stands at barely 3 percent – and that number is even lower in minority populations and the medically underserved.
"From donating an extra blood or tissue sample to trying a brand new drug, every patient who participates in a clinical trial takes us one step closer to improving cancer care," says John L. Marshall, MD, director of the Ruesch Center for the Cure of Gastrointestinal Cancers, part of Georgetown Lombardi Comprehensive Cancer Center.
"While there's no way of knowing ahead of time, those in the test group might have a good response to the new agent, improving their survival or quality of life," Marshall adds.
Yet in his years of experience in the clinic, Marshall has encountered innumerable reasons why patients are not enrolling in trials.
"Fear, suspicion, finances – all of these factors and more surface time and time again," he says.
Questions over insurance coverage of therapeutic agents and the inherently investigational nature of clinical trials can breed distrust and misperceptions, he notes.
And with so few patients enrolling, the accumulation of data can take years; the trip from "test tube" to "tried and true" takes about 17 years in the United States today.
"Our mission is to shorten that time frame, so more people can benefit more quickly from new knowledge and discovery," Marshall says.
Marshall is adamant that engaging the "other 97 percent" that is not currently enrolling could revolutionize the discovery and development of individualized curative therapies – and greatly advance the practice of what is commonly known as personalized medicine.
Symposium: Empowering Patients through Clinical Trials
To that end, this winter's Third Annual Ruesch Center Symposium on November 30 and December 1, 2012, seeks to demystify the research process and encourage more people to become partners in the battle.
By convening key representatives from academia and research, pharmaceutical and insurance companies, public policy, patient advocacy and the general public, the two-part symposium strives to change the outlook for cancer patients today and tomorrow.
The event is open to the public and attendees are invited to join for one or both days.
On Friday, November 30, from 1:00 – 5:00 pm, "Accelerating the Cure through Clinical Research" will focus on the perspectives of scientists, clinicians, policy-makers, and others involved in the development and testing of new cancer drugs. While the emphasis is on the science and policy sides of the discussion, anyone with an interest in the subject matter is welcomed to attend.
On Saturday, December 1, from 8:30 am – 1:00 pm, "Demystifying Clinical Research for Patients" will focus on patients and caregivers. By demystifying clinical research, the program seeks to address frequently expressed concerns underlying the reluctance of many patients to participate in trials.
Deborah Schrag, MD, MPH, will be the event's keynote speaker on Friday afternoon. Schrag is associate professor at Harvard School of Medicine and works in adult oncology at the Dana-Farber Cancer Institute. James Zwiebel, MD, chief of the Investigational Drug Branch in the Division of Cancer Treatment and Diagnosis at the National Cancer Institute (NCI), will speak on the role government plays in promoting and facilitating clinical research.
Amanda Bennett, Pulitzer Prize winning executive editor of Bloomberg News and author of "The Cost of Hope: A Memoir," will moderate a session Friday titled: "Engaging the Other 97%: Why Aren't Cancer Patients Up in Arms?" and will also participate on Saturday.
Margo Michaels, executive director and president of the Education Network to Advance Cancer Clinical Trials, will moderate a session Friday on "The State of Cancer Clinical Research in the US and the World: Progress at the 3% Accrual Rate."
About the Ruesch Center
The Otto J. Ruesch Center for the Cure of Gastrointestinal Cancers, part of Georgetown Lombardi Comprehensive Cancer Center, brings to bear a combination of advanced science, clinical studies and a patient-centered approach, tackling the problem along the continuum from the laboratory bench to the bedside.
The Ruesch Center currently has more than 30 studies of various gastrointestinal cancers underway examining new drugs, older drugs in novel combinations, chemotherapy/ radiation therapies and other potential strategies to defeat or control cancer.
The symposium will be held at Georgetown University Hotel & Conference Center at 3800 Reservoir Road, NW, Washington, DC. Registration fee is $25 for Friday, November 30 and $10 for Saturday, December 1. It is free for all Georgetown University and MedStar Health employees, students and trainees.
For a complete schedule of topics and speakers, visit: www.rueschcenter.org/symposium2012.
By Lauren Wolkoff, Georgetown Lombardi Communications
(Published November 16, 2012)