Mini Medical School Leaves Big Impact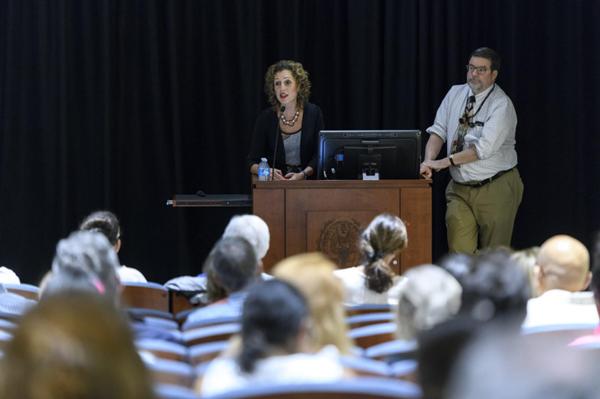 Posted in GUMC Stories | Tagged Mini Med School
(May 11, 2018) — In 1995, Georgetown University Medical Center held its first Mini Medical School to help the general public become acquainted with its medical faculty and researchers. Led today by co-directors Carlos A. Suárez-Quian, PhD, and Andrea Jacobs Singer, MD, Mini Medical School continues to welcome members of the community to Georgetown for instruction on basic and clinical science topics taught by real faculty members.
Bob Siciliano, a retired attorney, was one of the nearly 200 Mini Medical School attendees who "graduated" from this session on May 8, though it was his fourth year in a row participating in the program. Siciliano praised the quality of the program's instructors.
"The level of commitment and compassion that each of these faculty members bring to the subject matter blows me away. It's clear that they are completely committed and invested in the program," he said.
The Quality of the Speakers … Speaks Volumes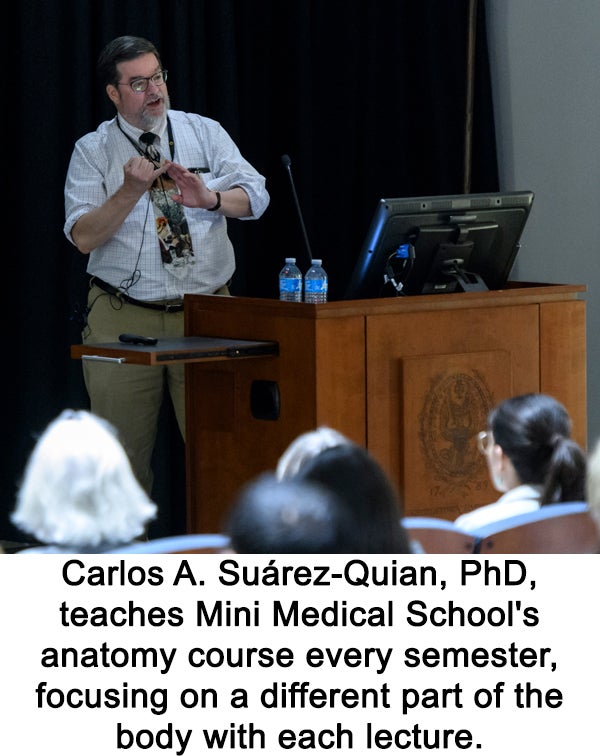 Suárez-Quian took over leadership of Mini Medical School from the program's founder, Herbert Herscowitz, PhD, now an emeritus professor of microbiology and immunology and the senior associate dean for faculty and academic affairs. Suárez-Quian said he and Singer try to recruit faculty who are not only great scientists and physicians, but who can also communicate complex ideas in elegant ways. Lecturers also need to truly enjoy audience participation, he added.
Some lecturers give Mini Medical School attendees an inside look at their work, like David Habin Song, MD, MBA, MedStar Health's Washington regional chief of plastic surgery and academic chair for the department of plastic surgery at Georgetown University Medical Center. In his lecture this semester on plastic surgery, Song showed video of himself and his team performing several surgeries. Because he used a GoPro, it was almost as if the audience was looking over his shoulder during a live surgical procedure, said Ravishankar Natarajan, a software professional and Mini Medical School student who learned about the program from his daughter, Vishaka Ravishankar (M'18).
Catering to a Diverse Audience
Recognizing that several attendees, like Siciliano, have previously participated in Mini Medical School, Suárez-Quian and Singer have to work hard to curate lecture topics that keep the curriculum engaging. The only lecture that is taught every semester is anatomy, which is usually followed by a visit to an anatomy lab where medical students present various cadavers. But even that lecture, taught by Suárez-Quian, focuses on a different part of the body every year, Natarajan said.
"We have an audience that is very diverse both in terms of age and background knowledge, so we have to create a curriculum that is going to have something in it for everyone," Singer said.
However, in the future, Suárez-Quian wants to adjust the curriculum so that topics alternate between basic and clinical sciences on a week-to-week basis. "This would make the program more solid and tight," he said.
Educating the Public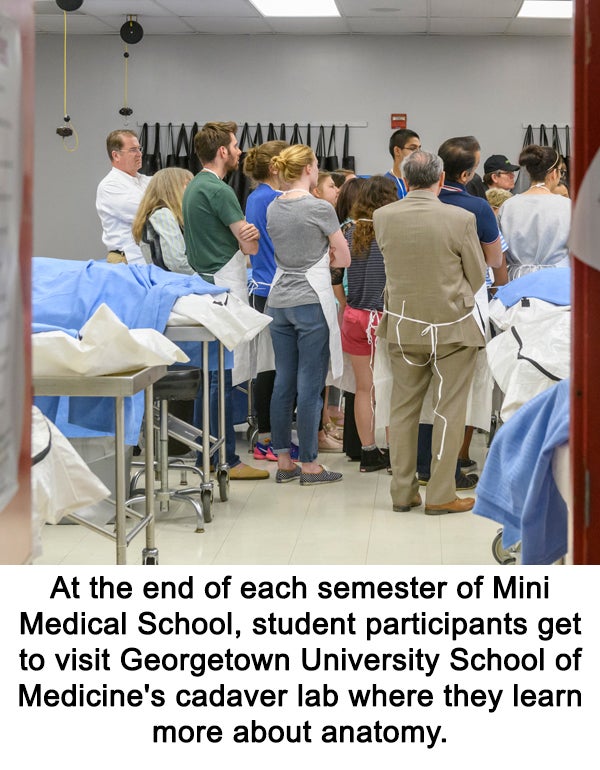 Participating in Mini Medical School at Georgetown has impacted the lives of attendees in different ways. As someone facing chronic health issues, Hilary Stephenson, a retired health care planning and public administration professional, said the program helped her appreciate the complexity of the human body as well as the amount of preparation and training needed to become a doctor.
The program has also increased the amount of respect Stephenson has for Georgetown University Medical Center and MedStar Health. "Georgetown clearly puts considerable resources behind making this program a success and making sure it improves health awareness in the community," she said.
Natarajan said that he has used information he learned from Mini Medical School during annual physicals, while Siciliano has been able to ask better questions during interactions with his health care providers. "I have a working knowledge and better understanding of what my doctors are telling me," Siciliano said. Because of the program's successes for them personally, both Siciliano and Natarajan have encouraged several of their friends to register.
Linda Cinciotta Olguin (C'65), a retired attorney who has been attending Mini Medical School since fall 2007, said the program has not only empowered her to make more informed health decisions, but has also allowed her to advocate for friends and family. In addition, when Olguin's parents had end-of-life illnesses and she accompanied them to their providers, she felt much more comfortable asking questions and ensuring they received the best care possible.
Olguin currently accompanies a friend to medical appointments because her friend believes Olguin may have a better understanding of what the doctors are saying. "Friends who know that I've been attending Mini Medical School for so long frequently call me to ask my opinion on something medically related," she said.
Suárez-Quian is also proud of the program's impact on health awareness. "They feel better-informed when they go talk to their physician. So much of medicine is vernacular that got its root in Latin and Greek. But like I tell my students, anatomy is often the science of the obvious — but the Greeks and Latins got to it first."
Seren Snow
GUMC Communications